ALREADY IN GOOD WITH MOM: Odell Beckham Jr.'s Mom Hits The Sidelines With His Girlfriend Lauren Wood
​
Nov 11 | by Natasha
​ ​ ​ ​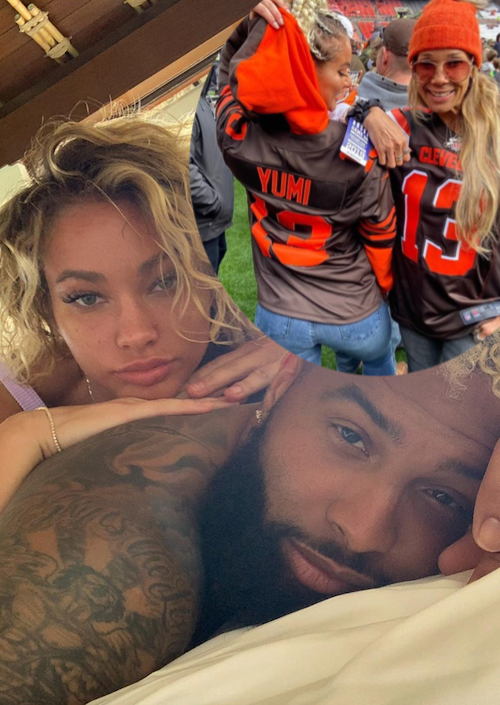 Odell Beckham Jr. just gave his nw girlfriend Lauren Wood the same field access he gives his mom, so you know it's real. Check out Odell's boo getting mom's stamp of approval on the sidelines at yesterday's game inside.
Last week, IG "fitness model" Lauren "LoLo" Wood posted up a 27th birthday tribute to the Browns wide receiver that basically staked her claim on one of the most eligible bachelors in the league. He's def had his fun with more than a few actresses & models, but none ever stuck around or claimed him...or were allowed to claim him. Until now.
Oh ok then.
Odell's notoriously private about his dating life, even though us nosey folks scope out when he has a new Ting he's having fun with. This time, he's posing it up in selfies - in bed - with Lauren and not shy about showing just how much time they've been spending together.
Fast forward to yesterday's big Sunday game against the Bills, and the Browns finally pulled out a W. And look who was on the sidelines right beside his mom Heather in matching OBJ jerseys witht heir nicknames:
Looks like moms is letting y'all know it's real. Odell and his mom are known to be super close and she doesn't let just anybody get close to her baby boy. But it looks like at least one insta-chick made it through.
After the game:
Odell repped for his alma mater LSU - who had just beat 'Bama in the biggest SEC game of the season Saturday - rocking a purple Louis Vuitton suit.
Clean.
Photo: Instagram
​ ​
​ ​ ​