The Internet Is Totally Baffled That Trump Only Paid $750 In Federal Taxes The Year He Won Presidency
​
Sep 28 | by _YBF
​ ​ ​ ​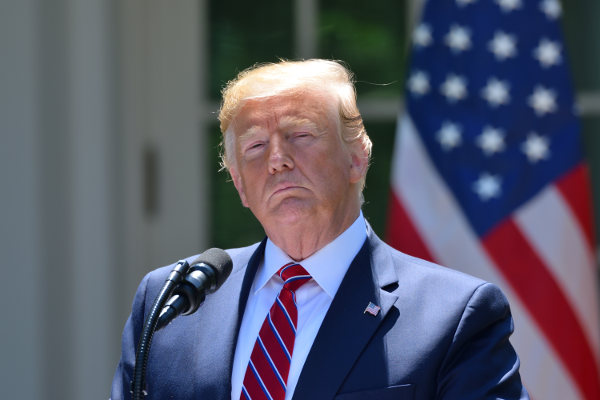 The New York Times pulled the covers back on Trump's tax returns and the Internet is CONFUSED. Baffled. Befuddled. More inside…
The New York Times blew up the Internet when it released an exposé of the President's tax returns. Basically, he doesn't pay taxes and he's drowning in debt. The publication obtained two decades of Trump's tax information and it turns out, the wealthy reality star only paid $750 in federal income taxes the year he won the presidency (2016) and again during his first year in office (2017).
It gets worse…
Trump reportedly has not paid ANY income taxes in 10 of the 15 years. The reason? He apparently reported significant losses. Turns out, Trump has been in a decade-long Internal Revenue Service audit over a $72.9 million tax refund he received that could end up costing him more than $100 million.
Not only that, it's reported Trump has more than $300 million in loans that will be due within the next few years that he is personally responsible for repaying. Be on the lookout for more info on Trump and his taxes because The Times will release more information about the documents they received.
Oh course, Trump is calling it "fake news":
Chile, the Internet LIT UP once the report was released and people have questions. A LOT of them.
Peep a few reactions below:
https://t.co/z1wXbC76Qs pic.twitter.com/OjsQ0dQeuE

— Jemele Hill (@jemelehill) September 28, 2020
Federal taxes paid 2016 & 2017, Trump (via NYT):

$750

Federal taxes paid, average US taxpayer (via IRS)

$12,200

— Jim Sciutto (@jimsciutto) September 28, 2020
If the NYT story is "fake news," Trump can prove it by releasing just one page of his 2016 and '17 returns, that critical last page of Form 1040 that includes his signature and total tax paid.

One page, & he could thoroughly humiliate the media. He won't, and we all know why.

— Jay Bookman (@jaysbookman) September 28, 2020
the best part about the trump income tax thing is that in order to justify it his harem of morons has to admit he's a bad businessman LOL

— Christine Sydelko (@csydelko) September 28, 2020
I had my first job at 12 years old.
Before I left for college I worked:

Security guard
Landscaping
Silk screening t-shirts
In a warehouse
Driving a truck
Lifeguarding
Bartending

In each of these jobs… I paid more taxes than Trump.

Me landscaping in 1977. #TrumpTaxReturns pic.twitter.com/bd3AP3FrrQ

— Billy Baldwin (@BillyBaldwin) September 28, 2020
If you work for a living, chances are you paid more in taxes than President Trump - and he's spent the past four years rigging the system even more for people like him.

— Sherrod Brown (@SenSherrodBrown) September 28, 2020
Just another reason why we all have to get to the polls this November adn VOTE like our lives depends on it because...it does.
Photo: Evan El-Amin/Shutterstock.com
​ ​
​ ​ ​