Azealia Banks Hysterically Begs Fans On Social Media To Come To Her House After Neighbor Allegedly Pulled A Gun Out On Her
​
Feb 05 | by _YBF
​ ​ ​ ​
Azealia Banks hopped on social media to beg her fans to come to her house after her neighbor allegedly pulled a gun out on her for playing loud music. Watch her cry for help inside…
Azealia Banks found herself in a scary situation early this morning.
The NYC raptress hopped on social media hysterically begging her fans to come to her California home for protection before she called the police. She claims one of her neighbors pulled a gun out on her. The "212" rapper could barely get her words out while pleading with her fans to come to her house. She even gave out her address so her fans could find her fast.
The "Anna Wintour" rapper told police a male neighbor knocked on her front door around 6:30AM complaining about her playing loud music. Apparently, they started arguing and she claims the neighbor pulled out a semi-automatic handgun and threatened to kill her.
Before the alleged incident, the "Ice Princess" rapper was on IG Live chatting with her fans while playing music. She also posted several IG Stories ranting and raving about Kanye West, Kim Kardashian West and Vladimir Putin with loud music playing in the background.
In her IG Live, Banks said this isn't the first time the male neighbor pulled a gun on her. She said she didn't call the police because she's the "only black girl on this f*cking street" and she didn't want to look crazy. She was scared to call the cops before having someone else there with her.
"If I call the cops, I don't know what the cops are gonna do. I don't know what white people will do," she said in the video.
Azealia also said this male neighbor (who is white) has called her all types of names like a "b*tch" and a "psycho."
"This is the second f*cking time this cracker has pulled his f*cking gun out on me. He does the same f*cking racist spiel. And the way he pulls the gun out...it's like he knows he can shoot me and kill me," she said.
Check it:
Azealia ended up calling the cops and they came to make a police report. Photogs caught Banks explaining what happened to law enforcement outside of her residence. They were also seen speaking with her white male neighbor after the incident.
After everyone left, Azealia hopped back on Instagram to delete the videos of her begging her fans for protection and then she posted up several text statements on IG Stories addressing the incident. She thanked her fans who showed up and said she's leaving her home ASAP: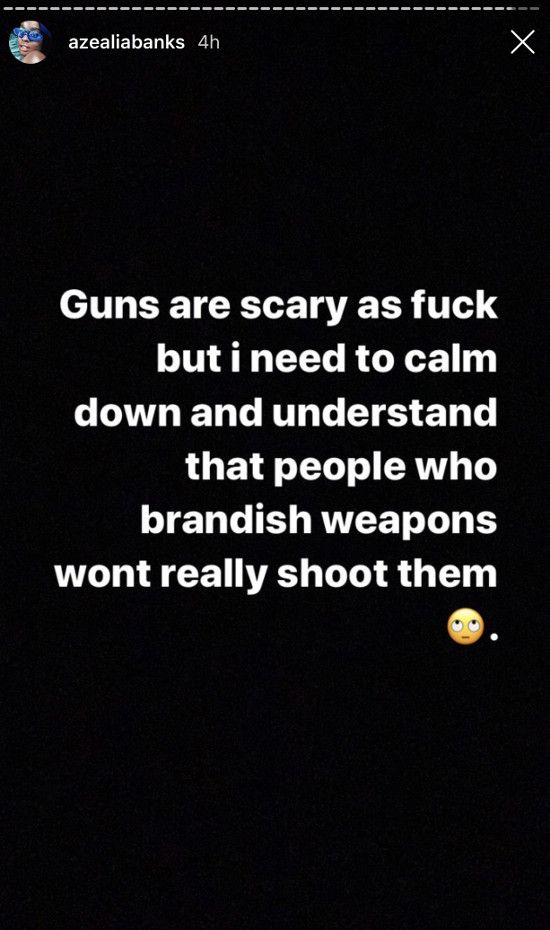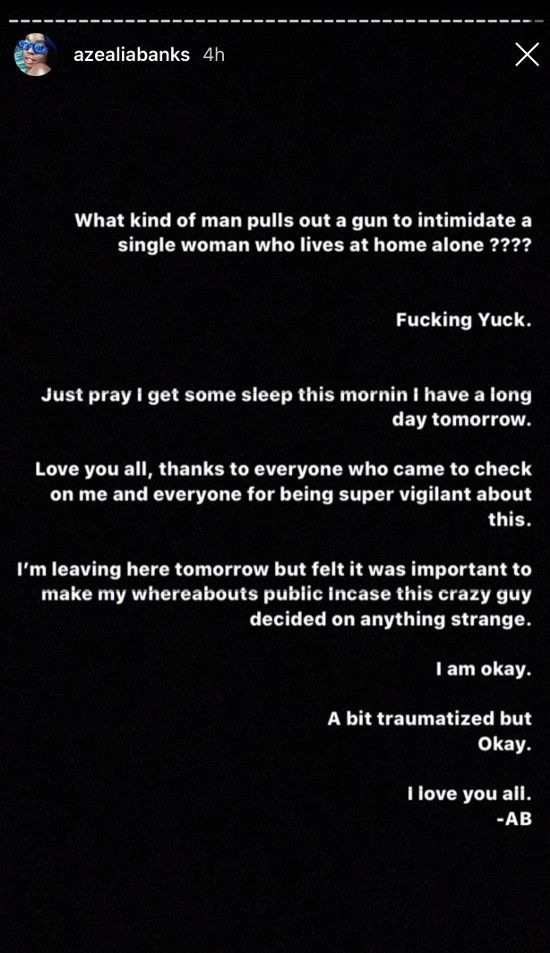 Scary. Glad she didn't get hurt.
Azealia invited the fans who came to her rescue inside after the drama:
— spainish rose (@kriisppyyy) February 5, 2020
Here's what Twitter has to say in response to Azealia's plead for help:
Honestly, seeing that Azealia Banks video of her pleading for help and fearing calling the cops because she already knows that cops don't protect black women is just heartbreaking. That shit moved me to tears because I know that powerless feeling.

— @ your dingleberries, dont @ me (@beejangles) February 5, 2020
holy shit this situation with azealia banks, never seen a celeb call fans to their place because they don't even trust the police, wow

— robby (@dudecalledbob) February 5, 2020
Y'all have let Russel Crowe spit on Azealia Banks and call her a n*****, y'all let rza lie about it, y'all let so much bullshit happen to her all because you don't like her attitude, I'd hate you all too. I'd be angry too. Fuck y'all!!

— (@xtinavevo) February 5, 2020
I don't care whether you like her or not, Azealia Banks is in real danger right now, she needs our help more than ever and if you have the audacity to make jokes about it then please lace your clown shoes real tight and go straight to hell

— Lᴏᴏᴅ Mᴇᴇʟᴀ (@nugoleto) February 5, 2020
If anything happens to Azealia Banks tonight — I will never forgive this world for rejecting her Blackness, her womanhood, and her personhood. RZA, Elon, Grimes, Atlantic Records, and the plethora of people that were instrumental in her decay will taste my venom through my magic.

— Angel (@Lamazonensis) February 5, 2020
Photos: Azealia's IG
​ ​
​ ​ ​