We're Not Sure Who Asked For This, But 'The Game' Is Getting Another Reboot!
​
Dec 18 | by _YBF
​ ​ ​ ​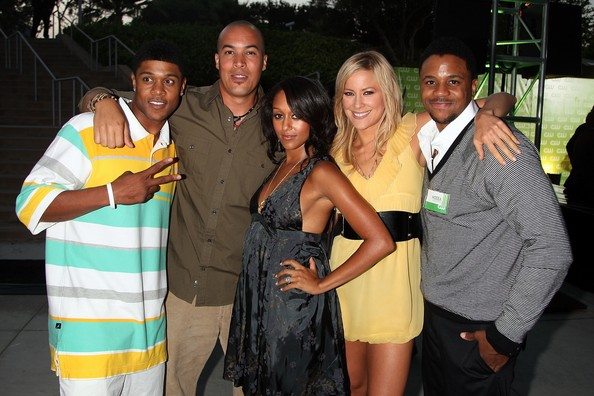 "The Game" is getting yet another reboot...that no one asked for. Deets inside…
"The Game" is about to be revived! We're not sure who asked for this, but it's happening.
According to Deadline, the Mara Brok-Akil sitcom will be returning to the CW network for an hourlong follow-up series. This time, "The Game" (written by Mara and Devon Greggory) will be set on the east coast. The reboot will be set in Baltimore instead of San Diego. Interesting.
The reboot surrounds "The Game's" old crew of football players who are now nearing retirement and mentoring a new group of rookies as they navigate the game of football and the potential hazards of being a professional athlete.
Deadline reports:
The Game family was coasting to retirement but they heard the call of the fans to make a comeback… and like the record-breaking winners they are, they decided to pick up and move from a half-hour sitcom in San Diego to a one-hour dramedy in Baltimore. This time, our out-of-touch old-timers are determined to help a bunch of knuckle-head new-schoolers navigate the ruthless game of football on and off the field. They will clash through the pitfalls of fame, fortune and love. Some will win, others will lose, but that's what happens when you play The Game.
You'll recall, Melanie Barnett (Tia Mowry-Hardrict) and Derwin Davis (Pooch Hall) left San Diego for Baltimore.
It's unclear if any of the original cast will return, which includes Tia Mowry-Hardrict, Pooch Hall, Hosea Chancez, Wendy Raquel Robinson, Coby Bell, and Brittany Daniel. "The Game" debuted on the CW in 2006 and was canceled in 2011. BET brought the series back before it was axed in 2015. Tia and Pooch didn't star in the BET revival didn't star. Lauren London, Jay Ellis and Brandy were added to the BET revival.
"The Game" reboot is being executive produced by Mara and her husband/business partner Salim Akil. Devon Gregory - who was a previous writer on Mara's "Being Mary Jane" series - will serve as the showrunner of the reboot. Kelsey Grammar, whose Gramnet Productions imprint released The Game, will also return as executive producer of the reboot.
If you didn't know, "The Game" was a spin-off of Mara's hit series "Girlfriends." Now, THAT's a series people have been vocal about getting a reboot, yet it hasn't happened yet. Twitter agrees:
Ok now this is cool and all hoping the original cast come back but can we get a #WhatILikeAboutYou reboot or this show #Girlfriends pic.twitter.com/qULcBWiqBH

— Nicholas Cullen (@k50cullen) December 18, 2019
This is not the Reboot I wanted.

This is. pic.twitter.com/JcyanQQ8gw

— Mike (@RandomMusinz) December 17, 2019
Can we girlfriends instead

— Adonis de Nola (@ThisWhiskeyGtMe) December 18, 2019
nobody asked for this bring back Girlfriends instead

— Samantha (@tinyxicana) December 18, 2019
We're not sure if this reboot of "The Game" is necessary, but here we are. Are you here for it?!
Photos: Getty
​ ​
​ ​ ​