Wait…What?! Wife Of Florida Gators Head Coach Gives All Players Controversial Pre-Game Kiss!
​
Nov 05 | by _YBF
​ ​ ​ ​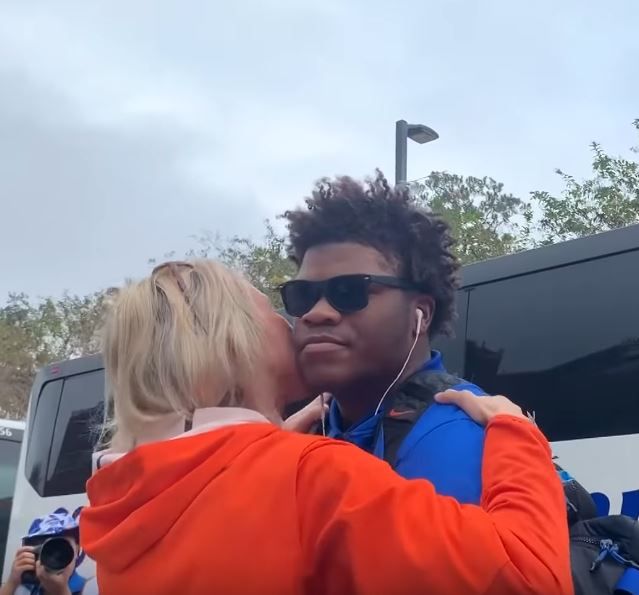 So here's a "sports tradition" we haven't seen before. University of Florida's head coach Dan Mullen's wife, Megan Mullen, gives every player a kiss or hug before every game. And it has sparked controversy, understandably. More inside…
When it comes to sports traditions, they can get pretty weird. And this surely is one of them.
Before every football game, the wife of University of Florida's head coach Dan Mullen gives each player a kiss or a hug for good luck. Seemingly without their explicit consent. Dan's wife, Megan Mullen, greets every player in her own personal way before each game and folks…well, they have ish to say about it.
The Gators played the Georgia Bulldogs on Saturday, and when folks caught on to Megan's kiss tradition, they began sounding off.
I'll support my kids making their own choices both athletically and academically. HOWEVER, my jit is not going to Florida as long as their staff thinks Megan Mullen kissing all the players is appropriate. That is all.

— Dréa (@drea_dehuete) November 4, 2019
Not going to tweet the picture going around but Megan Mullen, wife of the Gators coach, is a sexual predator. White women sexually harassing Black men isn't a cute or quaint tradition or whatever gross spin you want to put on it.

— Maddie (@mellowmadds) November 4, 2019
This exactly.#MeganMullen

Wrong and twisted on so many levels, racially historical levels.

Just stop 'pushing the envelope' https://t.co/zSyeJVy1Ok

— Azucena DiBiscaglia (@LilyofBiscay) November 4, 2019
Someone should tell Megan Mullen to stop. The athletes probably hate her creepy kisses. If a man did that to a Women's team, it would be stopped immediately. It's inappropriate.

— Tess Deco (@TessDeco) November 4, 2019
She's a recruiting master RT @BassinDawg: Dan Mullen's wife Megan continues her tradition of kissing each #Gators player on the lips as they get off the bus.

#GoDawgs #DawgsOnTop https://t.co/jCtHuNNuXV

— Kirk (@24Shaft) November 3, 2019
Apparently, this isn't new.
Last year, she explained in an interview why she greets the players the way she does. When her husband came back to the program as head coach in 2018, he wanted to change the "culture" of the program. He brought in new assistant coaches and coordinators to help with that. Not only did they get new coaches, the players also earned a "surrogate mother" thanks to Megan. She considers the college football players an extension of her family.
We guess it doesn't matter what (or if) they consider her.
Check it:
Def a weird "tradition" and kind of gross when you think about all the germs being transferred to each person. And gross for other reasons that we don't even need to flat out state.
The Florida Gators took an "L" against the Georgia Bulldogs with a final score of 24-17.
Doesn't look like the good luck kiss works every time…
Thoughts?
Photo: YouTube Screenshot
​ ​
​ ​ ​