Tyler Perry Shares How Disciplining His Son Helped Heal Him + Tyler Perry Studios Helps Launch 1st Latin-Owned Studio
​
Oct 14 | by _YBF
​ ​ ​ ​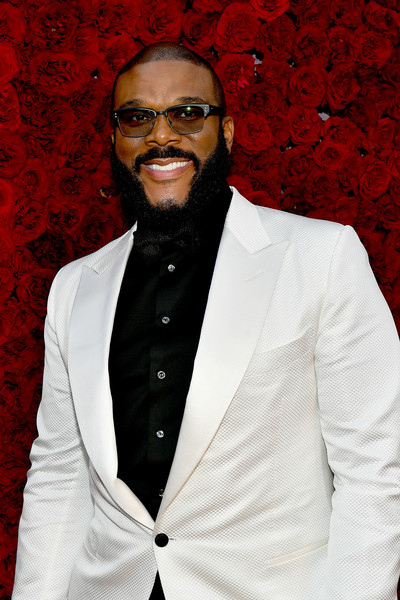 Tyler Perry opens up about an intimate moment he shared with his 4-year-old son, Aman Perry, that helped heal his younger self. Also, the old Tyler Perry Studios is the gift that keeps on giving. More inside…
Tyler Perry has made history with the opening of his brand new, state-of-the-art Tyler Perry Studios in Atlanta last week. But it's the little moments with his 4-year-old son, Aman Perry, that's healing his "younger self."
The "Haves & The Have Nots" creator stopped by "The Real" today and opened up about the powerful moment he experienced while discipling his son.
"I will tell you this one moment that was really hard for me. I had to discipline [Aman]," the 50-year-old father told "The Real" co-hosts.
Apparently, his son was acting up and he had to set him straight.
"He was really rude to the nanny and he was in the bathroom arguing with her...I get down to his level and I'm talking to him and I say 'Listen, what are you doing? You don't do this. This is unacceptable. You're not going to disrespect her. You're not going to disrespect your mom. You're going to do what they say to do,'" Tyler continued the story.
Little Aman started to cry, which made Tyler choke up and fight back his own tears.
"And he's just crying and he goes 'Yes papa, yes.' But as he's crying and I'm down on his level. I'm trying to hold my tears," he continued.
He said at the moment, he got down on his son's level and spoke to him "like a person."
That moment took him back to his childhood and it reminded him that when he was his son's age, no one spoke to him as a person.
"No one talked to me like that when I was a five-year-old," he confessed. "No one had a conversation with me. No one talked to me like a person. So here I am having an opportunity to heal my 'little boy self' by talking to my son like a person."
Felt that.
Peep the clip below:
During the interview, the TV/film creator talked about balancing his career and his personal life. In a nutshell, it pays to own your own production company. Check it:
Speaking of his production studio…
Tyler Perry decided he would sell his old studio to create more opportunities for Latinos in Hollywood. He sold the old studio to Ozzie Areu – former president of Tyler Perry Studios – so he could launch the first-ever Lation-owned and operated film and TV studio in the U.S. Nice!
Ultimately it was @tylerperry who gave me an opportunity to grow and build.

Seeing what Tyler did for the African American audience... I felt like, how can I not use my experience to change the game. -@0zzie0zzie @A3C @ottfestival #ott #digitamedia #latinax #Diversity pic.twitter.com/eR1p10Fo8Q

— chozenmediaco (@chozenmediaco) October 10, 2019
Ozzie – who went from security guard at Warner Brothers to president of Tyler Perry Studios to CEO of Areu Bros. Studios – said he's ready to pay it forward in a big way.
"Now that I've had a little bit of success, I definitely plan to pay that forward," Ozzie told KUSI.
Ozzie copped the 60-acre space and he's planning to create content that will connect with audiences that he says has been neglected, much like his boss did.
"I'm going to use my resources, experience and the team that we've built to really get behind inclusion both in front and behind the camera," he shared.
Ozzie plans to create opportunities for Latinos, women and minorities in entertainment; including actors, crew, producers and writers putting together storylines that break down stereotypes.
Also…
Now that Tyler Perry has officially opened his 330-acre production studio, he's now working on his next project and that includes helping even more people. He's focused on using a section of his studio to build a shelter for rescued trafficking victims, homeless women, and displaced LGBTQ youth.
During an interview with "CBS This Morning" co-anchor Gayle King he said he plans to open the shelter and the residents can simultaneously undergo on-site job training for the film industry. It's a project he holds close to his heart as he was a victim of sexual abuse as a child. Peep the clip above.
#BlackExcellence indeed.
Photo: Getty
​ ​
​ ​ ​