Odell Beckham Jr. Better Watch It! Or Should He? - Says He's Going To Continue Wearing Luxury Watch Despite Controversy
​
Sep 11 | by _YBF
​ ​ ​ ​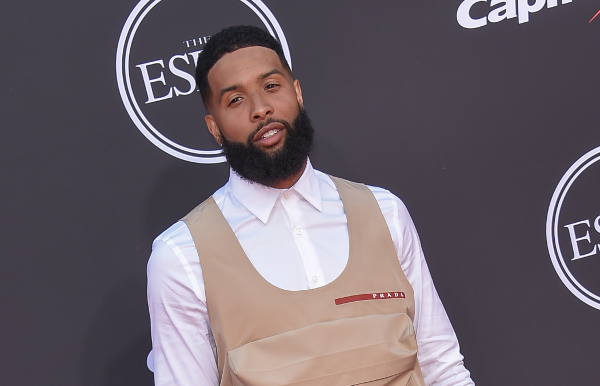 Odell Beckkham Jr. says he's going to continue to wear his watch that retails six-figures during games despite the controversy. Get the latest inside...
Odell Beckham Jr. sparked controversy when he rocked a luxury watch during the Cleveland Browns season opener against the Tennessee Titans this past Sunday.
Odell's running around out there with a quarter million on his wrist. What a flex. pic.twitter.com/LGHb1hJoxy

— Barstool Sports (@barstoolsports) September 8, 2019
The 26-year-old professional athlete rocked an orange Richard Millie 11-03 Automatic Flyback Chronograph McLaren watch during the game. According to the company's spokesperson, the watch was purchased for $189,500 at the Los Angeles Richard Mille boutique. However, word on the curb is that the watch costs a cool $350,000. Either way it's expensive AF.
Despite the controversy and the NFL requesting he not wear it during games, OBJ says he's going to continue wearing the watch. The reason? He feels like because HE'S wearing it, the league has a problem. If it was anyone else, he believes the league wouldn't even care.
"I'm here to play football,'' the wide receiver told Cleveland.com. "I would love for them to talk about football and what I do on the field, if I messed up on the field or if I didn't do well on the field, talk about my performance. Don't talk about any extracurricular, that's just it. If anybody else would've worn the watch, or if it was a $20 watch, it wouldn't have been no problem.''
Odell Beckham Jr is really rocking a Richard Mille watch on the field pic.twitter.com/Z54BjMwkTt

— Master (@MasterTes) September 8, 2019
He pointed out that if it were someone like Patriots QB Tom Brady wearing the watch, it wouldn't be a big issue. After the Browns got SPANKED by Titans (43-13), OBJ posted a cryptic tweet on Twitter:
If ain't one thing.... it's another...

— Odell Beckham Jr (@obj) September 10, 2019
"Yeah, that's just my life,'' he said. "If it ain't this, it's something else. If it wasn't the watch, it would've been the way that I tie my shoes.''
So, is he going to stop wearing it? Nope.
"I'll still be wearing it," he said.
My boy @obj tried to show y'all the watch was part of the uniform on SI! #dripharder pic.twitter.com/9TjYMYT5VC

— mike (@MikeAM21) September 11, 2019
And is he going to continue wearing it while playing in the game?
"The same way I wear it every day, at practice, I go here, I go there. I've been wearing it. Take a shower with it on. It's just on me.
Word on the curb is that the NFL spoke to Odell about the watch, but he says otherwise. He was asked if the league directly spoke to him about the watch and he said, "No."
When asked if he was worried about being fined, he responded:
"For what? You've got to look into the rulebook. It says you can't wear any hard objects,'' he said. "The watch is plastic. But people have knee braces on that are hard and made out of metal and you don't see them taping it up, no jewelry on, so I'm good.''
A source revealed the NFL would address the watch with the team and Beckham and has already spoken to the Browns. Browns head coach, Freddie Kitchens, said he wasn't aware OBJ had the watch on during the game. He also said the team will follow all NFL rules.
"As long as they're going to enforce that with everyone, I'm fine with it," Kitchens said. "Let's just make sure it gets enforced with everybody."
According to reports, OBJ is not expected to be fined.
Oh, and he allegedly drove his custom orange Rolls Royce to Sunday's game. Here's what it looks like:
Odell Beckham Jr.'s car has arrived. #Browns. Parked by practice fields. pic.twitter.com/UsaDwmtbMa

— Scott Petrak ct (@ScottPetrak) September 5, 2019
As of now, OBJ is expected to hit the field with the Browns against the New York Jets this coming Monday night.
Thoughts on OBJ's watch controversy?
Photo: DFree / Shutterstock.com
​ ​
​ ​ ​