'Love & Marriage: Huntsville' Star Melody Holt Takes On Fans Criticizing Her Announcing Pregnancy After Cheating Husband Revealed His 3-Year Affair
​
Sep 11 | by Natasha
​ ​ ​ ​
Mess.
If you haven't been watching "Love and Marriage: Huntsville," you might want to start. One of the three featured couples is going through a cheating scandal that's rocking the internets. Deets inside.
After selling themselves as the ultimate #Couplegoals throughout the first half of this premiere season of OWN's "Love & Marriage: Huntsville," fans are learning all that glitters aint gold. Or silver.
Entrepreneurial couple Melody & Martell Holt kicked off the premiere of the second half of season 1 this past Sunday with a bombshell - Martell had been having an affair with one particular woman for the last 3 years.
While the twosome have been selling books, merch and a narrative about women empowerment, business empowerment and black love, Martell was out here doing the absolute most. And it all came to light on the show - possibly for ratings, we don't know - after the mistress "randomly called Martell's phone" recently despite Martell's claims he had cut off communication several months prior.
Chile....
On Sunday's episode, Melody paid a visit to a divorce lawyer to "explore her options" while Martell saw a therapist to get to the bottom of why he cheated - for 3 years - with a mistress he now calls "low class" and "a peasant".
Check it:
Folks love to speak down on the person THEY chose to cheat with, don't they? If you cheated with someone who is, in your eyes, less than your own wife, what does that say about you? You literally risked it all for someone you claim is a low class peasant. Aside from it being problematic that a man calls any woman these names, it's especially problematic when he says it about a woman he voluntarily put his penis in.
Mind boggling.
Just speak about yourself, sir. Berating the other woman publicly, likely just to make your wife feel better, ain't it.
Meanwhile, Melody confirms she is, in fact, pregnant. The teaser for next week's episode shows her wondering if she is.
The couple already has three kids, but fans who were once all about The Holts are seemingly not here for this new pregnancy revelation.
Melody went back and forth yesterday with one of her fans in her comment section:
1bossybeauty @melodysholt I understand that the show was recorded earlier...that being said, you seemed so committed to what you "deserved" as a wife. I believe in the covenants shared between husband, wife and God; the covenant of respect is major. On the show, @martellholt has zero respect. Even while packing, he was protesting and blaming you, for his bad behavior! Mel, I don't know you but, you move like a #boss. Martell appears to lack basic respect for his marriage. His "peasant" comment was not a good look. He seems to know the cost of THINGS but not the VALUE of people. You "deserve" a man that recognizes your value and worth. I'm am praying for you and definitely for him...he needs a "come to Jesus" moment. I wish you continued #peace & #blessings.

1bossybeauty This show may be scripted...but, he's doing a hell of a job "acting" like a #whole flamboyant double-sided ass hole. And why is he so made at his side piece? She's a #peasant and low class? But he chose her, time and again, for almost 3 years! #boybye

melodysholt @1bossybeauty mad? Who ever said that? He was in HIS therapy session and was posed a question. It behooves me how people say so much behind closed doors but when it's said out front then everybody becomes holier than thou. How many times have folks talked about how men cheat "down" versus "up" and so much more. How many women have found out about their men cheating and called the other woman alllllllll kinds of names. People just don't even know how to accept "real" anymore smh. Because they're so used to folks being "fake"
It didn't stop there:
1bossybeauty @melodysholt Sis, I don't know your husband but, on the show during his therapy session; in my unqualified opinion, there seems to be an under current of anger. Again, I don't know him. I don't understand why he would now be calling his side piece any type names when he was the one that put her in the position to disrespect his marriage. He's YOUR husband, he is suppose to protect and respect his marriage. She has no obligation to respect you, there exist no covenant between you and her. They are both to blame but, he is RESPONSIBLE for his marriage and he is RESPONSIBLE for your heart. No need to belittle her when he's almost 3 years in. My opinion. I'm not saying that I would give up on my husband but, I would make some changes. However, I respect your commitment to your family and your marriage. 17h

melodysholt @1bossybeauty As a WOMAN, I would NEVER know I'm doing wrong by another woman and be disrespectful to her on top of that. That's just not how I roll. So yes, me being the woman I am to so many other women, ALL women get my respect until they do something towards me that's awfully terrible and no longer deserve it. And yes, viewers are only seeing a piece of an ENTIRE story. But enough of that, hope you're having an amazing day and reaching some amazing goals sis

1bossybeauty @melodysholt I agree with you about how you move with regards to other women...but, all females are not women. All females don't possess respect for themselves; they have never been shown what that looks like. She is to blame for her part and he is responsible for protecting your heart and your family. I am praying for y'all because I believe in marriage and I want to see you #win. Thanks for chatting with me, you're so sweet. 17h

blissdumas @melodysholt no shade but seriously incorrect use of the word "behooves". Behooves refers to a "duty or responsibility for someone to do something; it is incumbent upon. It befits, it is appropriate or suitable."

melodysholt @blissdumas sweetie you know I'm urban so you gotta google that urban dictionary definition
Ha!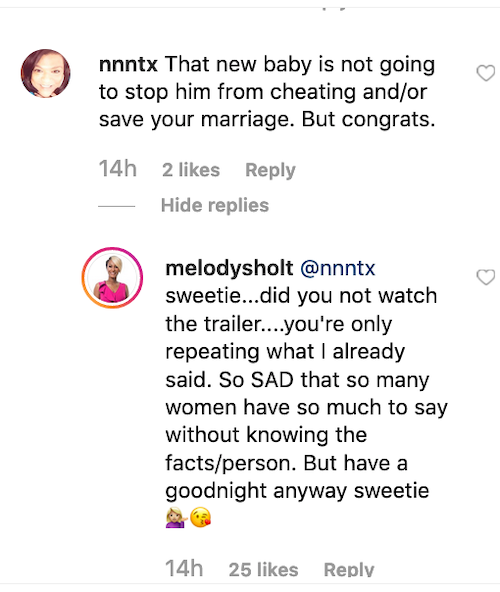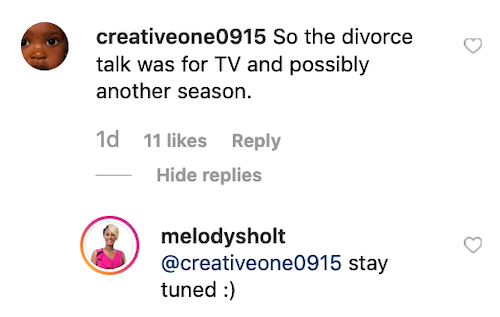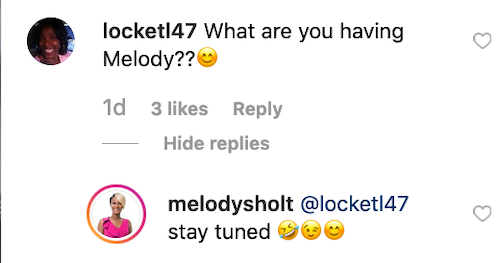 Whew.
As for whether Melody & Martell are still together today, in real time, it's unclear. But we do know they were happy-go-lucky in love 6 weeks ago.
Melody also commented on Martell's post about an hour ago saying she's happy "we" are back in the 'Ville: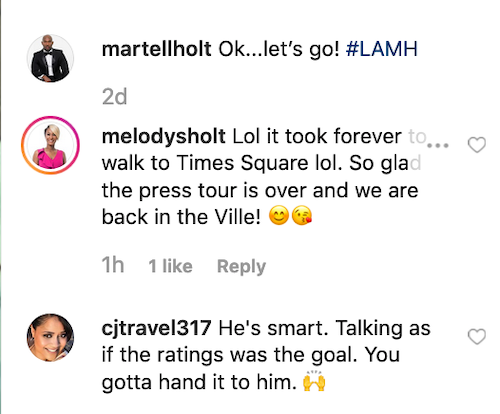 Also, in OWN's press release with official promo shots sent to us back in August, there were no shots of Martell & Melody together. There are shots of the 3 other couples, though.
And yes, Martell's followers are letting HIM have it, too:
d.p.johnson I was all for you until you called your mistress a peasant. I get you were trying to win your wife back, but to insult someone whom you were attracted to, only makes you look bad. Her being "low class" wasn't an issue when you were with her and allegedly in love. That was wrong on so many levels. Y'all aren't THAT all that to be looking down on people. Can y'all please represent Alabama with a LITTLE decency? 2d

pylesofstyle @d.p.johnson Right?!! If she is a low class peasant what does that make him? That was hard to watch especially on a rare show that has been one of the most sophisticated and tactful shows I have ever seen. 17h

warddanita He called his girlfriend a peasant she was not a peasant when you being laying with her for the pass 3 years and still having conversation with her 2d

leenthagemini Stop saying cheating is trial and tribulations CHEATING is a fucking CHOICE 2d
That last comment though....Can we get a hand clap?!
Chile....
Photo: Getty
​ ​
​ ​ ​