NEW COUPLE ALERT: YG & Kehlani Go Public With Their New 'Relationship'
​
Sep 06 | by Natasha
​ ​ ​ ​
Singer Kehlani and rapper YG want you to know they're a couple now. The two made their first public appearance together Thursday night at NYFW, holding hands the entire time to make sure the camera caught it. We've got their first pics and videos inside.
Well well well. This is interesting.]
After spending Labor Day with her 5-month-old baby at a friend's party with Big Sean, Jhene Aiko and more there, Kehlani is riding her MILF wave with rapper YG.
The 24-year-old singer was spotted leaving the KITH NYFW Runway Show with the 29-year-old Compton rapper (real name Keenon Daequan Ray Jackson), then they headed to paparazzi hot spot TAO Downtown for a "private dinner." Yup, they're officially official now.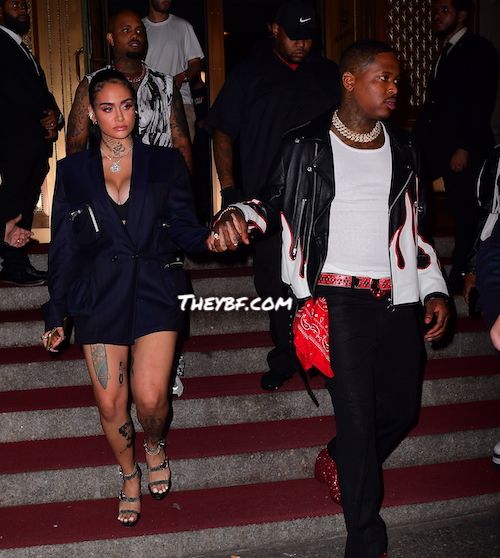 Interestingly, YG just welcomed a second child with his now ex (apparently) Catelyn Sparks this past July. Yes, as in less than 2 months ago.
He certainly has a type.
The "Distraction" singer - who looks quite similar to Catelyn - just welcomed a new baby too. She gave birth to baby Adeya Nomi about 5 months ago.
While she and her baby's father, guitarist Javie Young White, were seemingly a couple during Kehlani's pregnancy, they weren't seen together much after the baby was born in March.
Before welcoming baby Adeya, Kehlani said:
"i have a daughter. me. i. me! kehlani! i have a mini on the way. my partner is my best friend and quite frankly the only man on earth i trust. we are SO READY FOR U MIJA!!!!!!!!!" she wrote at the time. "the decision to share this with the world was a tough one, but i really want to experience the freedom and joy any normal pregnant person feels. i don't want to hide. i want to walk around belly out everywhere. ME AND MY SHORTY OUT HERE!"
If this all seems totally random, it might not be as random as you think. The twosome's "people" very likely sent out alerts to media and paparazzi letting them know about the couple's outing, and that's what got the buzz about their new coupledom started recently.
How do we know this? Because we're often sent those very requests from celebs' teams. It doesn't necessarily mean the relationship is fake, but it does mean the promotion of it is calculated - whether it's a stunt or not. For whatever reason.
If this is the real thing, or eventually becomes the real thing (it certainly wouldn't be the first time), congrats to them.
Photos: Splash
​ ​
​ ​ ​