Cardi B Talks That 'Gangster' Ish During 4-Hour Long Deposition + Bardi's Bodyguard Gets Busted By The Feds For Allegedly Selling Drugs
​
Aug 23 | by _YBF
​ ​ ​ ​
Cardi B stayed true to herself during a four-hour deposition in the $5 million legal battle that she's currently involved in. She also compared herself to a Powerpuff Girl and went off on the lawyer for holding her up for so long. See the transcript, plus deets on one of her bodyguards getting hemmed up by the Feds inside...
Cardi B popped off on a lawyer during an intense deposition as part of a $5 million legal battle that she's currently involved in. She's being sued by a man named Kevin Michael Brophy Jr, who claims she used a photo of his distinctive tattoo for the cover of her mixtape, Gangsta B*tch Music Vol.1.
The transcript to the "Press" rapper's deposition was recently made public and sis was def her authentic self. The same outspoken Cardi we see on Instagram and television was the same Cardi who showed out during this deposition that went down for four-hours on April 19th in NYC.
The "Clout" rapper was pressed about traveling to California for business and the tattoo featured on the mixtape cover. The Grammy Award winner basically said she wasn't concerned about the tattoo because it wasn't her doing.
"I never really cared to, like see, because I didn't give a fuck. I cared for me, and it was, like, all about me … I didn't give a fuck about this tattoo. I didn't give a fuck about none of that shit. So, when it comes to that, you need to go to the photographer, or whoever edited this shit, because that's who did it --- clearly," she said.
Then, she started talking that "gangster" ish: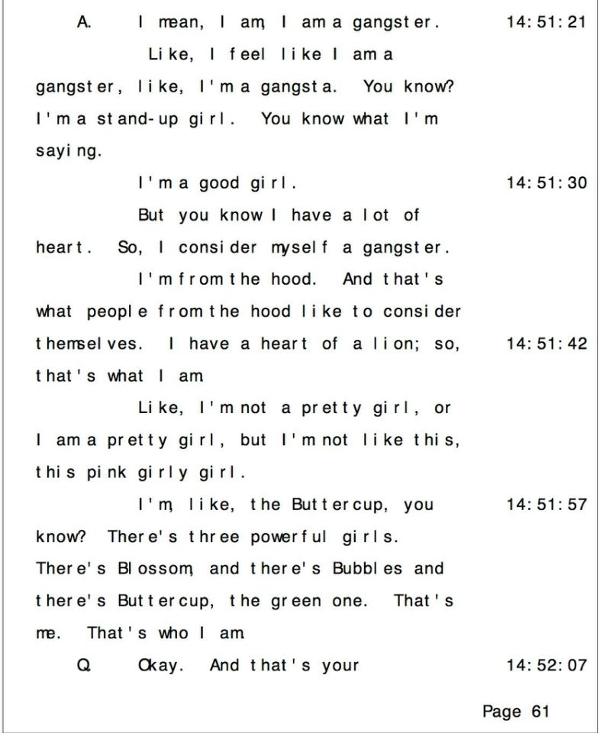 The lawyer questioned the "Please Me" rapper about what type of image was she trying to portray with the mixtape cover and that's when she explained she's a "gangster." She also compared herself to the Green Powerpuff Girl, Buttercup.
"I mean I am I am a gangster. Like, I feel like I am a gangster, like I'm a gangsta. You know? I'm a stand-up girl. You know what I'm saying."

She continued, "Like I'm not a pretty girl, or I am a pretty girl. But I'm not like this, this pink girly girl … I'm like the Buttercup, you know? There's three powerful girls. There's Blossom and there's Bubbles and there's Buttercup, the green one. That's me. That's who I am."
They probed the NYC raptress about how much money she was raking in back when she was a stripper: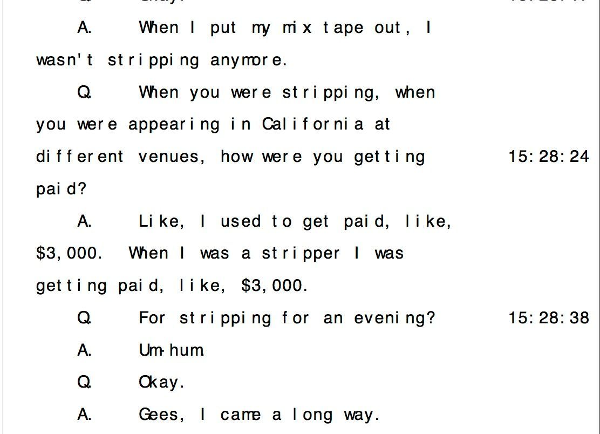 "When I was a stripper I was getting paid, like, $3,000 [a night]. Gees, I came a long way," she said.
Then, she started to get mad, questioning how Kevin Brophy is "distressed" over a mixtape cover, especially with him gunning for $5 million.
"Like, I could really be with my kid right now. Like, I'm really upset because I really have to be with my kid. All because of some bullsh*t, trying to get money, and then $5,000,000. Are you f*cking kidding me? That mixtape didn't even make, not even one million dollars," she said.
By this time, she was heated:

"I got real lawsuits with real sh*t, and I got to deal with this bullsh*t. This is four hours long taking away from my time, my job, my motherhood."
According to THR, the judge ruled that Kevin Brophy Jr. has stated a plausible claim for using his likeness without consent.
The site reports:
"Defendants argue that Plaintiff's claim fails because he fails to allege that his face was visible or his name was used," writes Carney in the order. "Defendants, however, cite no authority for the proposition that a commercial misappropriation claim requires the use of the plaintiff's face or name. Plaintiff here alleges that his tattoo is part of his likeness because it is unique and distinctive. People, in fact, purportedly instantly recognize Plaintiff by his tiger snake tattoo."

In the opinion, the judge avoids much of a First Amendment analysis. Instead, the decision states, "Whether the Gangsta Bitch cover is sufficiently transformative to obtain First Amendment protection is a question of fact," which seems to set up the prospect of a jury trial.
Yikes.
That's not all that's going on in Cardi's camp...
A bodyguard in her camp has been arrested for allegedly selling more that $12,000 worth of crack. These charges were added to the charges of allegedly serving as "muscle" for Cardi during he alleged strip club brawl. You'll recall, the "Bodak Yellow" rapper was indicted on felony charges stemming from a strip club brawl last year.
Page Six reports:
Jeffrey Bush, who allegedly served as "muscle" for the hip-hop star during the club brawl, was arrested Thursday morning at his Williamsburg home — where authorities say they then found a bag "believed to be crack" along with pills, pot, a scale and nearly $15,000 in cash, according to court documents.

The arrest followed a joint bust by the feds and NYPD.

Wearing a red T-shirt and high-top sneakers, Bush pleaded not guilty at an arraignment Thursday afternoon in Brooklyn federal court and was held without bail — with prosecutors arguing that his connection to the "Bodak Yellow" rapper made him a "flight risk."

"Based on the defendant's profit from just the crack sales … as well as the celebrity connection with [Cardi B], he has myriad means at his disposal to enable his flight," a detention memo states.

Bush — who prosecutors say is a known member of the 5-9 Brims Bloods street gang — is accused of hawking a total of 280 grams of rock in Williamsburg at least six times between February and April, prosecutors said in court documents.
Both Cardi and Bush have pleaded not guilty to charges including attempted assault, harassment, conspiracy and criminal solicitation. The case is currently pending. Bush will go before a judge on the new drug charges on September 10th.
Photo: Cardi's IG
​ ​
​ ​ ​