A$AP Rocky Released From Swedish Jail & Back In The U.S., Thanks Supportive Fans & Hops On Facetime With Tyler, the Creator
​
Aug 03 | by _YBF
​ ​ ​ ​
A$AP Rocky is a free man after being released from a Swedish jail. Read what he wrote to his supporters after getting out, plus the diplomat letter that was sent to advocate for the rapper inside...
He's free.
Rapper A$AP Rocky has been released after spending over a month behind bars in Sweden.
After a three-day trial, a Stockholm court allowed the Harlem native (real name Rakim Meyers) and his two co-defendants - David Rispers and Bladimir Corniel - to leave Sweden to come home to the United States as they await the final verdict in their ongoing assault case. The Stockholm District Court has not yet made a ruling in the case. A judgment will be delivered on August 14th.
He was previously denied bail since the judge felt he was a flight risk.
Here's the rapper and his friends following their release:
Asap Rocky after getting released in Sweden pic.twitter.com/xN3U1As4pm

— 2CooI2Blog (@2Cool2Bl0g) August 2, 2019
The 30-year-old rapper was happy as hell to have his freedom and was on the first thing smoking back to the States. He hopped on Instagram to thank his fans for all of their support:
"Thank you from the bottom of my heart to all my fans, friends and anyone across the globe who supported me during these last few weeks," he wrote. "I can't begin to describe how grateful I am for all of you. This has been a very difficult and humbling experience. I want to thank you the court for allowing me, Bladi and Thoto to return to our family and friends. Thanks again for all the love and support."
He also hopped on Facetime with his homie/rapper Tyler, the Creator:
You'll recall, Tyler sat down with HOT 97's Funkmaster Flex and opened up about Rocky's incarceration.
Never one to miss out on saying anything about anybody, Trump weighed in on Rocky's release:
A$AP Rocky released from prison and on his way home to the United States from Sweden. It was a Rocky Week, get home ASAP A$AP!

— Donald J. Trump (@realDonaldTrump) August 2, 2019
"A$AP Rocky released from prison and on his way home to the United States from Sweden. It was a Rocky Week, get home ASAP A$AP!," Trump tweeted.
Trump publicly demanded A$AP's release and raised the issue with the Swedish Prime Minister Stefan Löfven.
According to CNN, the U.S government sent over a diplomatic letter, warning of "negative consequences" in US-Swedish relations, if Rocky's hearing on assault charges was not resolved quickly. You can read the full letter here.
Before his release, his mom - Renee Black - was seen standing outside the court building in Stockholm.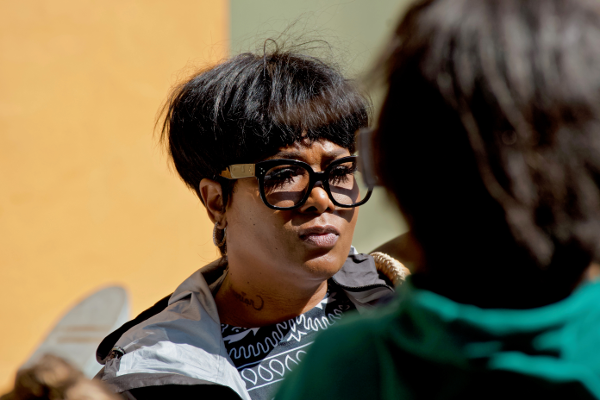 A$AP and his two friends have been sitting in a Sweden jail since July 5th following a violent street brawl. He was arrested after being accused of assaulting a man in the Stockholm streets on June 30th. He was there as part of his tour. In the clip that was shared online, A$AP said the men kept following and harassing him. You can even see him telling the men to stop in the video he posted to his Instagram account before ish got real.
Early this morning, A$AP and his homies made it back on U.S. soil:
LAX A$AP ROCKY back from Sweden!!! First thing to do EAT!! Wonder what the Picnic Dinner is?? #ASAPRocky @KCBSKCALDesk pic.twitter.com/8hYkShC2Aj

— stu mundel (@Stu_Mundel) August 3, 2019
The final verdict is set to come inon August 14th. Welcome home.
Photos: Christian Bertrand /Liv Oeian / Shutterstock.com
​ ​
​ ​ ​