R.Kelly Pleads NOT GUILTY, Lawyer Said He 'Went Missing' Before Hearing
​
Aug 02 | by Natasha
​ ​ ​ ​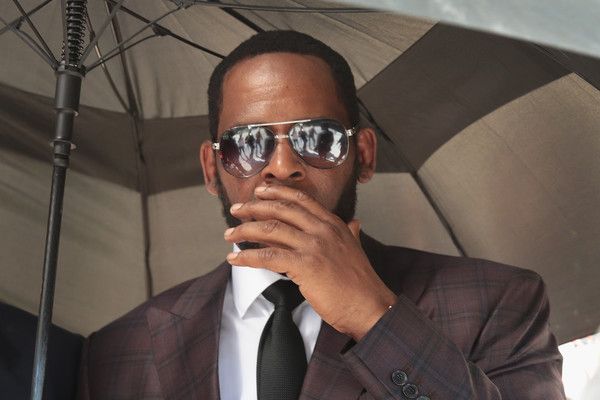 R. Kelly entered a Not Guilty plea today to answer his recent federal indictment in a slate of sex crimes, but he oddly "went missing" just before his hearing. Deets inside.
R.Kelly's Not Guilty. Allegedly. That's HIS story, and he's sticking to it. The embattled singer found his way into a Brooklyn courthouse this afternoon to face the New York portion of charges in his federal indictments involving a slate of sex crimes involving minors, including pornography and coercion. He was sent to the Metropolitan Detention Center in Brooklyn and was ordered to be held without bail.
HAPPENING NOW: The Girlfriends of Singer #RKelly (Jocelyn Savage & Azriel Clary) enter the US Courthouse in Brooklyn ahead of his hearing on sex abuse allegations #nbc4ny pic.twitter.com/2HS6PJuKlp

— Tracie Strahan (@tstrahan4NY) August 2, 2019
Kelly's girlfriends Jocelyn Savage and Azriel Clary there for support, once again.
Oddly, Kelly's lawyer issued a statement to the judges in the case earlier today saying the hearing should be delayed because he was unable to locate his client. According to the NY Daily News:
Attorney Douglas Anton said that federal marshals didn't put Kelly on a plane until Thursday afternoon and, after his client landed in Teterboro Airport in New Jersey, no one told him where he was being taken as he awaited his appearance in Brooklyn federal court on Friday.

"I have spent the hours that followed his landing on the phone with the (Bureau of Prisons) at both New York MCC and Brooklyn MDC trying to locate my client, but no one would provide that information to me, even recognizing I am his attorney," Douglas Anton said in a letter to Judges Anne Donnelly and Steven Tiscione.
Anton claimed he couldn't speak to his client because he got the run-around everytime he inquired about where R. Kelly was.
NBC 4 News seemed to know exactly where he was though. Kelly was being moved from Chicago federal lockup to Brooklyn:
(Video)
The station aired helicopter footage of Kelly being escorted and transferred at New Jersey's Teterboro Airport in his prison tans this afternoon.
If you think all of Kelly's fans defending him have smartened up by now, think again. Many were lined up outside the Brooklyn federal court this morning singing his praises (and proving our assumption they MIGHT be Pick Me's who wanted to smash back in the day):
Fans of #RKelly started lining up outside federal court in Brooklyn two hours ago for his 10 a.m. arraignment and it is too early for this. pic.twitter.com/HVkQBwdyBb

— Molly Crane-Newman (@molcranenewman) August 2, 2019
Tragic. Oh, and Bow Wow too. The rapper told his mother on a recent episode of "Growing Up Hip Hop" he wants to talk to his new castmate, Andrea Kelly, and ask her how much she was paid to "lie" on R. Kelly.
Bow Wow : "How much y'all got paid to lie on that man?"#rkelly #survivingrkelly #survivinglies #unmuterkelly #andreakelly #GUHH #GUHHATL #BowWow pic.twitter.com/sglRzvjRot

— Kwesi Ama (@docdoug45) August 2, 2019
THIS guy.
Photo: Getty
​ ​
​ ​ ​