Cardi Gears Up For TV Again, Still Arguing About Being Black, Cops An 'Offset' Tattoo & Gets Emotional About Drug/Rape Accusations
​
Jul 25 | by _YBF
​ ​ ​ ​
We've got a round up of Cardi B updates. Chick is set to return to television, she's still arguing with folks about being black, she recently copped a new tattoo of her hubby's name, and she got emotional about the drug & rape accusations thrown her way. Get it all inside...
Cardi B - pictured back, back backin' it up in Kansas last night - is about to return to television. Thankfully, it's not reality TV again.
The "Press" rapper has signed on to be featured in WE tv's new original tell-all series, "Untold Stories of Hip Hop."
It'll feature never-before-told tales from the biggest names in Hip Hop, including interview with Bardi, Snoop Dogg, Queen Latifah, Ice Cube, Nelly, A$AP Rocky, DJ Khaled, Wyclef Jean, Ja Rule, Fat Joe and more. It will be hosted and executive produced by Power 105 radio personality Angie Martinez. And it's set to premiere this fall.
Fans will get the inside scoop on the stories behind some of Hip Hop's biggest moments on "Untold Stories of Hip Hop." Each hour-long episode of this fresh and fast-paced series shines a new light on hip hop's most influential artists with unforgettable revelations directly from the stars themselves.
This could get interesting if folks really open up and spill tea on moments that happened behind-the-scenes.
In other news...
The "Press" rapper is still debating with folks about her being black! In the past, she has talked about being black several times. Just last month, she took to her Instagram page to address her ethnicity, nationality and race since people were saying she's Mexican because she speaks Spanish. In her IG live, she said:
"I'm not Mexican at all. I'm West Indian and I'm Dominican. I speak Spanish because I'm Dominican. And it's like, so what's the difference between Dominican and Mexican?' And it's like, everything! People just don't be understanding sh*t," she continued. "It's like, 'Cardi's Latin, she's not Black.' And it's like, 'Bro, my features don't come from...white people f**king, OK?'"
Well, she's still at it. A chick on Twitter fired shots at her with claims that she's not black based on her hair, so the "Bodak Yellow" rapper whipped up throwback family flicks to prove her point. She's since deleted her posts, but check it: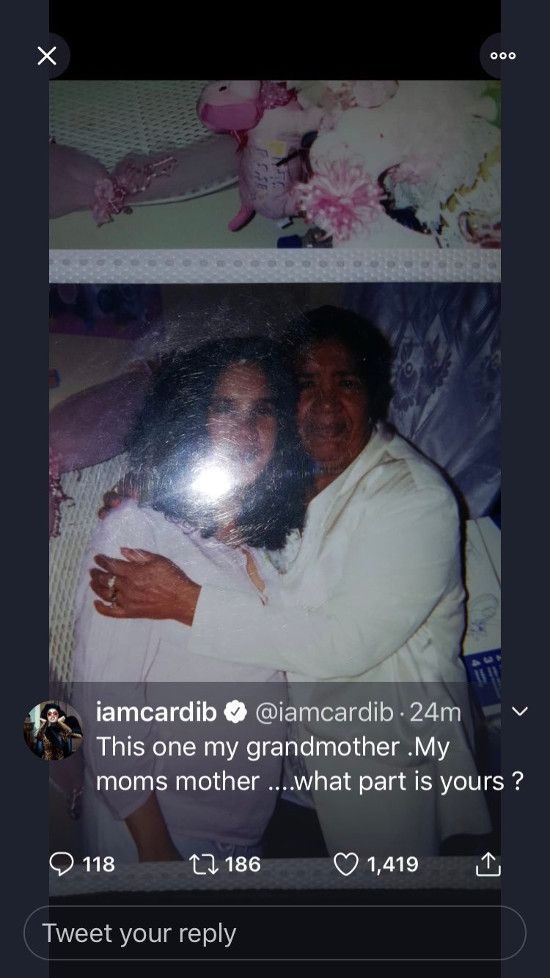 Aren't you tired, sis?
Speaking of addressing things...
Cardi recently addressed the rumors that she used to drug and rape men during her stripper days.
"I let people go with this narrative of me for a long time," she wrote on Twitter.. "Not once did I say I put shit inside n***as drinks. I NEVER did that. These n***as use to get drunk, smoke maa weed party an hard and passed out. Never did I force n***as to come with me nowhere. Never did I fuck nobody. These Meb [sic] used to disgust me sooo for the fact people keep calling me a rapist when I didn't even kiss these men it's so crazy to me."
She also hopped on IG Live to explain it further. Check it above.
When she's not checking folks on social media, the Grammy Award winner is loving up on her husband Offset. With their crazy schedules, there are a lot of FaceTime calls between the two. Recently, Mrs. Cephus got her man's name tatted on the back of her leg and she called him up to show it off to him:
Meanwhile....
Cardi B must be cleared to perform because she's has a few arena shows lined up for a mini Midwest tour. And she's selling them out! According to reports, she has sold out 4 of the 6 arena concerts she has lined up for the summer. Each arena can hold over 15,000 seats and revenues over $1 million. Sheesh!
All Cardi concerts ARENAS no major artist as openers ..Stop playing with me ...anyways I got a 7 day tour this week ..I wonder which city going to turn up the most ???? pic.twitter.com/w2Dc5rIUCD

— iamcardib (@iamcardib) July 23, 2019
— iamcardib (@iamcardib) July 23, 2019
After hitting the stage in Oklahoma, the "Money" rapper shared a video from her sold out show:
SOLD OUT ! Tulsa Oklahoma! BOK CENTER ! Stop playing with the Kid ! Tonight was lit Wichita Kansas YOU NEXT ! Show me what you got ! pic.twitter.com/LnDg7gmc7t

— iamcardib (@iamcardib) July 24, 2019
And she also turned up in Wichita, Kansas and packed the house there as well:
P E R I O D pic.twitter.com/yOe8hwh5Qv

— iamcardib (@iamcardib) July 25, 2019
She's headed to the Pinnacle Bank Arena in Lincoln, NE tomorrow (July 26th).
Also...
The "Clout" rappers are coming out with their own pair of headphones soon. She took to Twitter to ask Bardi Gang what type of designs they would be interested in:
Me and Offset are coming out with our own headphones with our partners @MUZIKconnect ...what style would you guys like ?

— iamcardib (@iamcardib) July 24, 2019
Bag secured.
Photos: Backgrid
​ ​
​ ​ ​