R. Kelly's Girlfriends Say Their Cash Payments Have Been Cut Off, Posts Video From Trump Tower Apartment + Michael Avenatti - 'R. Kelly Bought His Acquittal'
​
Jul 16 | by _YBF
​ ​ ​ ​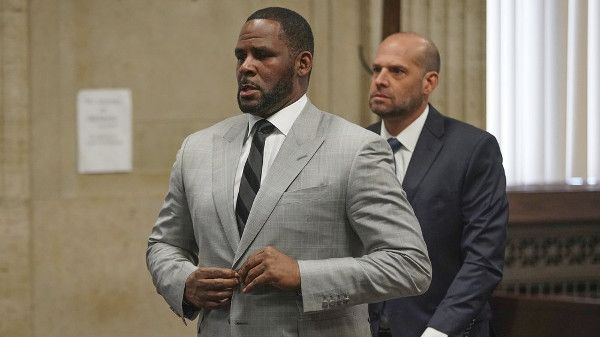 R. Kelly's girlfriends - Joycelyn Savage & Azriel Clary - reportedly claim they have been cut off from R. Kelly's money flow following his arrest. However,they're still in his Trump Tower apartment. Get the lastest on the ladies, plus lawyer Michael Avenatti's press conference inside...
It was previously reported, R. Kelly's girlfriends - Joycelyn Savage and Azriel Clary - were evicted from the singer's Trump Tower apartment in Chicago following his federal indictment. However, the ladies say that's not the case.
Joycelyn and Azriel released a video disputing reports that they were kicked out from his Chicago apartment after he was arrested by federal agents on a 13-count indictment.
In the clip, the girls claim the eviction reports are "fake news" and pans the camera around to show they're still living in the Chicago apartment.
"We are here at the Trump," Azriel says in the clip. "We've been here for years."
Check it:
According to TMZ, the Grammy Award singer's Chicago condo in Trump Tower is paid up through the end of the year, so the women at least have a place to stay for rest of 2019. However, they allegedly claim their cash flow from Kelly has been cut off. Oh?
The site reports:
We're told while they were Kelly's live-in "girlfriends," they also helped him by handling bookings and other business matters, and he paid them for it. He also gave them a weekly stipend and they were able to save much of that cash because he paid for everything anyway.

Their problem has been getting access to that money. Their attorney, Gloria Schmidt, tells us one of Kelly's staffers typically gives Azriel and Joycelyn cash -- but she says since his arrest that staffer's gone MIA.
The "I Believe I Can Fly" singer is due in court this morning in connection with the federal sex crimes charges. Both Joycelyn and Azriel - who defended the singer during an interview with "CBS This Morning" anchor Gayle King - are expected to be in attendance. No shocker there.
Meanwhile....
Lawyer Michael Avenatti held a press conference accusing Kelly of paying over $2 million to silence the girl and her family who at the center of his 2008 child pornography trial. As you know, none of them testified, which eventually resulted in the acquittal of all charges in the case.
"The fact that he was acquitted, it was bogus," Avenatti said.
Avenatti says he now represents nine people in connection to Kelly's prosecution, which include victims, parents, and "whistle blowers."
"To those R. Kelly fans who want to talk about the 2008 trial and the fact that he was acquitted, it was bogus. R. Kelly bought his acquittal," he continued.
Peep the conference above. Stay tuned to find out what happens in court today....
Photo: AP
​ ​
​ ​ ​