'I'M NOT GAY' - Dwight Howard Says Viral Story About Him Sleeping With A Man 'Upset' Him
​
Jul 16 | by _YBF
​ ​ ​ ​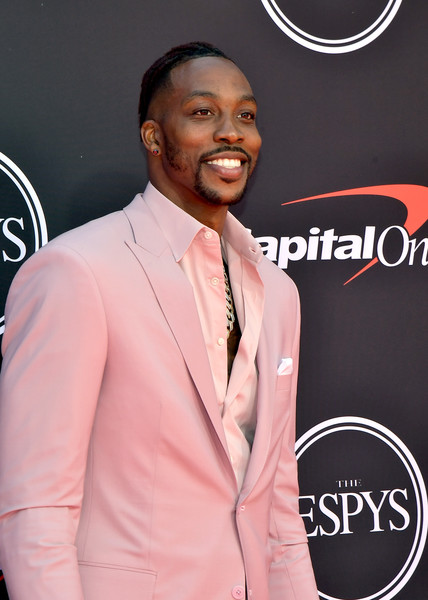 Dwight Howard opens up in a new interview about his sexual orientation, sssaying he is not gay, despite what the rumor mill says. Details inside...
NBA center Dwight Howard opens up about his sexuality after rumors started circulating that he could possibly be a part of the LGBTQ community. Masin Elije - a man who claims Howard cheated on him with a transgender woman while they were in a relationship - filed a lawsuit against Howard in March. In April, Howard countersued Elije and has denied all allegations.
In a new interview with Fox Sports 1's Kristine Leahy, the NBA baller opens up about what it was like going through that situation:
"I went through a situation last year that really just set me free," Howard said. "It ended up being a situation that was—it went viral. People were talking about it, and it upset me because I didn't even know who the person was. Why would somebody who I never met, never had any contact with, make up a whole story about me? I saw all the hate, the pure hate, from people that I've never met before, just pile up everywhere I went."
He claims he doesn't know the person who made the claims and has no idea why he lied on him.
The NBA player said the situation liberated him because he was able to experience the backlash people in the LGBTQ community experience daily:
"I think that liberated me. Because I saw how a lot of people would feel, whether they're gay or they're straight. Whether they have issues. People are afraid to be who they are. They're afraid to just step out and be. Because they're afraid of what other people might say or think about them. That situation made me realize you're not like this, but just be you, be free."
Howard sets the record straight: He not's gay.
"I'm not gay. It's a lot of people who are and they have to hide, and there's people who have mental issues and they have to hide. There's people who have different problems in life and they have to hide. They have to put on the mask every day, and it's like, I don't wanna wear no mask, I just wanna be."
Peep a clip from the interview below:
"I'm not gay... It hurt at first to go through it. I sat at home and I was like 'I never want to come outside again.'" @DwightHoward spoke on the allegations that he was gay.

(: @FairGameonFS1 | @KristineLeahy) pic.twitter.com/WcXz2WtOfY

— Complex Sports (@ComplexSports) July 16, 2019
Dwight Howard's full interview airs Wednesday, July 17th on FS1.
By the way, Dwight was traded from the Washington Wizards to the Memphis Grizzlies earlier this offseason. However, it's reported the Grizzlies plan to trade or release Howard. Yikes.
A few days ago, the NBA baller was spotted courtside at a WNBA game with this daughter:
Hey @DwightHoward! Hangin' courtside at the game with his daughter! pic.twitter.com/0XxtASCkz8

— WNBA (@WNBA) July 14, 2019
Cute.
Photo: Getty
​ ​
​ ​ ​