R. Kelly ARRESTED By The Feds On New Sex Crime Charges While Walking His Dog + Members Of Kelly's Entourage Also Charged
​
Jul 12 | by _YBF
​ ​ ​ ​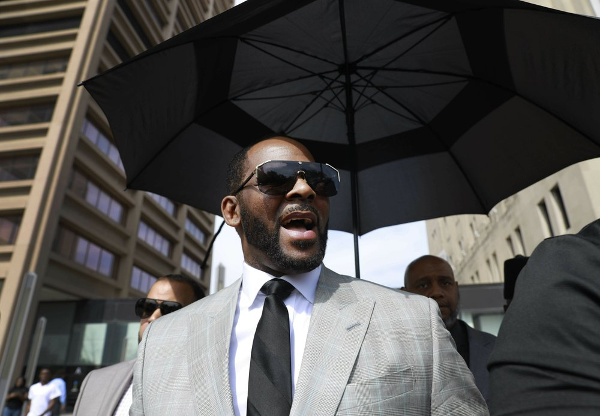 R. Kelly has been arrested in Chicago on federal sex crime charges while walking his dog. Members of his entourage have also been charged. Here's everything we know...
R. Kelly was arrested in Chicago on Thursday (July 11th) night on multiple federal sex crime charges, which include sex trafficking, in two different states.
While walking his dog last night, the 52-year-old singer was reportedly arrested by NYPD detectives and Homeland Security Investigators and it is expected he will be brought to New York. The singer has been free since posting $100,000 bail in February and living in an apartment in Trump Tower in Chicago.
The "Step In The Name Of Love" singer is facing nine counts of enticing a minor, three counts of child pornography and one count of obstruction of justice in a federal indictment unsealed in Chicago.
An indictment unsealed in the Eastern District of New York includes charges of racketeering, kidnapping, forced labor and the sexual exploitation of a child. Not only is Kelly in hot water, so are the people in his camp.
The New York indictment says Kelly, his managers, bodyguards, and other assistants "picked out women and girls at concerts and other venues and arranged for them to travel to see Kelly." It's alleged they also set rules for the women and girls to follow, which included not leaving their rooms — even to eat or go to the bathroom — without Kelly's permission, calling the singer "Daddy," and not looking at other men, the indictment alleges.
R. Kelly's former manager Derrel McDavid and employee Milton "June" Brown have also been indicted in Chicago on allegations that they helped Kelly pay hundreds and thousands of dollars to recover kiddie porn tapes and pressured witnesses in his 2008 child pornography case.
The Chicago Sun-Times reports:
The conspiracy count mentions five minors, saying Kelly "engaged in sexual contact and sexual acts" when they were under 18. It also says four videos "depict Kelly engaged in sexual contact and sexual acts" with a girl under 18.

After videos of Kelly having sex with minors went missing, Kelly, McDavid and others had "hundreds of thousands of dollars" paid to get them back, according to the indictment.
You can read the full New York indictment here.
Kelly's attorney Steve Greenberg said the latest accusations appear "to largely be the same as the conduct previously alleged against Mr. Kelly in his current state indictment and his former state charges that he was acquitted of. Most, in not all of the conduct alleged, is decades old."
In May, the Cook County state attorney's office filed new sex abuse charges against the singer, adding 11 felony counts of sexual abuse. Some of the charges carry a potential sentence of up to 30 years in prison - the most serious he has faced. Kelly has pleaded not guilty to all charges.
The new state charges came weeks after lawyer Michael Avenatti said he had a sex tape involving Kelly having sex with a minor girl sometime between 1998 and 2001, when the girl would have been 14 to 16 years old.
The R&B singer already faces separate state sex-related charges in Illinois involving four women, three of whom were minors when the alleged abuse occurred.
Again, Kelly has denied all allegations of having sex with minor and keeping two women - Azriel Clary and Joycelyn Savage - against their will.
Joycelyn Savage's father demanded to know where his daughter is seconds after R. Kelly's spokesperson Darrell Johnson held a news conference Friday morning in Atlanta.
Check it:
Alleged victim Jerhonda Pace - who stared in "Surviving R. Kelly" and is allegedly one of the victims in one of his cases - posted a message on Instagram asking fans about the whereabouts of Azriel and Joycelyn: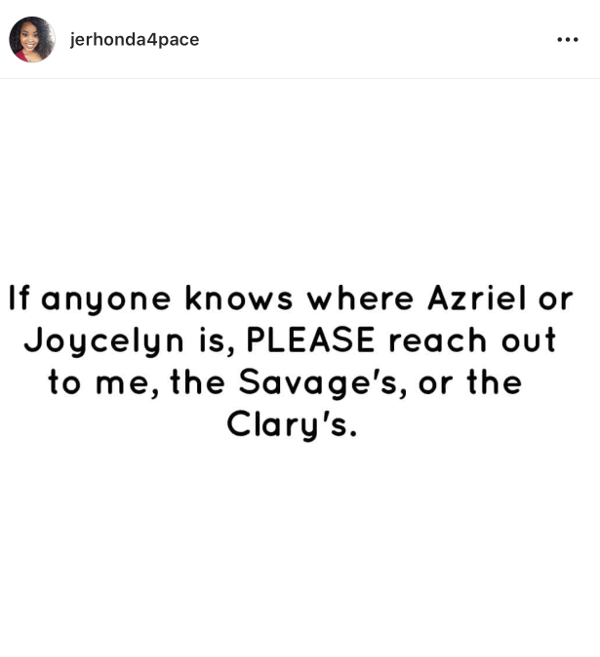 By the way, Jerhonda recently announced she's pregnant.
Photos: AP
​ ​
​ ​ ​