Teairra Mari Arrested For Allegedly Driving Drunk & Unlicensed In A 3-Wheeled Dodge Charger
​
Jun 23 | by Natasha
​ ​ ​ ​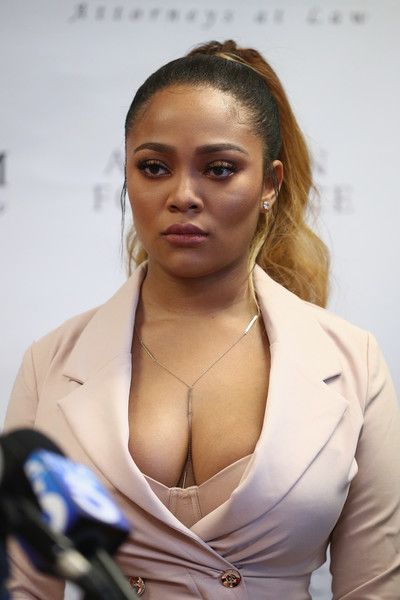 Teairra Mari found herself in a 3-wheeled pickle this weekend, and it led her to getting arrested with umpteen charges. Details inside.
Teairra Mari's been having a tough time lately. From beefing with 50 Cent over money he claims she owes him, to dealing with her ex Akbaknbr Abdul-Ahad whom she claims leaked her sexually explicit pics and videos, to trying to get control of her drinking with the help of her "Love & Hip Hop" castmates. The latter clearly is still a work in progress, because the singer was arrested early Saturday morning in Long Island City, New York after allegedly driving drunk through the Midtown Tunnel - with no license - in a Dodge Charger with only 3 wheels.
Page Six reports:
"Teairra Mari lost a wheel when her front passenger side tire dislodged from her maroon 2014 Dodge Charger around 3 a.m., sources said.

Mari then drove like that for a mile through the Queens-Midtown Tunnel.

Witnesses told police the Charger was sparking and smoking as it continued through the tunnel, grinding on the pavement.

Bridge and Tunnel Authority police gave chase, but Mari, 31, allegedly continued through the tunnel, the sources said.

Officers caught up to Mari when she finally stopped the car on Borden Avenue near 5th Street in Long Island City."
During her stop, officers learned she was not only allegedly very driving drunk, but she was in violation of a previous DWI arrest:
"When she performed a breathalyzer test, Mari allegedly had a blood-alcohol concentration of 0.304 — more than three times the legal limit, the sources said.

Cops also determined she did not have a driver's license and had violated a previous DWI arrest because the Charger was not fixed with a court-ordered ignition interlock, which prevents the car from starting if the driver's BAC is higher than a certain level, according to the law enforcement sources."
The intoxicated foolery didn't stop there. When she was at the station being booked, she allegedly went on and on to the cops about being a celebrity.
"When officers booked her, Mari made sure they knew who she was — allegedly bragging to the cops about being a celebrity, sources said."
Whew chillay.
Her list of charges, as you would assume at this point, are extensive. She's facing charges of DWI, violation of court-ordered ignition interlock, illegal tinted windows, illegal operation of a vehicle, unlicensed operator of a motor vehicle, and more.
She's seems to be either screaming out for help, or doesn't know she needs it. Either way, we wish her the best.
Photo: Getty
​ ​
​ ​ ​