Rihanna Heats Up Our Monday With Some See-Through Catsuit Drip & Her Love Life, & She's Hot AF!
​
Jun 10 | by _YBF
​ ​ ​ ​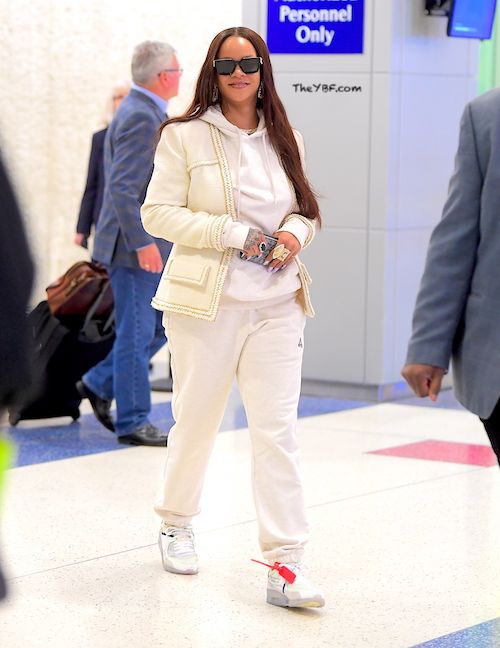 The world woke up to some bomb flicks of Rihanna posing it up for Interview Magazine. And we can't even! See her hot shots, plus find out what she said when asked about her love life, mental health and more inside....
If you're feeling the Monday Blues, Rihanna's got you covered. Chick is serving BDE and we're.....turned on AF. That Rihsexuality is something else chile....
Chick fronts Interview magazine's summer issue - photographed by Pierre-Ange Carlotti and dressed by her longtime stylist Mel Ottenberg - and she has set the magazine circuit on FIRE!
Inside, the Bajan beauty serves up a STUNNING look as she lounges in a leopard print see-through catsuit by LaQuan Smith - Yes for the salute to black designers! - accessorized with a matching fur YSL stole, black Saint Laurent pumps and dripping in Dior Fine jewelry. Hot!
For the cover...
Adding a mysterious vibe, the Fenty Beauty mogul covers the new issue in a white Saint Laurent trench coat with matching pumps, black stockings, and white leather bondage hood/mask by A.F. Vandevorst x Zana Bayne.
In the cover story, RiRi chops it up with her Oceans 8 co-star Sarah Paulson about her love life (well, kinda), motherhood, how important it is for her to take time off for to aide her mental health, and what fans have been hounding her about: New music!
Rihanna for Interview Magazine.

Photographed Pierre-Ange Carlotti pic.twitter.com/9tT1cPOQFq

— IAMFASHION (@IAMFASHlON) June 10, 2019
Rihanna for Interview Magazine. pic.twitter.com/99xygjpcb1

— Rihanna News (@TeamOfRihanna) June 10, 2019
Peep the Highlights below:
On her hot billionaire boyfriend Hassan Jemeel, marriage and kids - you better Google it!:
RIHANNA: I commend you, girl. Good job. Do you got any f*cked-up questions? Give me something. Ask me anything.

PAULSON: Who are you dating?

RIHANNA: Google it.

PAULSON: Are you in love?

RIHANNA: Of course I am.

PAULSON: Are you going to get married?

[Pause]

PAULSON: She's silent!

RIHANNA: Only god knows that, girl. We plan and god laughs, right?
Truth!
PAULSON: Do you want to be a mother?

RIHANNA: More than anything in life.
Rihanna for Interview Magazine. pic.twitter.com/htGc9HOzLL

— Rihanna News (@TeamOfRihanna) June 10, 2019
On making sure she makes time for self-care to keep her mental strong:
PAULSON: Are you working right now?

RIHANNA: I actually flew to Barbados for a concert. One of my favorite childhood musicians just got out of jail, and he's doing a little tour throughout the Caribbean. We have not seen him in 20 years, so I came to watch his show with my family and friends.

PAULSON: I love that about you—that you make time for doing things like this.

RIHANNA: You don't get moments like these every day. It's a fleeting thing, so I wanted to have it.

PAULSON: How old are you now? If you don't mind me asking.

RIHANNA: 31.

PAULSON: Shut up! I was too focused on work stuff when I was 31—I didn't go to weddings, I didn't go to funerals, and in retrospect I regret that.

RIHANNA: I never used to be this way. It's only the last couple years that I started to realize that you need to make time for yourself, because your mental health depends on it. If you're not happy, you're not going to be happy even doing things that you love doing. It'd feel like a chore. I never want work to feel like a chore. My career is my purpose, and it should never feel like anything other than a happy place. I've made little things a big deal, like going for a walk or going to the grocery store. I got into a new relationship, and it matters to me. It was like, "I need to make time for this." Just like I nurture my businesses, I need to nurture this as well. I'll shut things down for two days, three days at a time. On my calendar we now have the infamous "P," which means personal days. This is a new thing.
Rihanna for Interview Magazine. pic.twitter.com/LtixBMKTDS

— Rihanna News (@TeamOfRihanna) June 10, 2019
On her next album:
PAULSON: When do you sleep, girl?

RIHANNA: I don't have a sleep pattern. I have sleep pockets. I fit it in when I can. That's why I take those personal days so seriously. Because it's like, "You had all of me. I gave you the answers."

PAULSON: I'm like that, too.

RIHANNA: It's the reason why an album isn't being spat out like it used to. I used to be in the studio, only the studio, for three months straight, and an album would come out. Now, it's like a carousel. I do fashion one day, lingerie the next, beauty the next, then music the next. It's like having a bunch of kids and you need to take care of them all.
"My fans are persistent, they're loyal, they're protective, they're defensive, they're fun. To be completely honest, the thing that makes my fans different from other fans is me." - Rihanna pic.twitter.com/ixggoHdePw

— Rihanna News (@TeamOfRihanna) June 10, 2019
PAULSON: Okay, but as a hungry kid, I need a new Rihanna album. How much longer do we have to wait?

RIHANNA: It really does suck that it can't just come out, because I'm working on a really fun one right now. I'm really happy with a lot of the material we have so far, but I am not going to put it out until it's complete. It makes no sense to rush it, but I want it out. I've gotten to the point where I'm like, "Even if I don't have the time to shoot videos, I'm going to put an album out."

PAULSON: But how much longer do we have to wait?

RIHANNA: I wish I knew. I have blocked off a solid period of time for the studio next month.
Rihanna for Interview Magazine. pic.twitter.com/GfigowkUhx

— Rihanna News (@TeamOfRihanna) June 10, 2019
On always leaning on her faith:
PAULSON: What's the first thing you do when you wake up in the morning?

RIHANNA: Pray.

PAULSON: First thing?

RIHANNA: Unless I have to pee or something. I always want to start my day with a little devotion. I buy these devotion books and they're dated, so you just pull up the date and that devotion is for that day.

PAULSON: Have you always been a person of real faith?

RIHANNA: I've always been. My first time praying and fasting was when I was 7 years old. I did that on my own, because I wanted to go to New York, and I knew that this was a sacrifice I had to make in order for god to make sure I could get there.
Yes, drop those gems, RiRi. You can read her full interview here.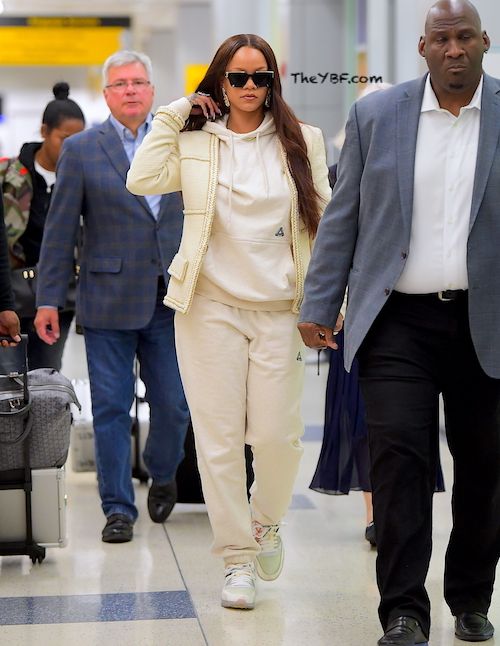 After wining and dining with her BAE Hassan in Italy a few days ago, The Fenty honcho - who was just named the wealthiest female artist in the world - touched down in NYC with a casual travel slay. She also hit up her cousin/niece Majesty's 5th birthday party this weekend:
Rihanna at Majesty's birthday party! Rihanna's reaction pic.twitter.com/jr4icRbpSJ

— Laia Fenty (@laia_fenty) June 8, 2019
Sweet!
Photos: Splash
​ ​
​ ​ ​