Porsha Williams - More Tax Problems Pile Up! + What's The REAL Reason NeNe Leakes Isn't Filming Next Season?
​
Jun 10 | by _YBF
​ ​ ​ ​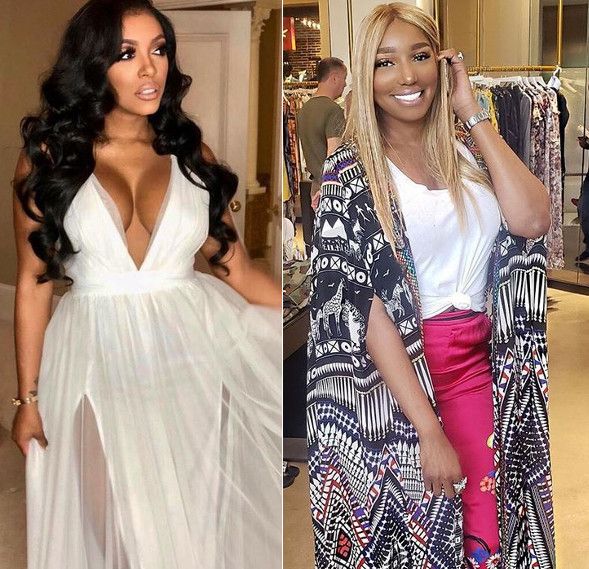 More tax problems for Porsha Williams right after she settled one debt. Meanwhile, there are conflicting rumors about why NeNe Leakes will not be filming for the first half of the newest season of the "Real Housewives of Atlanta." Deets inside...
"RHOA" star Porsha Williams just paid off a $240,000 debt in federal taxes. Now, the state of Georgia wants their cut too.
The Blast got their hands on documents from the Georgia Department of Revenue and they claim the new mom owes a total of $27,846.34 in unpaid taxes. And they've hit her with a lien. She apparently didn't pay 2017 state taxes, so they want their money.
It's a lot less money than what she owed in federal taxes, so she'll likely pay this one off quickly like she did her federal unpaid taxes.
Meanwhile...
Porsha and her fiance Dennis McKinley's daughter, Pilar Jhena, just turned 2-months-old last week. We know you all see that wedding ring in the picture above, but we believe it's Porsha's mother holding the baby. Still no word on whether Porsha and Dennis have called it quits or not.
To celebrate her 2-month-old "birthday," her mommy laced her with the spa treatment:
Adorbs!
In other "RHOA" news....
NeNe Leakes will allegedly NOT film the first half of the 12th season of "Real Housewives of Atlanta" and there are conflicting reports to the reason WHY.
RadarOnline claims NeNe - who is reportedly the highest paid housewife - is refusing to film with her new enemies Porsha Williams and Kenya Moore.
"She is not going to let them stir the pot," the source told Radar about NeNe's refusal to film with either lady. And NeNe never wanted Kenya to come back after she was fired for hiding her secret marriage to Marc Daly insiders told Radar.
#RHOA | Is #NeneLeakes refusing to film with #PorshaWilliams and #KenyaMoore?!
Multiple sources have reported Leakes doesn't want to film because she feels Williams and Moore "use her to start drama," for the show.
Do you believe these reports? pic.twitter.com/FWqWWbooXl

— #RHOBravo (@TheRHOBravo) June 10, 2019
NeNe and Porsha's friendship fizzled out after the Season 11 reunion taping. The ladies got into a social media war, spewing fighting words and everything. Catch up HERE.
Another publication is reporting the reason NeNe won't be filming is due to producers FORCING her to sit out after her insane altercation with the camera crew that sent one person to the hospital with missing teeth. LoveBScott reports:
As revealed during the reunion, NeNe's altercation with producers was way more intense than we saw. We saw NeNe rip a cameraman's shirt, but Porsha Williams and Kandi Burruss shared that one of the crew members ended up in the hospital with a missing tooth after NeNe put her hands on him.

For that reason, in addition to NeNe's 'bad attitude' in dealing with producers and execs behind the scenes, sources tell lovebscott.com that NeNe has been forced to "sit out" for at least the first part of the season — maybe longer — as the ladies begin filming.

NeNe is being paid per episode, so every filming she misses is money out of her pocket — so we're sure she's not thrilled.
Chile...
The self-proclaimed "RHOA HBIC" doesn't seem bothered by the rumors as she has been posting flicks all smiles on her Instagram account. However, she turned the comments off on her last IG post:
We'll be keeping our eyes ready to see when/if NeNe does in fact film for the upcoming season.
Photos: Porsha's IG/NeNe's IG
​ ​
​ ​ ​