Ciara Opens Up About Leaving A Toxic Relationship For Single Motherhood, Talks More Babies & CONSISTENCY With Russell Wilson & Spills On THAT PRAYER!
​
Jun 04 | by _YBF
​ ​ ​ ​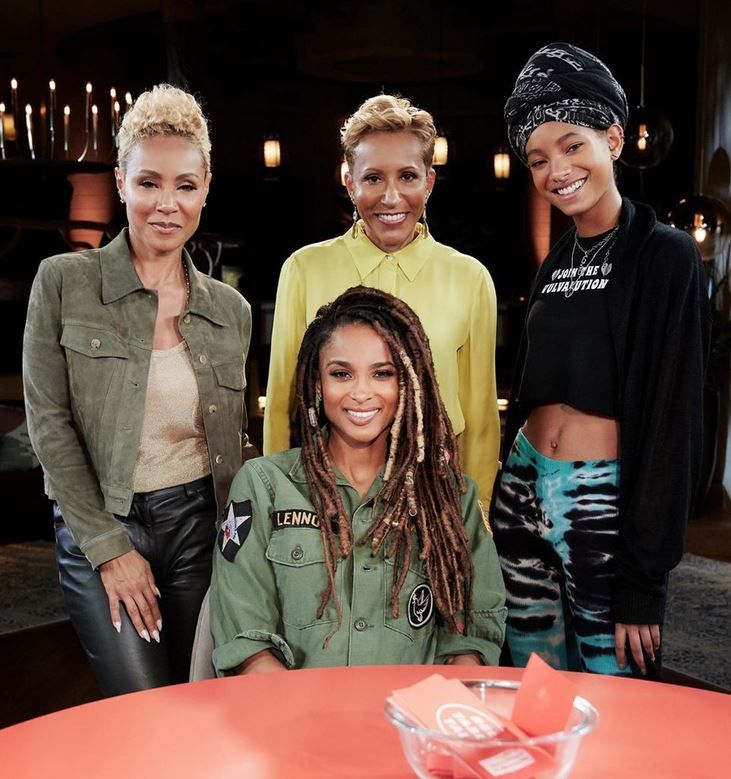 Ciara opens up about the moment she realized she would end things with ex-fiance Future, how husband Russell Wilson swept her off her feet and she finally shares the prayer y'all have been asking for. Get it all inside...
Ciara has certainly leveled up in her love life going from community peen to a REAL man who loves her until infinity and beyond. Her love story leaves hope for women who have gotten caught up with the wrong man even though it felt right at the time.
Sometimes when you're in a toxic relationship, you don't even realize how toxic it is. Sometimes you stay in a relationship you know you shouldn't be in any longer because you have a child with that person and you want to fight for your family. Most of us have been there.
That's where Ciara once was. In 2014, she had welcomed her son Future Zahir Wilburn with her then-fiance Future. But three months after Baby Future made his arrival, the "Thinkin' Bout You" singer called it quits with the Dirty Sprite rapper. While she didn't explicitly say Future's name, she talked about the big "breakup" before becoming a single mother.
It was a hard decision to make because the Beauty Marks singer feared being a single mother. However, she knew she had to leave for the sake of her son. She said she would have moments where she was crying because she wasn't in the happiest place and it hurt when she was going through it.
"When I was thinking about my son, I know what I want to feel. I know what type of love I wanted for us," she said on Jada Pinkett Smith's Facebook Watch series "Red Table Talk."

"I know the kind of love that I want for us," she said. "What I did was – Future [Zahir] was like my teddy bear. So I was like, we gone go. We 'bout to do this thing together."
"The Greatest Love" singer said the combination of being a single mother and her breakup is what led her to seek more in life because none of what she was going through was ideal for her.
"I grew up with my mom and dad being together. The idea of it being mommy and daddy that made baby," she said. "Also, you're living your life in front of the world, so that adds a whole 'nother layer. I feel like I'm failing right now, they're going to roast me."
While she desperately wanted that fairytale life, she knew something had to change in fear of wasting her time.
"The one thing I fear in life is really wasting my life. I really fear that because you realize that time does not stop and it will be the worst scenario to stay in a situation that it's just not healthy, it's not going to get any better. I realized that I have to start making different decisions."
Preach!
The 33-year-old singer said was she working out one day and was trying to figure out what she wanted to do as far as her relationship.
"Do I stay? What direction do I go? What is the right thing to do? It's like 'It's easy to do this, but is easy the right thing?'"
A word.
CiCi said she realized she had to start making different decisions. She said she had to figure out what she didn't want and said that was more than half the battle. She said when you know what you don't want and you see that image, you're like nope! I'm good. She said she committed to "pulling through because there's no other option."
"I'm really afraid of losing myself. And if you stay in situations that aren't healthy or if you let them linger too long, you start to lose yourself. I don't like crying all the time. I don't like being sad, so I'm like how do I get out of this? I like being happy. I'm not trying to sit in this feeling."
The "Goodies" singer revealed her dad's love was her saving grace. She would compare how her father treated his mother to realize "this isn't love."
Embarking on a new journey as a single mother, Ciara was initially intimated, but then Super Bowl winning quarterback Russell Wilson came into her life (when Baby Future was 10 months old) and swept her off her feet.
"It was different. I've never had that feeling in my life. It was calm," she shared.
Whew!
She said when they first started talking, they were friends first. When they linked up for the first time in person, Russ met CiCi AND her family-in a friend-like setting.
When they talked, they were connecting on all levels.
"The way he looked at life was different. The energy with my son, it just felt right. And then the consistency. He's consistent. That consistency is so crucial...He came in with open arms, like 'I got you.' Whenever he would think of me, he would always think of my son. We come together. It's dope! It's a different level of love," she gushed.
Come on CONSISTENCY!
Russell jumped right in, changing Baby Future diapers and all. She said the way Russell loves their kids is SO sexy to her. And we agree.
Also, CiCi finally shared details about the prayer she prayed to nab the NFL superstar.
"This is the funniest thing in the world, this prayer thing that all the fans talk about," she said. "Be very specific, be very clear about what you want. I prayed to really learn from the wisdom that I gained. I prayed for discernment, I prayed for a God fearing man. I prayed for a man that loves kids."
OK, now y'all (meaning we) can stop asking her.
Do Ciara and Russell argue?
"I wouldn't say argue, but we do have those moments when he thinks blue and I think red."
What about giving their daughter Sienna and Future Zahir another sibling?!
"I do look forward to another baby. I would like to have like two more. I love my kids," she shared.
Nice!
Check out Ciara's full interview below:
Photo: RTT's IG
​ ​
​ ​ ​