BRUH! NBA Baller D'Angelo Russell CAUGHT With Weed Inside A Fake Arizona Iced Tea Can At Airport
​
May 03 | by _YBF
​ ​ ​ ​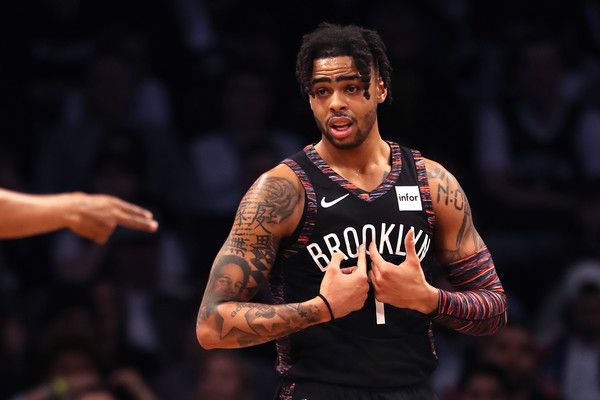 NBA player D'Angelo Russell tried to pull a fast one on TSA agents, but it didn't go as he planned. More inside...
Bruh! We understand it's the offseason, but you can't be out here wilin' like this!
NBA star D'Angelo Russell thought he was going to sneak some weed through the airport, but he was sadly mistaken.
The Brooklyn Nets baller reportedly got busted with marijuana in his checked bag at LaGuardia airport on his way to Louisville, KY. Agents noticed a suspicious can of Arizona Iced tea in his luggage and investigated.
It seems the 23-year-old thought he would be able to hide the weed in this rigged up can, but nope! The can was fake and it featured a secret compartment people apparently use to stash their drugs.
It's reported he also had a grinder (a tool people use to break down their weed) in the can that held more weed inside of it. Law enforcement sources claim De'angelo initially tried to say the weed belonged to his brother, but he was alone and in possession of the bag.
This guy...
The Nets' baller was cited for possession of marijuana (under 50 grams) and was allowed to hop on his flight. According to TMZ, the citation usually results in the defendant just having to pay a fine. In his case, he may have to pay two fines if the NBA decides to punish him.
The Brooklyn Nets organization is aware of the incident and issued a statement, saying, "We have been made aware of the situation involving D'Angelo Russell and are in the process of gathering more information at this time."
When sports analyst Stephen A. Smith heard about D'Angelo's situation, he quickly reacted on Twitter:
I JUST heard the news about D'Angelo Russell and.......... pic.twitter.com/QeAi3atHWu

— Stephen A Smith (@stephenasmith) May 3, 2019
However, he saved his famous tagline for Friday morning's taping of "First Take":
He told no lies...
EXTRAS:
1. The Los Angeles Lakers are reportedly moving on with Tyronn Lue as head coach. STORY
Photo: Getty
​ ​
​ ​ ​