Wendy Williams Explores SEPARATION From Husband Kevin Hunter Now That Alleged Mistress Has Given Birth! (Report)
​
Apr 01 | by Natasha
​ ​ ​ ​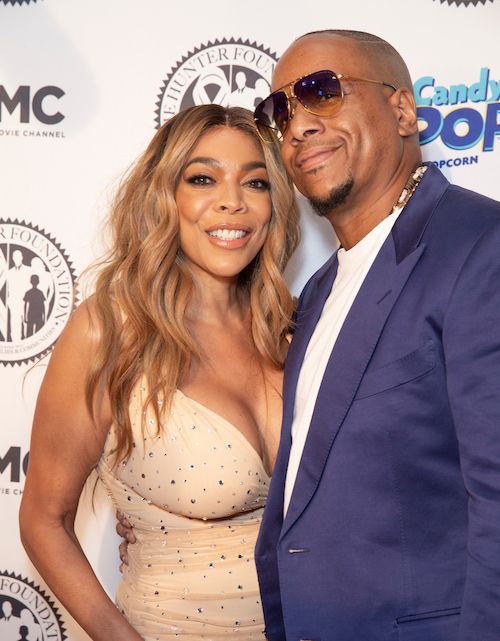 Wendy Williams has reportedly made a VERY necessary move in her marriage - a separation from husband Kevin Hunter. Now that his alleged mistress has given birth to what is rumored his baby, it's about time.
Deets inside.
Rumors circulated days ago that Kevin Hunter's longtime alleged mistress Sherina "Nicki" Hudson welcomed a baby, whose birth certificate reportedly does not have Kevin's name on it. But, we all know the deal. According to telephone recordings where Sherina spoke on the phone as a patient at the hospital, she checked in to the maternity ward at a hospital in Pennsylvania, likely to stay off the New York paparazzi's radar.
Kevin nor Wendy has addressed this new baby, but interestingly enough, Wendy's 2001 memoir may say it all. the talk show mogul said almost 20 years ago that she would only leave her husband under certain circumstances. Wendy wrote that Kevin cheated on her back then causing her to hire a P.I. and setting rules for what she will deal with in the future.
In Wendy's Got The Heat, Wendy said she caught Kevin cheating while he ws talking to a woman (pre-Sherina) on the phone in the middle of the night.
"In those forty-five seconds my woman's intuition kicked in and I knew he was on the phone with a lover," she revealed.

"No woman deserves this," she wrote. "I wanted to kill him. I mean really kill him. For real. I wanted to kill him more because I was in the process of breaking my Number One Rule: No Cheating."
Her rules from that point on:
"The only thing that would make me walk out for good is if he lied about anything – if he was in love, if she was just as successful at what she does as I am in my career, if she had his baby," Williams wrote.
And here we are. If the Page Six reports are true, Wendy's OUT. Or at least trying to be. And honestly, it's for the best for her sobriety and health.
Now sources say Williams and Hunter are exploring what a separation would look like, even though he remains her long-time manager. They are both partners in Wendy Williams Productions, the company that produces her popular daytime show.

A source told us: "There is a discussion about what happens now — everyone is asking, 'How can they possibly stay together?' Wendy still loves Kevin, but her health is at stake.

"They are so tangled up together in business, so they are carefully looking at what a separation could entail. It will be difficult."
Girl, just figure that ish out. And quickly. We do hear Kevin was on the set daily with Wendy after she returned. Now, she's on a "pre-planned" one week break. We'll see if here's ther when she returns.
Photo: Shutterstock.com
​ ​
​ ​ ​