Threatening Letter R. Kelly Allegedly Sent To Rape Accuser Revealed + Third Alleged R. Kelly Sex Tape Surfaces + Joycelyn Savage's Family Speaks Out + Former Lawyer Says Kelly WAS Guilty Back Then!
Mar 11 | by _YBF
We've got a round up of R. Kelly updates. Get the latest inside...
A letter R. Kelly sent to one of R. Kelly's alleged rape victims has surfaced online where he threatens to humiliate her if she persists in court action.
21-year-old Faith Rodgers - the woman who filed a lawsuit against Kelly for allegedly raping her and giving her herpes - received a threatening letter from R. Kelly where he used intimidation in an effort to get her to stop talking. He said he would have "10 personal male witnesses" to testify about her sex life, release compromising photos of her, and that he would provide medical records to prove the origin of her STD claim.
In January, Faith Rodgers did a press conference with her lawyer Gloria Allred after speaking to NYC police about the threatening letter. The letter was not filed in court until last week. It was filed after Faith's lawyer - Lydia Agu - filed a request for a preliminary conference.
The notarized letter was sent to a lawyer representing Faith on October 22, 2018.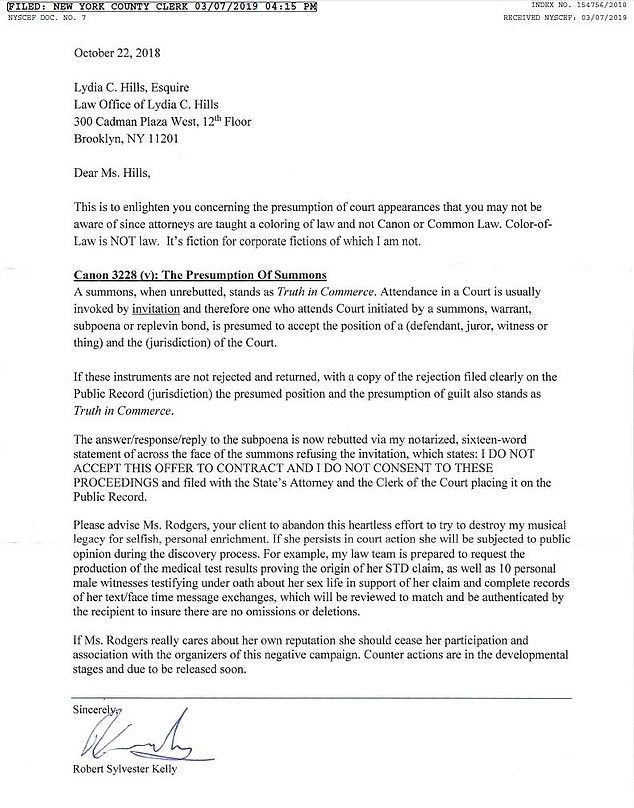 In part, the letter reads, "Please advise Ms. Rodgers, your client to abandon this heartless effort to try to destroy my musical legacy for selfish, personal enrichment. If she persists in court action she will be subjected to public opinion during the discovery process."
"For example, my law team is prepared to request the production of the medical test results proving the origin of her STD claim, as well as 10 personal male witnesses testifying under oath about her sex life in support of her claim and complete records of her text/face time message exchanges, which will be reviewed to match and be authenticated by the recipient to insure [sic] there are no omissions or deletions."
"If Ms. Rodgers really cares about her own reputation she should cease her participation and association with the organizers of this negative campaign. Counter actions are in the developmental stages and due to be released soon."
The letter was signed, Robert Sylvester Kelly.
On Saturday...
R. Kelly was released from the Cook County jail (again) after $161,000 in owed child support was paid on his behalf on Saturday afternoon (March 9th). The person who footed the bill is still anonymous.
The 52-year-old singer was taken into custody on Wednesday (March 6th) for those outstanding payments. He was out on bail in a separate criminal case over 10 felony charges of aggravated sexual abuse. Last month, he pleaded not guilty to all of the charges.
The Grammy Award winner was seen walking out of Chicago's Cook County Jail on Saturday, accompanied by his attorney, Steve Greenberg. He even spoke to the media.
"I promise you, we're going to straighten all this stuff out," Kelly told reporters and people standing outside.
Peep the clip below:
Also...
An alleged third sex tape featuring R. Kelly and an alleged underage girl has surfaced.
Gary Dennis - a man from Pennsylvania who has no connection to the singer - held a press conference with his lawyer Gloria Allred to explain how he found the alleged THIRD sex tape and why he's speaking out.
He said he found a tape labeled "R. Kelly" while he was going through old VHS tapes he owns. He initially thought it was a "sports tape." He popped the VHS in and later found out it was a sex tape allegedly featuring R. Kelly. He said he doesn't know how the tape turned up in his possession. After watching it, he said the singer is "engaging in sex acts with underage black girls." And apparently, more than one.
Mr. Dennis didn't give many details about what he saw on the tape, however, he did say the girls in the video appeared to be underdeveloped and that the man on the tape appears to be R. Kelly. He said the tape appears to have been produced in the 1990s.
Peep clips from his conference above and below:
While R. Kelly wants us to believe he's innocent, his own lawyer is now airing him out.
Ed Genson, R. Kelly's first trial lawyer said his former client is "not a very bright person," @NeilSteinberg writes.https://t.co/PXG0T59fny

— Chicago Sun-Times (@Suntimes) March 7, 2019
Kelly's former lawyer Ed Genson - a famous Chicago defense attorney who says he's dying of cancer - said his former client "was guilty as hell." He represented Robert in his 2008 child pornography case.
"He was guilty as hell!" Genson told Chicago Sun-Times columnist Neil Steinberg. "I don't think he's done anything inappropriate for years. I'll tell you a secret: I had him go to a doctor to get shots, libido-killing shots. That's why he didn't get arrested for anything else."
Lordt.
Steve Greenberg, Kelly's current defense attorney, told USA TODAY that he spoke with Genson and claims he doesn't even remember saying that.
"When I asked him about the comments, he told me that he has no recollection of the conversation and he would never have said that because it would be completely improper, and wrong," Greenberg said in an email.
Last week...
Not only did R. Kelly speak to Gayle King for an interview, his two "girlfriends" - Azriel Clary and Joycelyn Savage - also spoke with her.
The ladies were very defensive from the very beginning. They claim they are NOT brainwashed, they LOVE R. Kelly, and that their parents are only trying to scam for money. Sheesh.
Check out the clips above and below:
After seeing their interview, "The Talk" co-host Eve opened up on the daytime talk show about wanting to speak with them after sharing how she saved a young girl from a similar situation.
"It's so hard to watch these girls... because they're young girls, you want to snatch them up and talk to them," she said.
"I saw this guy who kept kind of following the tour, but he had a caravan full of girls and these girls were always with him... there was one girl that I felt... I needed to talk to her." Later she told Eve that she didn't have money and the guy had her 'riding around and trying to have sex with some of the guys on the tour.' Then, she shared, "We made a plan to get her home... I took her on my tour bus with me that night and we took her to the next city and I flew her home to Florida."
Watch the clip above.
This morning...
#JoycelynSavage's family says time is up for R. Kelly. The 52yo's publicist promised the Savage Family would see their daughter and that hasn't happened after a strange, short, and scripted style phone call they had with her last week.#RKelly @AttorneyGriggs pic.twitter.com/XNodSkdSbN

— Tia A. Ewing (@TIA_EWING) March 11, 2019
Joycelyn Savage's parents wants R. Kelly to let them see their daughter. The family spoke out this morning after their 2-minute "scripted" phone call with their daughter. According to their attorney, the Savages were told they would get to see their daughter, but they haven't seen her yet. They spoke to her for a couple of minutes a few days ago, but Joycelyn cut the convo short and hung up. Watch their exchange below:
Also...
This picture of Joycelyn, her mother and sister with Kelly is making its rounds on social media. Folks are blasting the mother - Jonjelyn Savage - for introducing her daughter to R. Kelly. She has admitted in previous interviews that she met R. Kelly, however, the father - Tim Savage - has not.
R. Kelly's next hearing in his criminal case is set for March 13th.
Photos: Paul Beaty via AP/Facebook