Candace Owens Gives Insane Reasons Why Racism & Racially Motivated Police Brutality Don't Exist + Gives Roseanne Barr Platform To Attack #METOO
​
Mar 05 | by _YBF
​ ​ ​ ​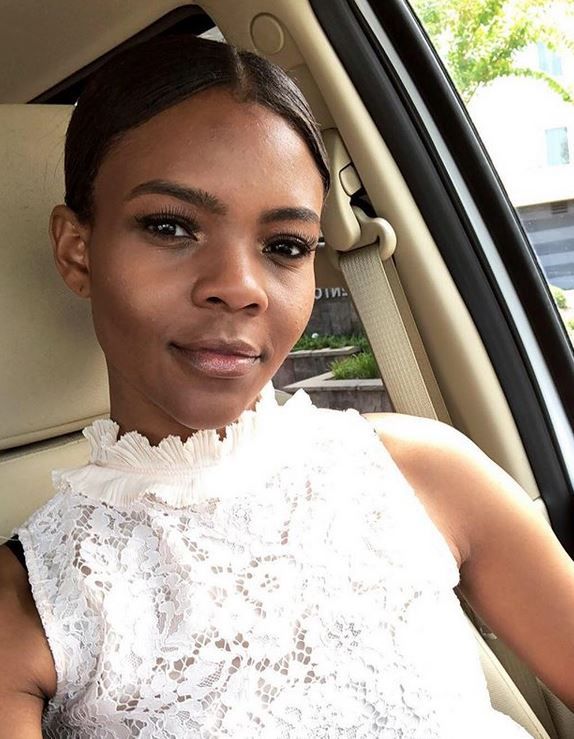 Conservative pundit Candace Owens is acting out in these streets. But, what's new when it comes to her. Find out why she said racism doesn't exist and why racially motivated police brutality is a myth, plus her controversial sitdown with Rosanne Barr inside...
Trump supporting Candace Owens loves spewing her ridiculous rhetoric and she's sounding alarms again.
The conservative pundit made some outlandish comments about slavery and police brutality during her speech at the Conservative Political Action Conference (CPAC) on Friday. And chick clearly has bumped her head.
Based on what we gathered from her speech, Candace feels like racism no longer exists in America because she has "never been a slave in this country."
"First and foremost, stop selling us our own oppression," she said during her speech. "Stop taking away our self-confidence by telling us that we can't because of racism, because of slavery. I've never been a slave in this country," Owens said.

"Stop telling us that we need to be obsessing over our past when we should be obsessing over our future and the potential that we have," she continued as people in the audience applauded.
Girl, really? Racism no longer exists because you've never been a slave? Just stop.
"Truth No. 3. Racially motivated police brutality is a myth. It's simply a myth. But father absence is not. The No. 1 issue facing black America is that father's have been removed from the home. It's that they have been incentivizing father absence."
And there's no such thing as racist white cops gunning down black men in the streets? Yes, fathers not being present in the black community is an issue, but it doesn't erase the fact that there are white, racist police officers killing unarmed black men simply based on the color of their skin. EVERY. DAY.
We can't.
Check it at the 7:58-minute mark below:
This woman will stop at nothing to lash out at liberals to make her conservative views seem superior. She claims racism no longer exists, however, just a few years ago, she and her family https://www.theroot.com/candace-owens-who-thinks-racism-is-all-in-the-pa... ">reportedly won a lawsuit and got paid $37,500 from the Stamford, Conn., Board of Education over racist attacks. So did racism mysteriously disappear in three years, Cadace? Make it make sense.
The foolywang train doesn't stop there...
Candace Owens invited actress Roseanne Barr to her new YouTube talk show where the controversial actress made some derogatory comments aimed at #METTOO survivors/accusers, following the backlash she received over her racist tweets about former White House aide Valerie Jarrett. The disgraced actress dubbed the women who have come forward about their experiences with sexual assault as "h*es."
"If you don't run out the room, and go, 'Excuse me, you don't talk to me that way, you don't do that to me, excuse me,' and leave, but you stayed around because you're like 'Well, I thought maybe he was gonna give me a writing job,' well you ain't nothing but a h**," she said in reference to one of the women who accused comedian Louis C.K. of masturbating in front of her (something he acknowledged actually occurred).
"I know a h** when I see one," she continued. "I'm telling ya, they come for my boys [sons], 'cause my boys, you know, I'm their mom and they're, you know, we have a little bit money. So I got an eagle eye for this thing and I know. They need to be called out and that's privilege too, h** privilege."
The former "Roseanne" star also fired shots at presidential hopeful Kamala Harris (D-CA):
"Look at Kamala Harris, who I call Kama Sutra Harris, we all know what she did," Roseanne said. Candace accused her of sleeping her way to the top. "She slept her way to the bottom," Roseanne interrupted.
Check it at the 33:33 mark above.
They're real bold with it huh? Let's hope no one in their family or something they're close to ever have to experience being sexually assaulted and then having someone call them out their names for speaking up for themselves.
We wish she'd sit down and worry about her wedding or whatever....
EXTRAS:
1. A school district in California school district is investigating a social media flick of young people giving Nazi salutes while standing around a table on which red cups form a swastika. And it has gone viral. STORY
Photo: Candace's IG
​ ​
​ ​ ​