McDonald's Worker Yasmine James, Who Defended Herself Against Crazed White Customer, Speaks Out & Lawyers Up With Two Black Women Attorneys
​
Jan 04 | by _YBF
​ ​ ​ ​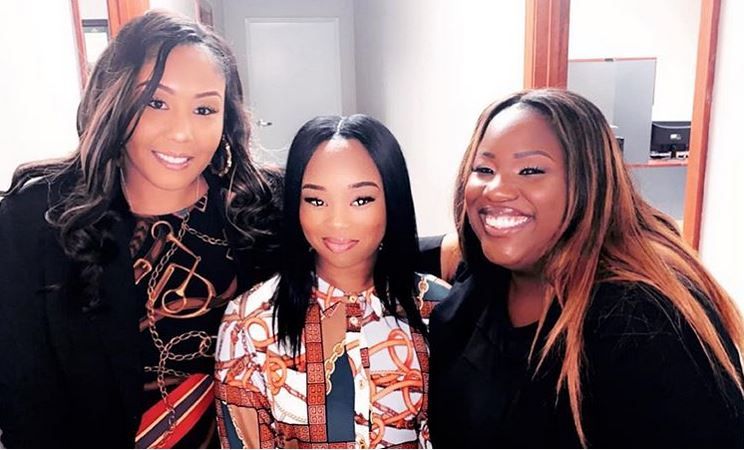 Yasmine James - the black female McDonald's worker who beat down a white man who grabbed her up - is now speaking out after lawyering up with two black female attorneys. Find out how Yasmine is doing after the altercation and her next steps inside....
No one in McDonald's - including her male co-workers and male supervisor - helped employee Yasmine James when a white man assaulted her as she stood behind the cash register. One co-worker lightly pushed the custmer away AFTER she beat him down, but that's about it. However, she now has a strong team of black women behind her that are working to bring justice after the horrific situation.
The 20-year-old fast food worker is speaking out about what happened to her on New Year's Eve inside a St. Petersbug, FL McDonald's that resulted in her beating down a 40-year-old white man (named Daniel Taylor) AFTER he grabbed her by the shirt over a straw. Yep, he was pissed because the young, black woman didn't give him a straw and didn't "obey" him. The altercation was caught on camera by a customer and has since gone viral.
Now, Yasmine is speaking out about the ordeal for the first time after she lawyered up with two black female attorneys, Michele Rayner-Goolsby and Shannon Ligon.
The young Florida native has spoken to several news outlets about the disrespect she has endured since starting the fast food job just three months ago. After graduating from St. Petersburg in 2017, Yasmine has been working towards her dreams of becoming a nurse or social worker one day.
While Yasmine clearly held her own, she shared with The Grio she was horrified after the male customer grabbed her by the collar.
"It really scared me when he grabbed me. I didn't know if he had a knife, a gun or anything," Yasmine told the site. "He assaulted me, but he also kicked another girl in the stomach on his way out. He should've gotten more than a misdemeanor. To me that won't teach him a lesson at all."
Understandable.
Daniel Taylor was arrested and charged with two simple counts of battery after Yasmine called the police on him. You read that right. SHE was the one to call the police since NO ONE ELSE thought that would have been the right thing to do. Yasmine's legal team claim Daniel Taylor actually called the police too, and said HE was the one being "attacked by black people." He TRIED it, but that's what they do. Cause drama, then play victim. Thank god for video.
"So when he grabbed me, in my mind I was just like 'get off of me.' My thing was to just get him off of me the best way I could because I didn't know what he was going to do to me," Yasmine told ESSENCE.
Then there's this: The man got irate since Yasmine didn't give him a straw. According to TampaBay.com, there's a new policy in St. Petersburg, FL. to ban single-use plastic straws. A full ban will be going in effect by 2020. As the policy stands now, establishments are not to give out any straws unless requested by a customer.
"No one, especially a woman of color, should have to go through this at their place of business. No one should have to do it," Yasmine's attorney Michele Rayner-Goolsby told ESSENCE. "That shows that we can't even do the daily task without being attacked."
Where is the lie?
Contrary to the rumors that have been circulating online, Yasmine has NOT been fired from her position. However, she hasn't been back since the incident on New Year's Eve as she's on leave.
After the altercation, Yasmine said her manager seemed clueless as to how to handle the situation. (We could tell.) She said McDonald's needs to set new policies in place to better handle situations like these that are actually common at her store.
"I was just really upset," the 20-year-old told ESSENCE. "No one knew what to do. They didn't know if to go back to work, they were just shocked and I think there should be something in place for things like that."
She continued, "It makes you feel very alone," she said, especially since the white man was allowed to remain in the building even after the altercation. "I didn't know if he was going to attack me again."

"I don't think people took it so seriously," Yasmine told The Grio. "Just because I am a Black woman and he was a white man that assaulted me. Like, 'Okay, she fought this man, lets go back to work. Don't call the police because this is normal.' It was just going to go under the rug," she explained. "I didn't like that feeling. To me it's like if I didn't call the police, if I didn't do anything, who would have? I just felt like I was left alone, on my own."
In a press release shared by her attorneys, Yasmine said it hurt that none of her co-workers stepped in to help her defend herself.
"I am not only physically hurt, but I am emotionally hurt that I was left to defend myself even as I was surrounded by my co-workers and other bystanders. "I am so grateful for the outpouring of support I have received from all around the country. I am aware this type of violence happens to women, especially Black women, everyday. For me, this was 'the last straw.' I am committed to using this horrible experience as means to fight for justice, not only for myself but for other women experiencing this kind of violence in environments where they should be safe and protected."
Just because black women have a "superwoman" aura does not mean we wear the cape by choice. We're human too.
You can read the full statement here.
Yasmine's mother, Sherrie Neeley, set up a GoFundMe account after an outpouring of support. The donations will be used for Yasmine's medical and educational needs. No part of the funds will be used against legal fees.
You can donate here.
Let's support Yasmine James so she can get justice!
Photo: @thatsmylawyer
​ ​
​ ​ ​