MCDONALD'S MADNESS: Black Woman Beats The Breaks Off White Customer Who Attacked Her Since No One Else - Including Her Supervisors - Defended Her
Jan 02 | by _YBF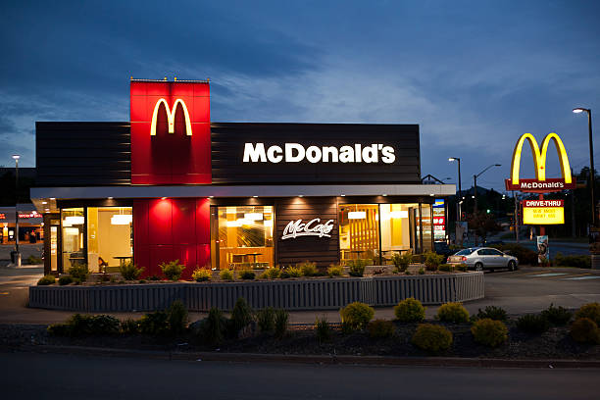 A white man thought he was going to put his hands on a black woman and nothing would happen to him. He was sadly mistaken. The young, black queen gave him the a** whooping he deserved since no one else - including her supervisor - did. Deets inside...
UPDATE: McDonald's wrote in a statement: "Our highest priority is always the safety and well-being of our employees and customers at our restaurants. We have been in contact with the police department and are fully cooperating with their investigation."
_____________
Black women are not safe in America even when they're surrounded by men. And that was proven when a white man physically assaulted a young, black female McDonald's worker in St. Petersburg, FL recently.
On New Year's Eve, 40-year-old Daniel Willis got into a verbal altercation with a black female McDonald's employee. Why? That's unclear, but it's alleged it had something to do with a straw. Well, the white man got so upset, he lunged forward and GRABBED UP the woman worker across the counter in a video that has now gone viral.
Dude ran up on the wrong one because queen went to work on him with her own 8 piece, defending herself with punches to the man's face and body after he initially assaulted her from behind the cash register. Meanwhile, the entire McDonald's crew (men included) looked on as the fight went down before trying to break it up.
Peep the disturbing video below:
Not one man came to her defense. Instead, they grabbed HER as she tried to defend herself. The kicker? The supervisor finally makes an appearance and when he does, he tries to accommodate the customer!
After the fight, the white man is demanding the employee be "fired." Whet?! While he's carrying on about the woman needing to be fired, the young lady is heard yelling at the man that he's going to JAIL for putting his hands on her first. As he should.
Daniel Willis, of Clearwater, FL, was charged with two misdemeanor counts of simple battery. And it's not only because of his foolishness at the counter. Afterwards, he kicked another woman emplyee in the stomach, and tried to rob a gas station. NBC 5 in St. Louis reports:
When Taylor was being escorted out of the business by McDonald's management, he kicked another employee in the stomach while she was standing near the door, police say.

Shortly thereafter, there was a report of an unarmed robbery at a Shell station at 1800 34th St. S. When officers arrived, they recognized Taylor from the video.
This guy!
He is Daniel Taylor & he's been arrested.

This video summarizes how men murder 1600 women/year in America:
•Violent man attacks woman
•Men watch & do nothing to stop him
•After the attack—they ignore her & apologize to *him* for upsetting him
•They work to make *him* happy pic.twitter.com/VzTx1alHoE

— Qasim Rashid, Esq. (@MuslimIQ) January 2, 2019
As expected, folks are outraged over the video, with some calling for the firing of the supervisor who didn't do a damn thing after the fight.
I am sick of seeing footage of men assault Women (often Black Women) and no one does anything about it.

This conditioning contributes to the narrative that we are undeserving of protection and mark my words: it's reaching a peak and turning into an invitation for our abuse.

— Octavia Butler knew... (@Nikyatu) January 2, 2019
@McDonalds when will you be assisting your employee in pressing charges against this man and also training your staff on how to properly handle an assault on a woman and one of your employees. We need answers NOW. @StPetePD

— R O C H E L L E (@RochelleRitchie) January 2, 2019
She was defending herself.
The Manager, on the other hand, should be fired immediately. Not re-trained..FIRED ! He made no attempt to defend her. He was looking at the receipt, and calmly conversing with the assailant. I hope she has called a lawyer.

— AuntKimmie Needs You To Help #SaveMidnightTexas ! (@AuntKimmie_GG) January 2, 2019
Lil' mama gave him the business! Then, as usual, the aggressor played the victim!

Why wasn't he kicked out of McDonald's?

— mmbaity (@moniquemontez72) January 2, 2019
Exactly. Why wasn't he immediately handled, secured, or kicked out of McDonald's while the police were called? Malcolm X said it best when he said black women are the most unprotected and neglected people in America. This is proof of what happens every day - both situations like these and microaggressions.
There's social media chatter that the woman employee was fired, but this has yet to be confirmed.
Thoughts?
Photo: Getty