BATTLING EXES! Jennifer Hudson & Ex-Fiancé David Otunga Head To Trial In Custody Battle + Rob Kardashian Ordered To Pay Chyna's Legal Fees, So He Reportedly Sold Off His Jewelry
​
Dec 07 | by _YBF
​ ​ ​ ​
Battles between Jennifer Hudson & David Otunga, and Blac Chyna & Rob Kardashian continue. Get the latest inside...
The custody battle between Jennifer Hudson and her ex-fiance David Otunga continues. And now, they're about to go to trial to figure out who will get more time with their son, David Otunga Jr.
"The Voice" judge and the WWE commentator will be going to trial after an Illinois judge set a court date for March 11, 2019 to finally set a custody agreement in place. You'll recall, David was granted temporary custody of their son David Jr. due to the fact that the "Spotlight" singer was traveling a lot for work.
According to The Blast, the former couple will testify in court to argue who should get more custody and who should pay support. And the judge expects the trail to last for five days. Sheesh.
The site reports:
Last year, Hudson originally filed for an emergency order of protection accusing Otunga of pushing her while holding their son David. The court granted the temporary request but Hudson would later drop the petition altogether. Otunga has always denied the allegations.

Since she dropped her petition for an order of protection, the two have been battling it out in court with each filing motion after motion in court accusing the other of playing legal games.

At one point, Jennifer feared he would kidnap their son and David claimed she was trying to defame him with her allegations.

Otunga has even fired off a subpoena to Jennifer's sister Julie requesting she sit for a deposition in the case. The two have even been fighting over the choice of school bus stops.
Bus stops? Lordt. Hope they work something out for the sake of David Jr.
As for other battling exes...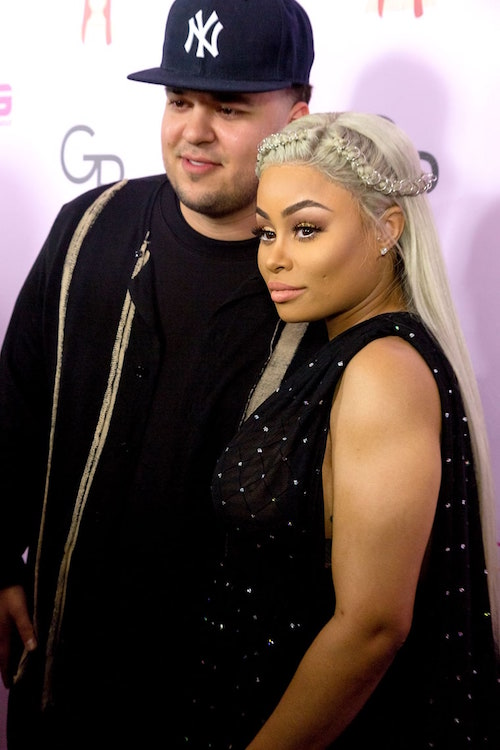 Things are still heated between Blac Chyna and Rob Karashian. Well, at least on Rob's end.
RadarOnline claims Rob has been forced to pay Chyna's legal fees. Not only that, he has to return some jewelry and a Range Rover for the money. In October 2017, Chy and Rob signed a judgement regarding custody and child support for their 2-year-old daughter Dream Kardashian. The judge ordered Rob to pay $25,000 for Chyna's legal fees. He was also ordered to return several other items to pay her bills. Because you know, he's been claiming he's broke these days.
The site reports:
According to the agreement: "Within five days of execution of this Stipulated Judgement, Respondent [Rob] shall pay Petitioner [Chyna] $25,000, return any jewelry gifted by Petitioner to Respondent for R's use, and transfer to Petitioner his 2016 Range Rover supercharged (long wheel base) with 9,237 miles …, as a contribution toward Petitioner's attorney's fees and costs incurred in conjunction with this action."

Kardashian posted various text messages between him and his ex, including naked pictures of Chyna, prompting the model to file a restraining order.

As part of the October 2017 judgement, however, Chyna agreed to drop the restraining order claim. Both sides agreed to sign a Non-Disclosure Agreement as well as a "stay away" order where they promised to refrain from stalking, harassing and threatening one another in person and online.

He also had to pay for other jewelry, according to the agreement:

"As further contribution to said [legal] fees and costs, Petitioner [Chyna] shall be entitled to retain all jewelry formerly gifted to her by Respondent [Rob] and currently in her possession, including, but not limited to, the three bracelets which have not yet been paid for. Respondent shall pay for said three bracelets and for any repairs to jewelry formerly gifted to Petitioner by Respondent and returned to the jeweler with damages. Petitioner and Respondent shall each be responsible for any and all additional attorney's fees and costs he to she respectively incurs in conjunction with this action."
As you know, Rob agreed to pay Chyna $20,000/month for child support if she would drop the domestic violence restraining order she filed against him and 50/50 custody of Dream. However, he recently filed to have his child support payments lowered. In fact, he claims he's so broke that Chyna should be paying HIM since they have 50/50 custody of little Dream.
He said it is Chyna's fault that he can't make as much money after she filed that domestic violence restraining order against him (it has since been dropped). He also made claims that he no longer makes $1 million for his appearances on "Keeping Up WIth The Kardashians."
The Lash Boutique owner popped back with claims that Rob is "manipulating" the numbers to make it seem like he's not making as much money as he actually is.
Lisa Bloom, Chyna's lawyer, announced Chyna still has a separate, active civil case against Rob which raises the domestic violence issue. Earlier this year, a judge suspended all child support obligations until they figure this ish out. The former couple turned in their financial documents and are now waiting for a final decision.
Photos: Getty
​ ​
​ ​ ​