Migos' Carpool Karaoke Is The Laugh You Didn't Know You Needed + Young Thug Released From Jail After Going Back For Failing Drug Test
​
Nov 15 | by _YBF
​ ​ ​ ​
Young Thug has been released from jail after failing a drug test and vowed to being substance abuse treatement. Get those deets, plus laugh your *** off at Migos' "Carpool Karaoke" inside...
It has been a rough week for rapper Young Thug.
The Atlanta rapper, real name Jeffery Williams, was let out of jail yesterday (Nov. 14th) after spending almost a week behind bars for failing a court-mandated drug test. Oop. He was booked into the Dekalb County Jail on Nov. 8th and spent six days behind bars for the offense.
According to WXIA-TV, Superior Court Judge Gregory Adams let the rapper go home on the condition that he submits to random drug testing at least twice a week. He also has to undergo substance abuse counseling and he must check in with his probation officer.
In court, Young Thug apologized to the judge and promised to do better.
"I'm sorry for disobeying the court. I'm sorry for disobeying my PO and being here again," the rapper told the judge. "I just want to go home with my family and do right."
"Over the last six days, I understood this is real life," he continued. "I have two sons, ages 10 and 11. I don't want them to think that going to jail – even if you can get out right away – is cool. I want to grow, and I have grown. I've made mistakes and I've been penalized for them. I'm sorry, and won't disobey again."
Young Thug's attorney revealed the rapper decided not to eat or drink for the first 48 hours he was behind bars as a way to punish himself. His lawyer also said he has a total of SIX children and he wants to remain present in their lives.
The violation comes on the heels of Young Thug's September 2017 arrest. He was charged with with possession of meth with intent to distribute, possession of hydrocodone with intent to distribute, possession of marijuana with intent to distribute, possession of amphetamine, possession of Alprazolam, possession of codeine, possession of a firearm during the commission of a felony and an additional count of possession of codeine apart from his co-defendants. Sheesh!
Before his release, his homie Lil Uzi Vert showed him some love on social media: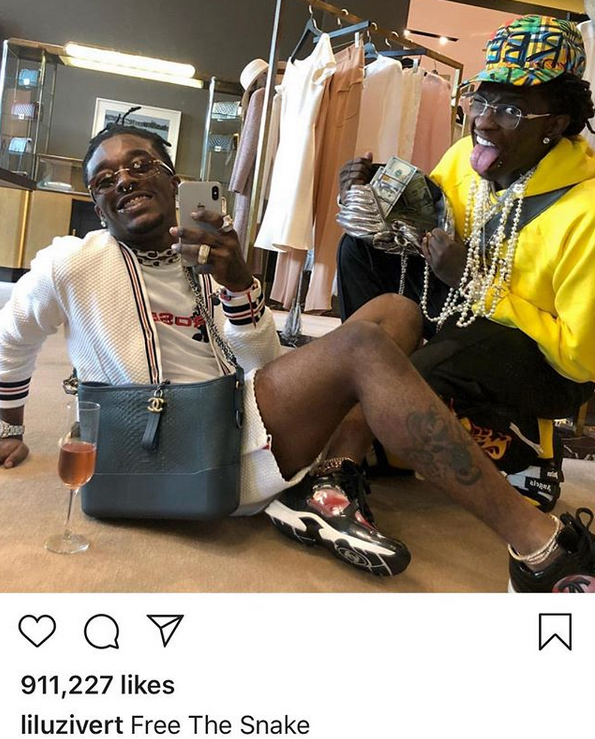 In other Atlanta rapper news...
Migos brought all the laughs for James Corden's "Carpool Karaoke."
All THREE of the rappers - Quavo, Offset & Takeoff - were in attendance (y'all know Takeoff likes to be MIA, but he just dropped an album) to show out and DAB it up in the car with the "Late Late Show" host to Whitney Houston's classic hit, "I Wanna Dance With Somebody."
The rapping trio also whipped out over $200,000 and took the late night host shopping. Ha. Get your laugh on above.
Photos: Getty
​ ​
​ ​ ​