Derek Fisher Shows Up In Court With Gloria Govan After Matt Barnes Brings Up DUI, Matt Wants Support Slashed + Rick Ross Welcomes New Son, Drops Final MILL On Tax Bill
​
Nov 07 | by _YBF
​ ​ ​ ​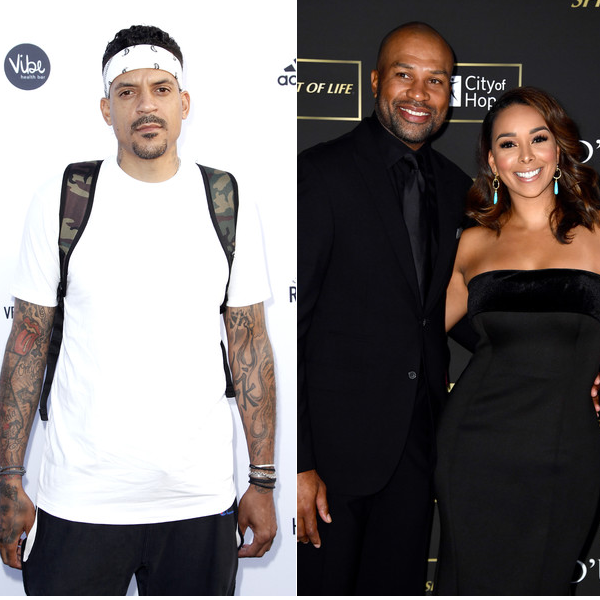 Derek Fisher showed up in court with fiance Gloria Govan after Matt Barnes brought up his DUI arrests in their custody battle. Get those deets, plus the latest on Rick Ross' tax drama and his new baby inside...
The Matt Barnes vs. Gloria Govan custody battle continues! And this time, Derek Fisher is getting in the mix.
Derek Fisher popped up in court to support his fiancé Gloria Govan as she goes to war with her ex (and Derek's former teammate) Matt Barnes over custody of their 9-year-old twin boys.
Gloria and Matt were due for another hearing in their ongoing battle inside the L.A. County Superior Court on Tuesday morning (November 6th).
The timing of it all ...
Two weeks ago, Matt filed paperwork to discredit Derek as a viable witness in their ongoing divorce case due to his DUI conviction. Apparently, Gloria petitioned him as a witness to testify in their divorce case, but Matt isn't having it.
The Blast reports:
He [Derek]did not take the stand to testify, and was asked to leave the courtroom shortly after the hearing started, because he is not a party to the case.
You'll recall, Derek was arrested and charged in June 2017 after he flipped an SUV (that was registered in Matt's name) on the freeway in LA with Gloria riding in the passenger seat. He pled no contest and was sentenced to 100-hours of community service.
In the child support case...
Matt reportedly filed to have his $20,000/month child support payment lowered since he now has full custody of the kids, he believes his payments should be decreased. Along with the $20K/month payment, he also pays the boys' private school tuition. Matt received full custody of the kids after Gloria was arrested at their kids' school for blocking Matt from getting the kids on his supposed custodial day. He filed a restraining order against her following the incident. She was ordered to stay at least 100 yards away from the kids. She was granted permission to see the kids once a week for four hours with a professional monitor. She can only be near Matt when she gets the kids and she can not take them outside of L.A.
The L.A. County D.A. rejected criminal charges against the former "Basketball Wives" star after she was arrested on a felony child endangerment charge. Apparently, she wasn't just going off on Matt in front of their kids for nothing. She claims it was actually HER weekend and not his.
According to The Blast, closing arguments will soon be heard and a final decision on the restraining order will be given. After the restraining order deal, a permanent custody order will be decided.
In other legal news...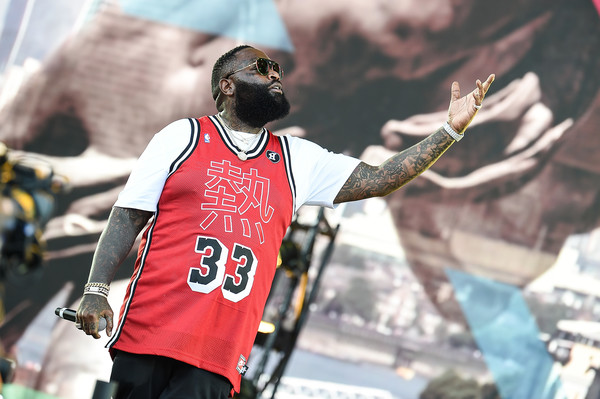 Rick Ross and Uncle Sam are cool now.
The MMG honcho just coughed up $1.1 million to pay off the rest of his tax bill after recently paying $4,617,370.86. Now, the tax lien that was filed against him has been lifted.
The Blast reports:
On October 23, the IRS filed a release of a federal tax lien that had originally been filed against Ross back in 2016.
The rapper owed a total of $1,147,141.77 in back taxes for the years 2013 ($576,441.53) and 2014 ($570,700.24). Ross forked over the $1.1 million and the IRS has released the lien as a result. The rapper is on a roll with paying off his debts after he paid the IRS a whopping $4.6 million in October for a lien over unpaid 2012 taxes. Ross has now handed over a total of $5,764,512.63 to the IRS in the past couple of months but at least he no longer has to fear the feds coming after his property or assets.
By the way, Rozay became a dad again recently. His daughter's momm Briana Camille just gave birth to a baby boy they named Billion Leonard Roberts. Yes, Billion. He'll join big sister Berkeley Hermes Roberts, brother William Roberts III, and sister Toie Roberts.
Let's all welcome my son 'Billion Leonard Roberts' to the world ...

— Yung Rénzél (@RickRoss) November 7, 2018
Welcome to the world Billii!
EXTRAS:
1. Rapper YG was involved in a car accident after his Uber driver crashed into the yard of a home in LA. STORY
Photos: Getty
​ ​
​ ​ ​