Sterling K. Brown Drips All The Sauce For InStyle + Self-Care Queen Tracee Ellis Ross Slays Multiple InStyle Covers In Paris + Yara Shahidi Goes Wonder Woman For ELLE UK, Drops Gems This Past Weekend
​
Oct 15 | by _YBF
​ ​ ​ ​
Some of TV's hottest stars are dripping in the latest fashions on and inside several magazines. Check out Sterling K. Brown, Tracee Ellis Ross, and Yara Shahidi on the magazine circuit inside...
Not only are they killing it on our television scrrens every week, Sterling K Brown, Tracee Ellis Ross and Yara Shahidi are also slaying the magazine world.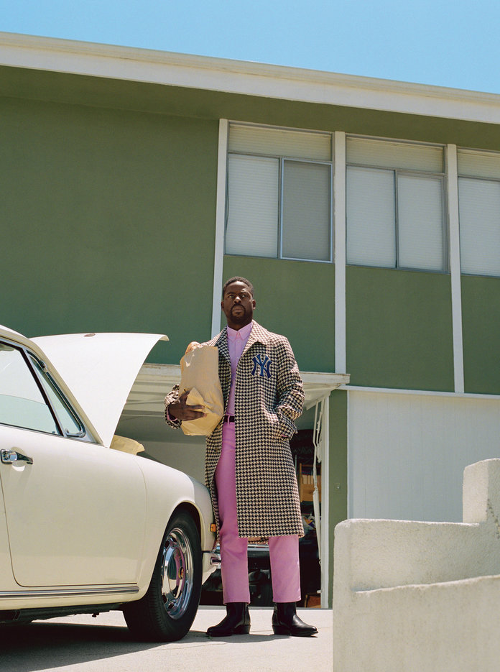 "This Is Us" actor Sterling K. Brown was tapped for InStyle's BEST DRESSED issue where he perfectly pulls off pink jeans, just in time for Breast Cancer Awareness Month.
The EMMY winning actor put his best model foot forward in a fashion forward photoshoot styling in designers like Gucci, Maison Margela, Versace, Missoni, Christian Louboutin, and even Adidas sneakers.
Inside, the 42-year-old chopped it up about about his rise to the top, including the 16-years of his "incognegro" period. He first WOWED us in "American Crime Story: The People vs. O.J. Simpson," then he got us all in our feels in "This Is Us" and then his role in Black Panther further pushed him into the celebrity stratosphere.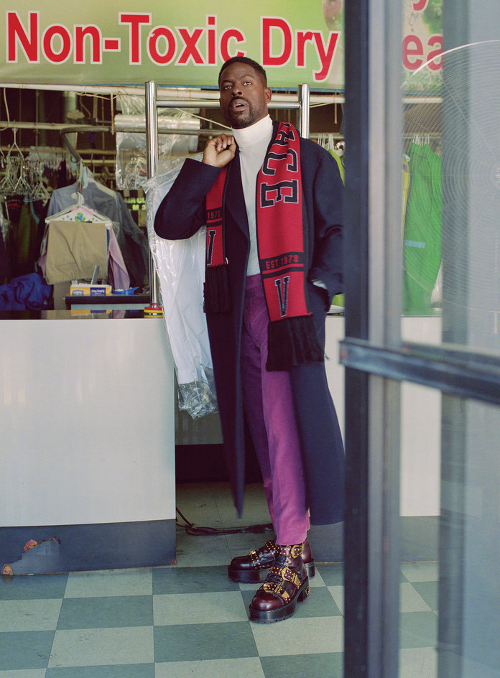 Now, he's a two-time EMMY winner and a Golden Globe winner and he can't even believe this is his life right now.
Check out highlights from his interview where he talks about his starpower shift, the secret to his long lasting marriage to his wife Ryan Michelle Bathe and more below:
You've been getting a lot of recognition. How does it feel to go onstage and accept an award after all these years in the business?

SkB: It's fucking insane. You don't believe it's happening until the time you walk offstage. But it's sort of like a welcome-to-the-club moment, a validation. The perception of who you are in the industry shifts dramatically. You go from a place of having to constantly prove yourself as being worthy to other people looking at you like, "What can we give you to do that is worthy of your talent?" And that shift is so humongous. It takes all the pressure off. People are looking to impress me now, and I'm like, "God, this is crazy." Three years ago I was looking to get a guest spot. So that's been the biggest and most welcome thing. The level of opportunity that is now present is extraordinary.

You've talked about how playing Randall, who is "purposefully black," as you put it, is different from playing a character who's a result of color-blind casting.

SkB: I have benefited greatly over the course of my career from being the, uh, black guy. Often characters are written as white by default and then producers or whoever will say, "OK, well, which character could we go ethnic with?" Then you're plugged into a role — which is a good role, but it wasn't necessarily written with what you bring to the table in mind. So once you find a role that's created with intention — for me it would be Randall, and Darden too, as these parts were written for African-American men — you get a chance to bring all of who you are to these characters. Color blindness has its place, and it's opened up multiple doors. But being recognized and appreciated for your difference, that is what we're all striving for.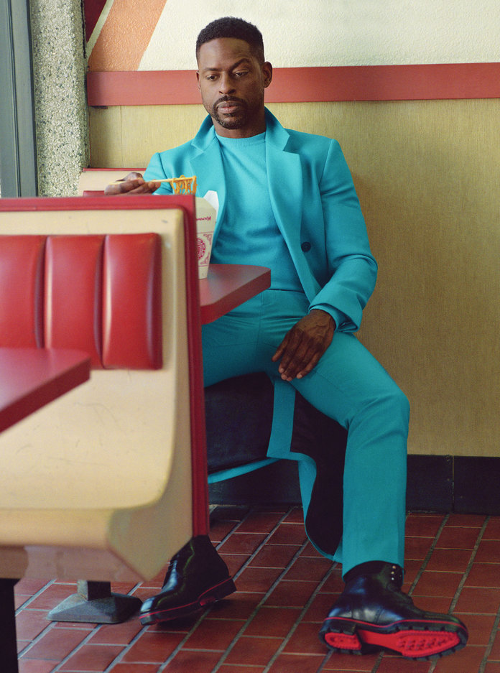 You've been married to your college sweetheart [actress Ryan Michelle Bathe] for 12 years. What's your secret to a lasting marriage?

SkB: Oh, boy, well, communication is first and foremost. Also, my wife is one of the funniest people I know. We enjoy laughing at each other, with each other, and with our children. Even in intimacy, when you're being all hot and sexy, something can happen that's absolutely delightful, and there's no shame in just cracking each other up while you're in each other's arms. It's the best.
You can read the rest of his interview here.
Be sure to catch Sterling in new episodes of "This Is Us" every Tuesday at 9pm EST on ABC.
In the same magazine...
Our fave Tracee Ellis Ross was tapped to cover several covers for InStyle's BEST DRESSED issue. And we all know why. The "black-ish" starlet always serves up a fashion MOMENT when she hits a red carpet or even when she's out and about, making her rounds in LA.
For several covers, the 45-year-old actress struts her stuff in the streets of Paris rocking designers like Giambattista Valli , Givenchy, Fendi, Calvin Klein, Alexandre Vauthier, Chanel, Gucci, and Maison Margiela. And she killed the shoot, as expected.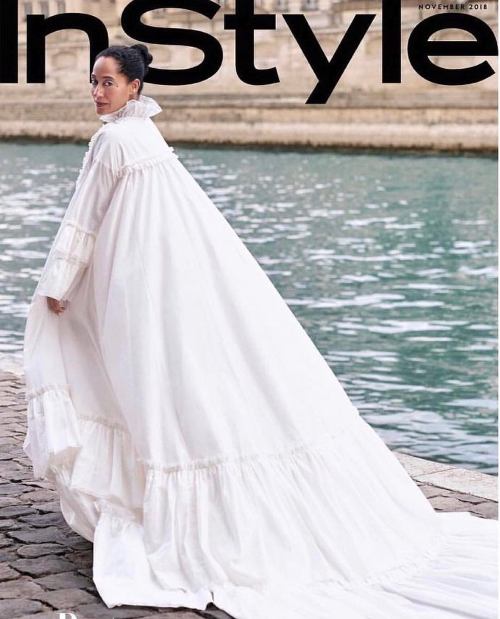 It's no wonder where she got her fashion sense from. We mean, come on, singing legend Diana Ross is her mother! And her love for fashion started as a young girl, flipping through all of her mother's clothes.
"It's like going to a museum," the former "Girlfriends" actress told the magazine. "I'll sound like a crazy person, but when I hold some of her extraordinary original beaded stage clothes, there is a particular Diana Ross smell, a mom smell, a certain perfume that I just love. And sometimes, when you open the garment bags and there's makeup or sweat or other evidence of the clothes being worn — I find it really extraordinary. It's an artifact. You're seeing the fullness of a life that existed in that snapshot of a moment. That's what clothing has always meant to me, and also probably why I became an actor. As a kid I saw my mom as the lady in the sparkly dress on the stage who sang, but as I've gotten older, I've found the language to articulate that what I was seeing was a woman in her full glory being in connection with this gift she was given, being glamorous and sexy but not in a way that's 'Look at me.' We live in a 'Look at me' culture. I was raised to view sexy as being at the height of your ... self. Clothing was one of the ways you could wear your inside on your outside."
UGH. Can you imagine growing up as Diana Ross' daughter?! We die.
The fashion maven is also #BodyGoals, #HairGoals, hell #GoodGenesGoals. However, she doesn't just "wake up like this." She puts in work to look as good as she does.
"The 'I woke up like this' thing? Bullshit!" she said. "Black-ish is in HD, darling! There's no Vaseline on the lenses. At 18 I might have woken up like this. At 45 I fucking work for it. I love potato chips more than anything in the world, and so I work out hard. I put masks on my face. I take care of myself. And, by the way, to me self-care does not mean going to the spa. It's learning to say no. It's knowing yourself so you can make choices that are an expression of you. That's self-care."
Learning to say "no" is likely one of the hardest things we as women can learn to do. But, it's a very important lesson to learn when it comes to self preservation. Read Tracee's full interview here.
A new season of "black-ish" debuts tomorrow (October 16th) at 9/8c on ABC.
Speaking of "black-ish"....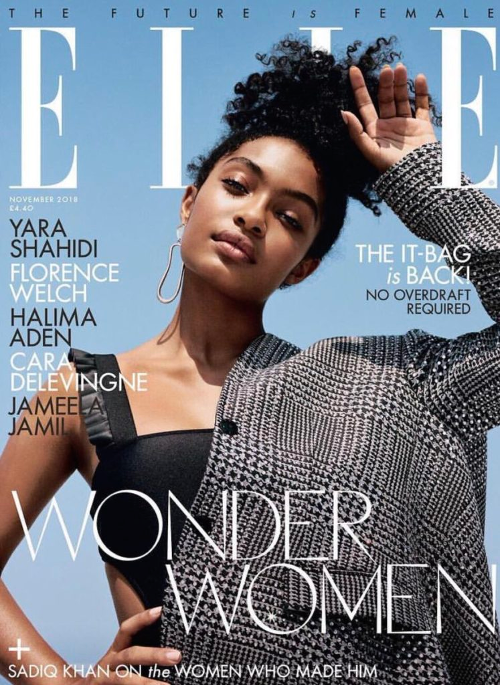 "black-ish" star Yara Shahidi, who also stars in her own spin-off "Grown-ish," graces the cover of ELLE UK's November 2018 issue. The 18-year-old actress/activist is looking to change the world and she's using her huge platform to do so. Who could be mad at that?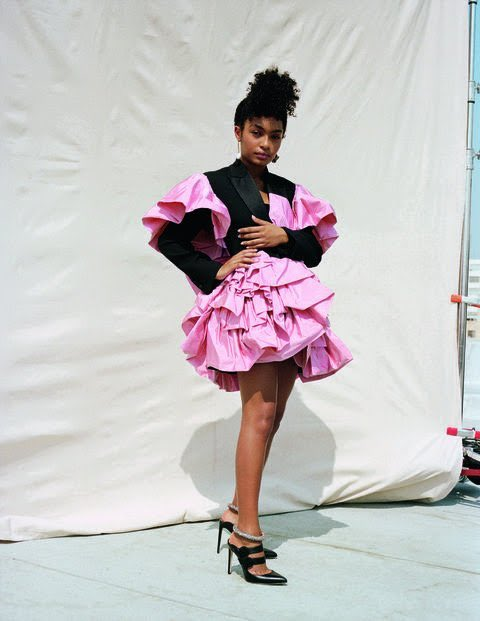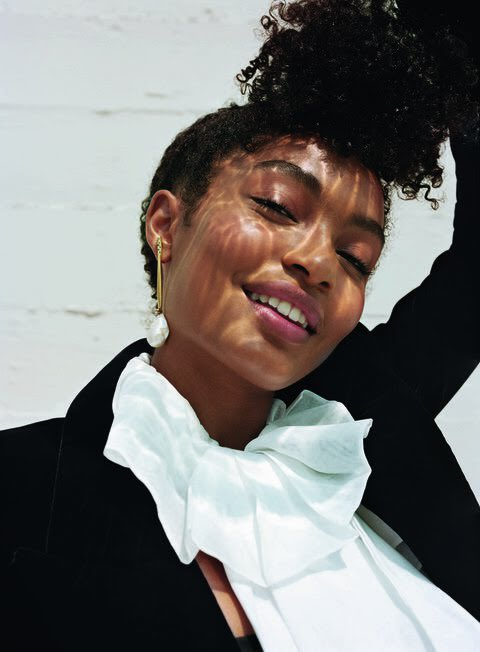 Inside, the fearless actress talks about how she plans on making the world a better place. So how does she plan on doing it? Simple. EDUCATION.
"It's so funny you brought that up, because all I've ever wanted to do with my life is create an alternate, more inclusive curriculum," Yara told the publication. "I believe that education is where we form most of our opinions and create this idea of who we see as family, who we see as part of our community and who we decide to alienate.
"I think our Eurocentric curriculum, which is one that I have definitely enjoyed learning, is detrimental to our generation – my parents got me into Greek myths and African folklore. I did an audio history course that went through the beginning of time, starting with Mesopotamian civilisation."
You can read her full interview here.
Also....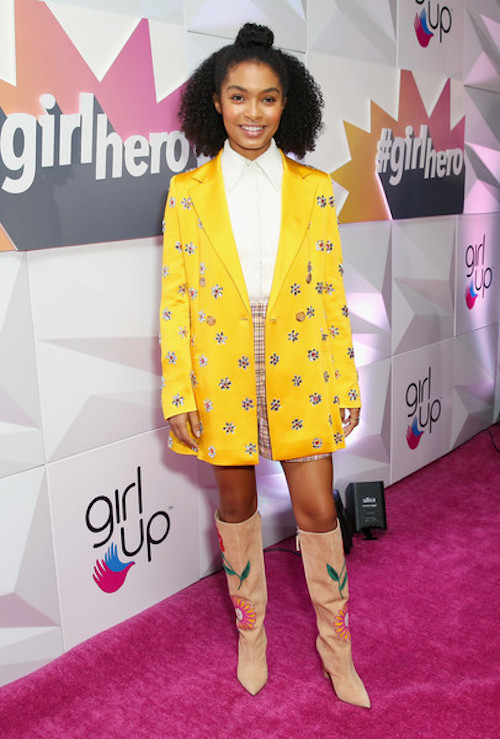 Not only is Yara an advocate for education, she's also a huge supporter of women/girl empowerment. The YBF actress, above - rocking a Carolina Herrera outfit and boots alongside her mother Keri Shahidi, gave an inspiring speech as she was being honored at the inaugural Girl Up #GirlHero Awards Luncheon in Beverly Hills over the weekend. Here's what she said (swipe):
Together we are stronger. Shoutout to this incredible group of @GirlUp youth leaders and #girlhero award recipients! Thanks for being a part of our first-ever #girlheroawards! pic.twitter.com/52inkqxPiK

— Girl Up (@GirlUp) October 14, 2018
"Grown-ish" returns to ABC in January.
Photos: Robbie Fimmano via InStyle/ Horst Diekgerdes via InStyle/ Alex Franco via ELLE UK/MEGA/Getty
​ ​
​ ​ ​