EXCLUSIVE SNEAK PEEK: Momma Dee Goes OFF On 'Mama's Boy' Husband Ernest On 'Marriage Bootcamp', 'Yo Mama Can't Suck Your D**k Like I Suck Your D**k"
​
Aug 31 | by Natasha
​ ​ ​ ​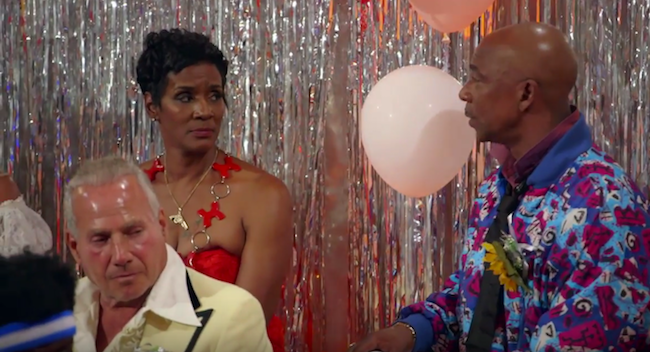 Momma Dee from "Love and Hip Hop: Atlanta" and her man Ernest are on this season of "Marriage Bootcamp Reality Stars," and they're sharing a little too much sexual information with the group. We've got an exclusive sneak peek from the premiere...
Momma Dee and Ernest are trying to make it work, y'all! But it is an absolute hot mess to watch. We just KNOW Lil Scrappy's nose is turned all the way up at this convo that's about to go down.
On next week's premiere epiode of "Marraige Bootcamp Reality Stars", Dee is doing the absolute most telling us the problem with her mama's boy husband Ernest. She said:
"I just want a real man. I gotta suck his d*ck to even get it hard."
Then, Ernest claims, "I've never been sexually attracted to my wife."
Mama Dee lost it and called for security, and said "Yo mama can't suck your d*ck like I suck your d*ck."
Wheeeew chile. The foolywang.
Watch the rest of the foolery:
Former "Black Ink Crew" star Puma and his wife Quani are also on this season, and Aubrey returns for another season with a different boyfriend - Pauly D.
This season, Boot Camp's most explosive veteran and music vixen, Aubrey O'Day returns with a new man! Aubrey fell for Jersey Shore's, DJ Pauly D, and his million-dollar smile on Famously Single, but their dueling realities have put them famously in danger! Time is running out for the Real Housewives of Beverly Hills star, Kim Richards and beau Wynn Katz, who have yet to spark any sexual chemistry in order to get to the next level of commitment. For the Black Ink Crew duo, it's Puma's world and his wife, Quani is just living in it! As she struggles to achieve her own goals and aspirations in life, Quani still has not taken on Puma's last name, Mrs. Robinson. On the brink of a second divorce, Momma Dee and Ernest from Love & Hip Hop: Atlanta have one last chance to fix their toxic marriage. After sending Ernest to prison for selling drugs, Momma has own her vices to confront. The Bachelorette darlings, Desiree Hartsock and husband Chris Siegfried, may look like the happily-ever-after newlyweds, but dark and vicious tabloid rumors continue to haunt them after Desiree was dumped on national television by another man that she considered THE ONE.
"Marriage Boot Camp Reality Stars" premieres Friday, September 7th at 9pm ET/PT on WE tv.
Photo: WETV
​ ​
​ ​ ​