Drake Is Going To Have Kanye All In His Feelings After Dissing Him In Chicago + Nicki Minaj Responds To Tekashi 6ix9ine Controversy + Future Puts 'Thot' On BLAST
Aug 19 | by _YBF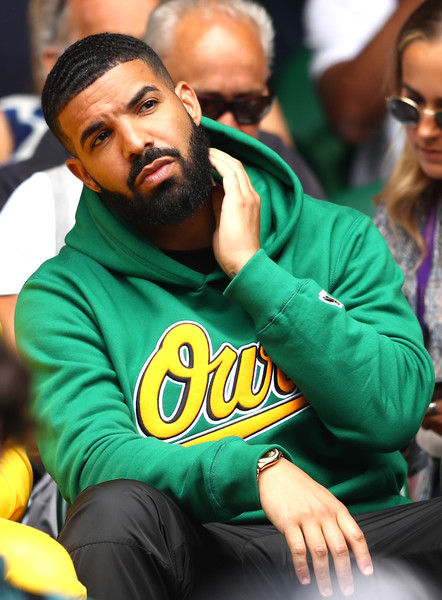 Drake, Nicki Minaj and Future's petty levels have been on 100 over the weekend. Drizzy dissed Kanye West, Nicki is going off about folks sabotaging her career and Future put an Instagram thot on full blast. Receipts inside...
Drake must be still "in his feelings" over his "beef" with Kanye West.
Last night, the Toronto native brought his "Aubrey & The Three Amigos" tour to 'Ye's hometown of Chicago. And he didn't skip out on the oppotunity to fire a shot at the Chi-town native.
While performing "Know Yourself," the OVO honcho switched up the lyrics opposed to the origial lyrics, rapping: "Then Kanye flopped, it was polos and backpacks."
The original line is: "Then Kanye dropped, it was polos and backpacks"
Peep the clip below:
yooo @IamAkademiks drake switch the lines in "Know Yourself" and said KANYE FLOPPED pic.twitter.com/dYKQzXGwVV

— Ov3rrrrr (@Over_Random) August 18, 2018
As you all know, there's tension between Drizzy and 'Ye since Pusha T bodied Drizzy on his Kanye-produced LP, Daytona. The "Nice For What" rapper clapped back at Pusha and added 'Ye in the mix when he put out "Duppy Freestyle" and "Behind Barz." He also made a few Yeezy references on his SCORPION album.
As the drama was coming to an end (or so we thought), Kanye tweeted that he wasn't going to engage and that he was all about love. But, that all may go out the window now that Drake is still firing shots. Ye was busy at 2 Chainz's wedding yesterday, so he'll like get all of the deets about Drake coming at him today. Do we sense a meltdown or nah?
By the way, Drake & Migos' show in Chicago scheduled for Monday night was canceled, so he may or may not pop up at the 2018 MTV Video Music Awards. He's been nominated for seven awards.
Meanwhile, drama has been poppin' off on social media with his labelmate...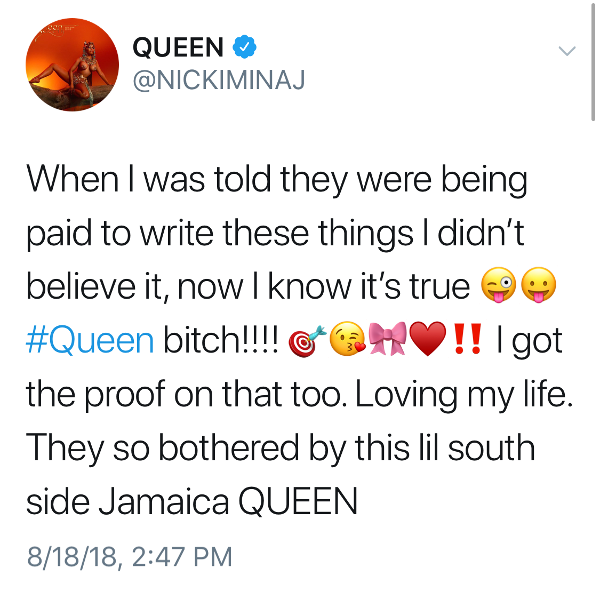 Nicki Minaj hopped on Twitter to let the world know she has PROOF websites are being paid to bash her name. She said when she was first told this, she didn't believe it, but the proof is in the receipts.
"When I was told they were being paid to write these things I didn't believe it, now I know it's true #Queen bitch!!!!," she tweeted. "I got the proof on that too. Loving my life. They so bothered by this lil south side Jamaica QUEEN"
The Queens rapper then went on to question why there seems to be a double standard when sites write up articles about her collaborating with rapper Tekashi 6ix9ine. Specifically, this one:
The message Nicki is sending by supporting an abuser is unsettling https://t.co/xq5SaviIxT

— Pitchfork (@pitchfork) August 17, 2018
She has been receiving backlash for working with Tekashi, who has been brought up on sexual misconduct charges against a minor.
The "Chun-Li" rapper began responding to fans, who are asking similar questions and making similar statements. Fans brought up the fact that several artists have backed other artists accused of sexual misconduct. And Nicki co-signed the fact that Lady Gaga didn't get this sort of treatment after she did a song with R. Kelly:
It's a touchy subject, especially since Nicki's brother, Jelani Maraj, was found guilty of sexually assaulting his former stepdaughter (who was 11-12-years of age).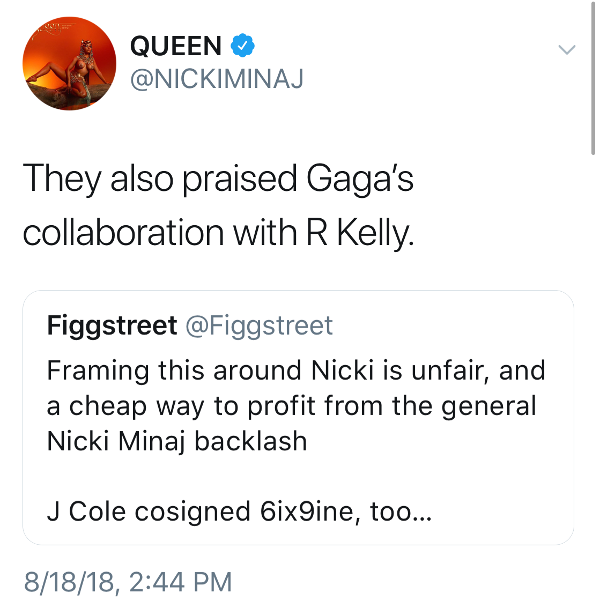 Fans whipped out receipts as well:
i agree that this is an issue. why, then, is there a double standard in your publication?

when lady gaga chose to collab with R. KELLY despite the allegations on a song called "do what u want" (with my body) (!!!), the song was praised multiple times across your site. pic.twitter.com/Nf23gMv0Go

— dula peep (@calmzs) August 17, 2018
r. kelly's history of abuse has been known forever, yet the biggest music outlets not only praised the song but picked it as a favorite. so for me the debate is beyond that.

it's about what group of people has the privilege of getting away with missteps and what group doesn't. pic.twitter.com/c3zHzhpKjC

— dula peep (@calmzs) August 18, 2018
The "Barbie Dreamz" rapper went on to say she is TIRED of keeping quiet while people continue to drag her name in the mud: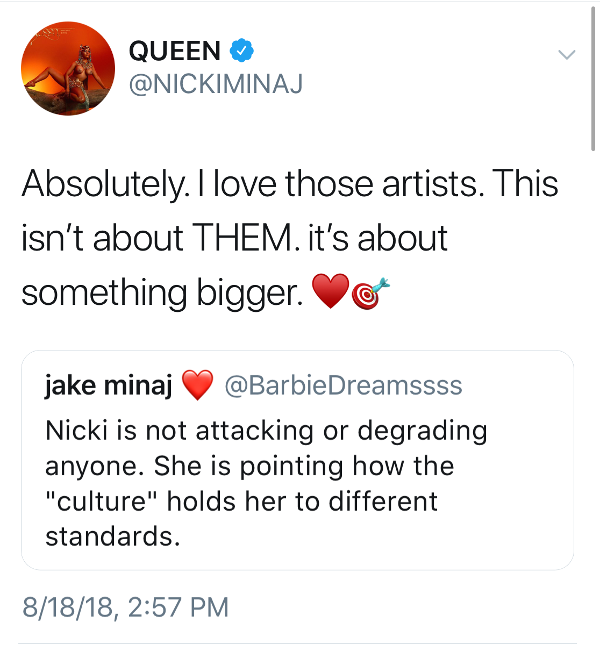 But, it stops now: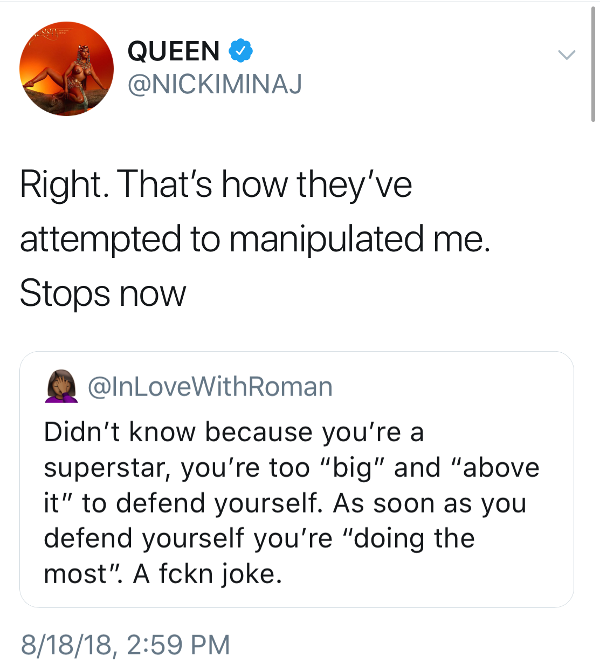 The writer of the Pitfork article, Shanita Hubbard, took to Twitter to explain her reasoning behind the article:
1)PSA: My opinion is not for sale. I am paid to write JUST like artists are paid to perform. I select my content and form my own position. My position has ALWAYS been ant-abusers. I have always called out abusive artists and those who support them.

— Shanita Hubbard (@msshanitarenee) August 18, 2018
2) If you align yourself w/ an abuser and a person holds a mirror up 2 you, taking shots at the person instead of looking in the mirror is a tempting route. Yet it produces no growth. I will NOT be bullied or intimidated for choosing to speak against empowering abusers.

— Shanita Hubbard (@msshanitarenee) August 18, 2018
3) Finally, I see the tweets from Nicki. It's not my style to do messy twitter feuds. It's also never been my style to run from an issue. If she ( and not her supporters) want to reach out to me, I'm around.

— Shanita Hubbard (@msshanitarenee) August 18, 2018
It's getting ugly though:
how have you always condemmed them when you supported cardi n BY (a remix to a song by a CONVICTED rapist, who got 70% of the profit from said song). you're not consistent. pic.twitter.com/9vq9h8tajZ

— r (@FAUXBOOGlE) August 18, 2018
This entire week Nicki has been in overdrive to up her QUEEN sales. Early predictions claim her first week's sales will come 2nd to Travis Scott's Astroworld.
Also on social media...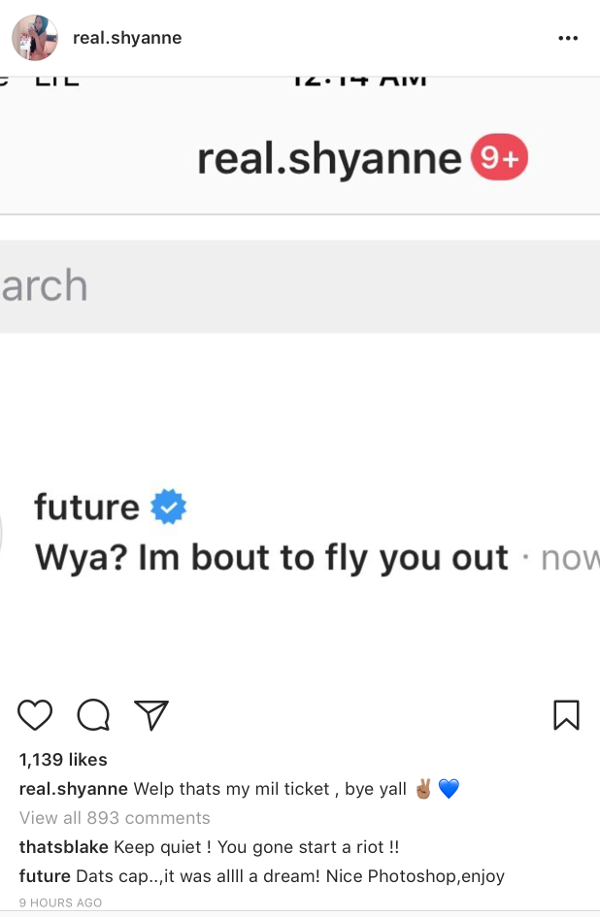 Future caught wind of an "Instagram thot" being petty with her Photoshop game, so he decided to expose her. An IG user posted a screenshot of an alleged DM from the ATL rapper where he offers to fly her out to wherever he is. She captioned the screenshot, "Welp thats my mil ticket, bye yall"
"mil ticket?" - Let's hope that was a play on words.
The "Mask Off" rapper had time and decided to show how SHE is the one all up in his DMs and not the other way around. He posted screenshots of the girl mentioning him in her IG stories and wrote over it, "When u decline thots they make up sh*t...no fly zone."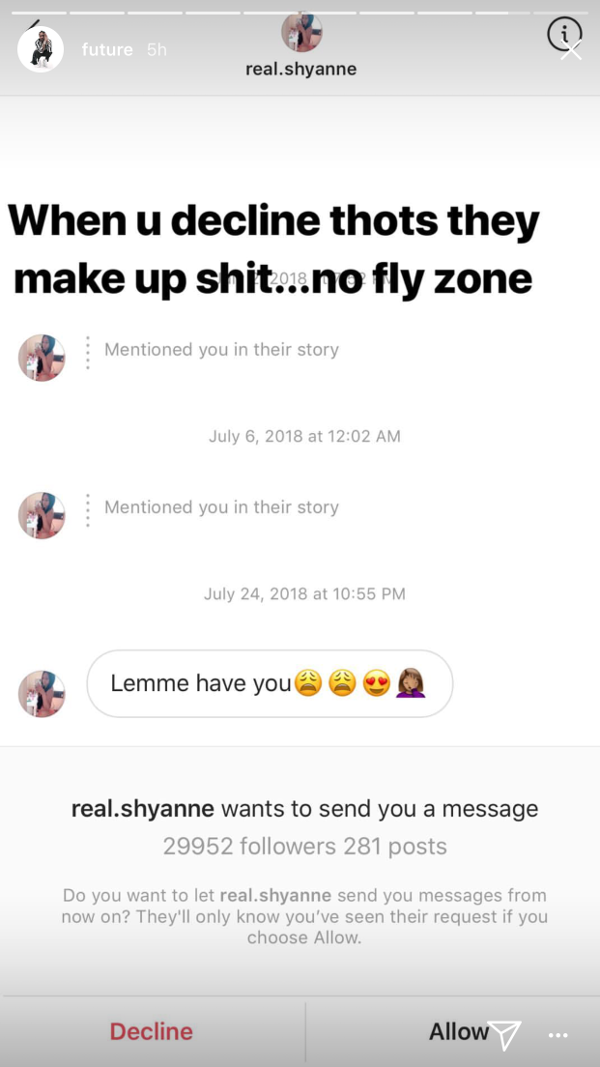 On the same screenshot, he posted another message, writing, "I'm sure someone like u jus not me."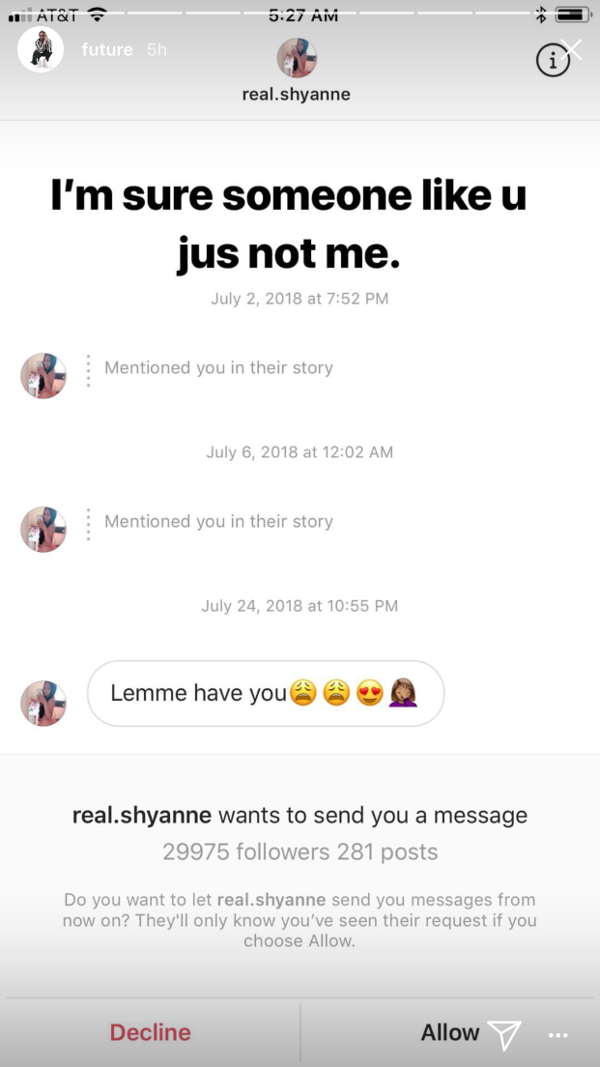 Then, ol girl started responding back: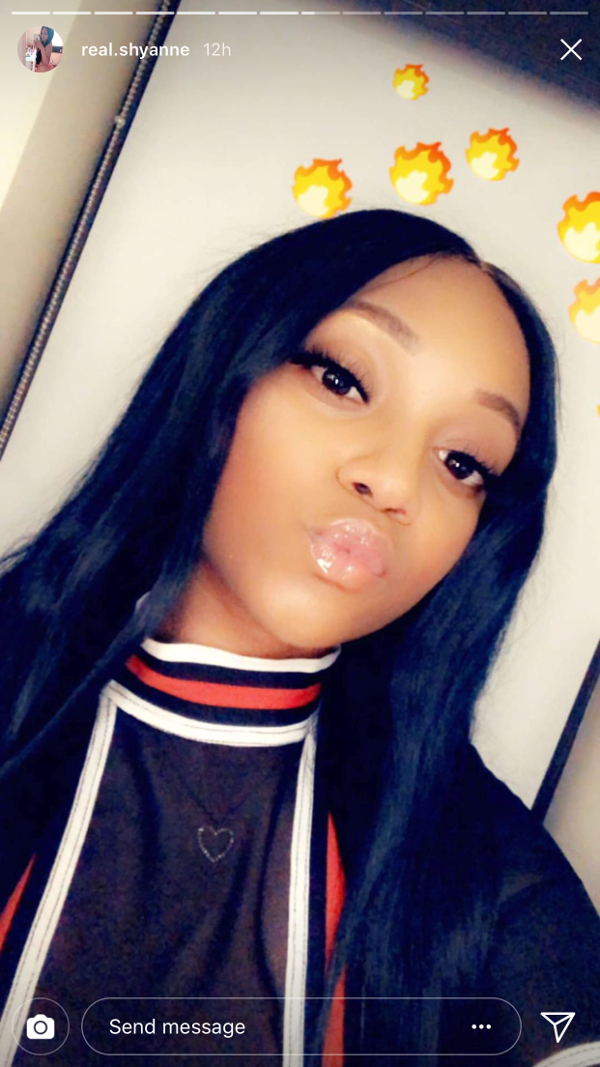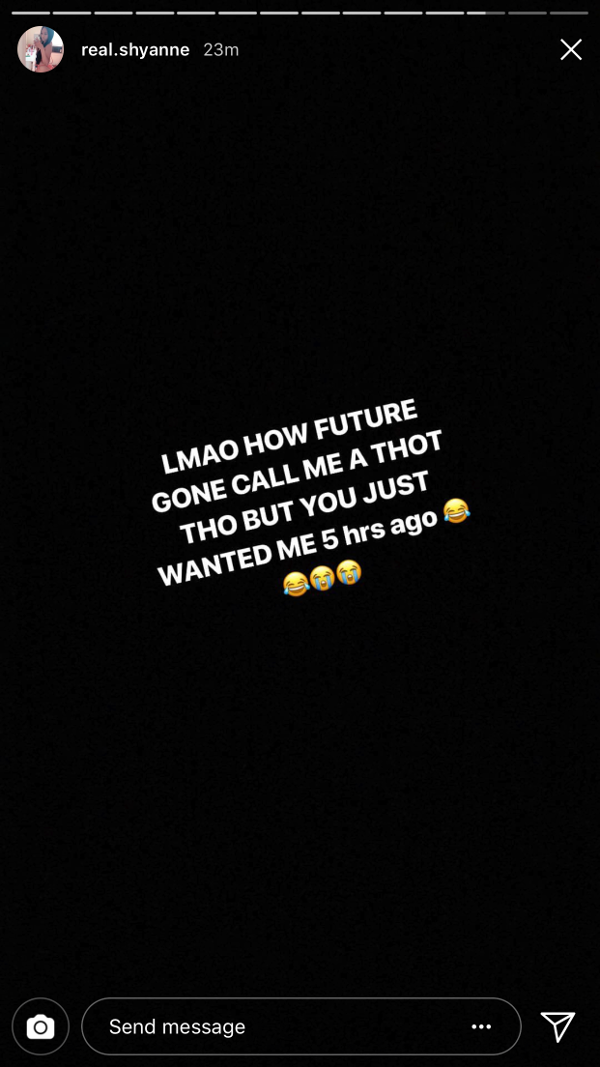 She appears to be joking.
By the way, Nicki and Future will be heading out on their NICKIHNDRXX Tour, kicking off September 21st in Baltimore.
Photos: Getty