Rihanna Makes HERstory As British VOGUE September 2018 Cover Girl, Talks Staying THICK (But These Eyebrows...)
​
Aug 01 | by _YBF
​ ​ ​ ​
To kick off the new fashion season, Rihanna graces the cover of British VOGUE's prestigious September issue under the direction of editor-in-chief Edward Enninful. And we wonder if her pencil thin eyebrows are going to kick off a new trend. Also, she opens up about losing weight, but keeping her "thickness." Everything inside...
Another history making moment for Rihanna!
The Bajan beauty just made HERstory as the first black woman to land the cover of British VOGUE's coveted September issue in the publication's 102 years of existence. Yep, she did that!
It's British Vogue editor-in-chief Edward Enninful's first September issue since landing his spot back in August. And he knew he had to come up with something special as this is the most influential issue in VOGUE's calendar year.
"I always knew it had to be Rihanna," British Vogue editor-in-chief Edward Enninful said about his first September issue. "A fearless music-industry icon and businesswoman, when it comes to that potent mix of fashion and celebrity, nobody does it quite like her."
No lies told.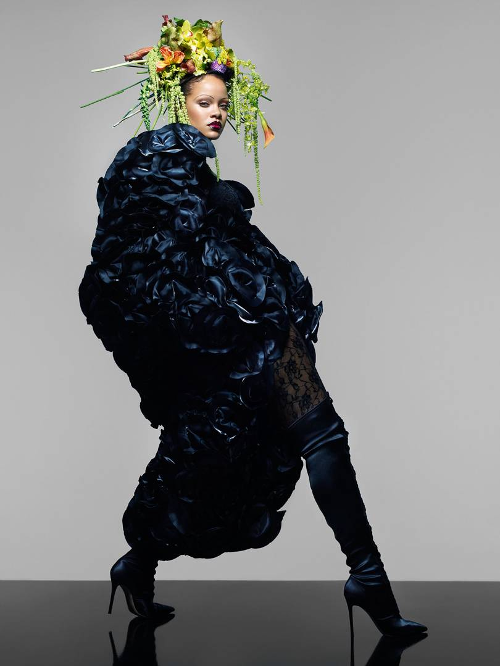 Inside, the 30-year-old singer - who slays in expensive threads like Prada, Alexander McQueen, and even her own Savage x Fenty - opens about getting back in the gym, but wanting to keep curves.
"I hope I don't lose my butt or my hips or all of my thighs," she shared. I'll lose some but not all."
Those aren't the only curves she's worried about.
"And I think of my boobs, like, 'Imma lose everything, everything goes!' But, you know, it comes with a price. You want to have a butt, then you have a gut."
Ha! Wherever she falls on the scale, RiRi is always serving up a slay worthy moment.
Rumored to be dating billionaire Hassan Jameel, the Grammy Award winner has some dating advice for her Navy.
"I think a lot of people meet people and then they're dating the idea of what the person could become, and that person never shows up and then they're just mad disappointed.
"A person can always get better, they can always get worse, but you've got to be fine with what you met them as," she continued.
Facts. Anyone else ever been here? We sure have.
She also dished on keeping her circle small:
"I'm very picky about friends. I don't like to open myself up to everyone and so when you find people who are great and loyal, you don't want to let go of that. I've been out here on my own since I was a teenager, so these people become like your family."
Preach Rih! Words to live by.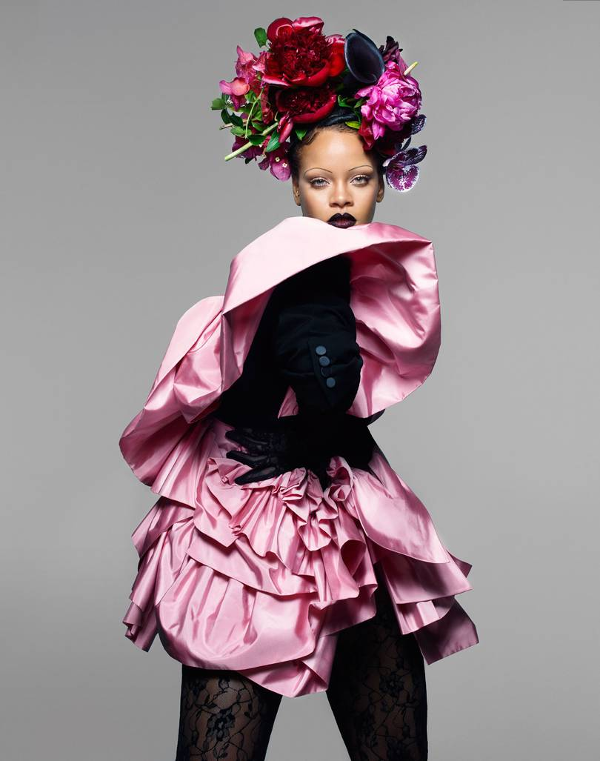 With the 400-page September issue annually setting the tone for the upcoming fashion season, we wonder if the pencil thin eyebrows she's rocking on the cover will become a new trend. We sure hope not.
Edward Enniful also shared a clip of his interview with Rih where he talked about working with her on the September issue:
The issue hits newsstands August 3rd.
Now, we wait for Beyonce's extra black VOGUE cover.
Photos: Nick Knight via British VOGUE
​ ​
​ ​ ​