Kelly Rowland Credits Beyonce & J.Lo For Helping Her Tap Into Her Flyness After Becoming A Mom In VOGUE Australia
​
Aug 01 | by _YBF
​ ​ ​ ​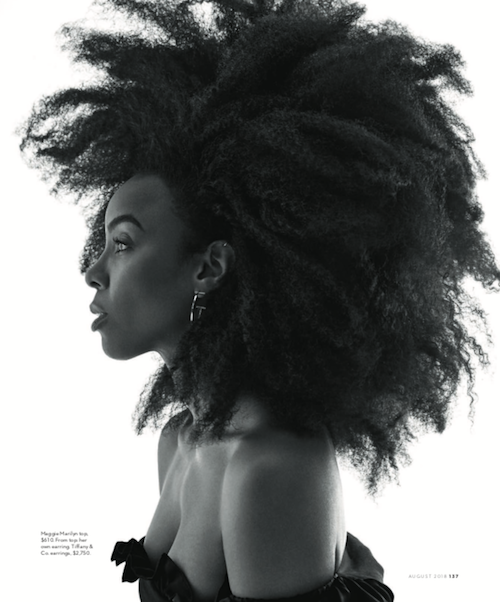 Kelly Rowland blessed the pages of VOGUE Australia where she opened up about how a few bad a** moms helped her regain her flyness. Deets inside...
All the VOGUE editions are getting blessed with black girl flyness.
After wrapping up another season of "The Voice Australia," Kelly Rowland brings her gorgeousness inside VOGUE Australia's August 2018 issue.
The "coaching queen" is snatching wigs in a edgy shoot where she rocks designs by Michael Kors, Burberry, and Christopher Kane, topping some of her looks off with luscious afro that has us envious in a good way.
Inside, the former Destiny's Child member chopped it up about how moms like Beyonce and Jennifer Lopez were her inspiration to get back on her grind. She also dished on ditching her fitness routine while in Australia, almost missing out on a great husband, on wanting to meet her estranged father, Coachella and more.
Below are the highlights:
On Beyonce and J.Lo helping her find her confidence after having her son, Titan:

"I was like coming into that, people trying to say that women can't be fly after having a baby," she says. "But J. Lo defied that and said it's not the case, Bey did it … all these women do it and I was like: 'Fuck it, I'm going to do that too.' And that's when I started to pick up the pace a little bit. Then I got into the studio and started to find the groove and now the groove is there, it's rolling."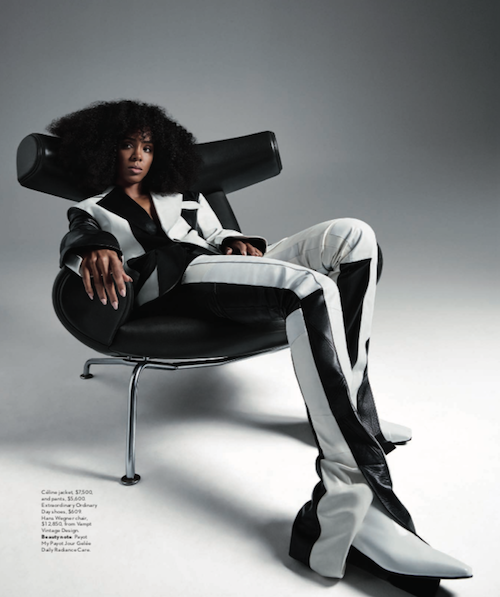 On not working out while filming the singing competition show Down Under:

"Since I've been here I have not worked out once," she says with a laugh (she laughs a lot). She does boxing and pilates, and lifts weights. "I like to run track as if I were an Olympian. I went from doing all of the above before I left to doing nothing.

On almost missing out on marrying her now-husband Tim Weatherspoon:

"At the beginning, I was scared of the idea of loving one person. I was nervous about being with one person for the rest of my life. I'd had the worst relationships and I was so scared and said: 'How about we take a break from dating?' and he said: 'What if we took a break from dating and God sent you a guy and that guy was me?' And I was like click! I hung up the phone. I was scared, because I knew he was my husband in that moment. And I almost ran away from that, but I just embraced it. Marriage is awesome, it has its ups and downs, like anything in life, but it's incredible. My husband is my rock, my best friend. He believes when I don't, believes that anything can work and that anything is possible in such a positive light. I think he's a freak sometimes, no-one can see things like that, but he's a realist and he's positive and he's an asshole, but I love him for everything he does, like in the cutest way of an asshole."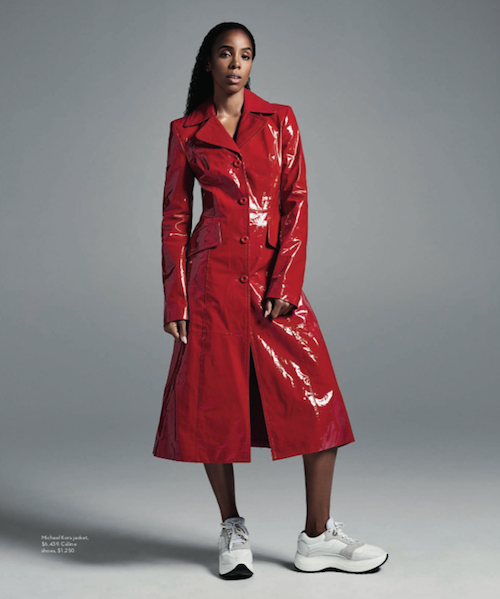 On wanting to meet her estranged father Christopher Lovett:

"I don't know my dad. I last saw him was I was seven or eight: I haven't seen him since then. I do want to know him, meet him, know his background for the sake of my son. I don't know, I'm just nervous to make that phone call. Tim has spoken with him on the phone. Just talking about it gives me butterflies."

On the new wave she's on creating new music:

"If I feel it or think it and it touches me in some way, then I think it's going to do that to somebody else, too." There are six tracks that she's in love with, but she wants five more. "The record about my mother I have yet to put into words, and it will be the hardest record I will ever write …"

On what fans can expect from her new album:

"It's about love, loss and gain and whether it's professional or with family or whatever, it's just honest. I had no choice but to be honest and authentic with this record: it's about friendship and marriage." The album has a title, but it's too soon to disclose, although she hints that it's actually super-connected to Australia. "This country has inspired me in so many ways, so many." The "awesome" artwork for the album cover was found here, too.
On rehearsing for her surprise Coachella performance with Bey and Michelle Williams:

"We rehearsed like crazy. I would go back to LA and we would be in rehearsals. They were intense. It was so much fun. When we finished I was sad, thank God Michelle and Bey were still in town, so I could still see them. It spoiled me all the time we were able to spend together, but that creative time is pretty remarkable when we are together. It really is. What a blessing, right? And we still love each other. We were laughing at that one day. We were getting ready, but our kids were running around. That's the fun part; it's the sweetest thing: they are going to be friends, because we are all so close. Coachella was awesome."
Aww!
You can check out her full interview here.
Also, find out how much Kelly has learned about Australia since joining "The Voice Australia" below:
Speaking of Michelle...
According to reports, Kelly and Bey didn't waste any time getting in contact with their former Destiny's Child bandmate Michelle Williams after learning that she checked into a mental health facility to treat depression.
Sources tell TMZ, Bey & Kellz reached out to Michelle to let her know that they were there for her and that the ladies were quite sad hearing about their "sister" battling depression. However, Beyonce's mom Tina Lawson made sure to keep her belly full.
Stay strong Michelle!
Photos: Jesse Lizotte via VOGUE Australia
​ ​
​ ​ ​