Angela Bassett Reacts To People's Obsession With Her Youthfulness In Net-A-Porter's The EDIT + Tiffany Haddish Was Unsuccessful Paying Kevin Hart Back
​
Jul 20 | by _YBF
​ ​ ​ ​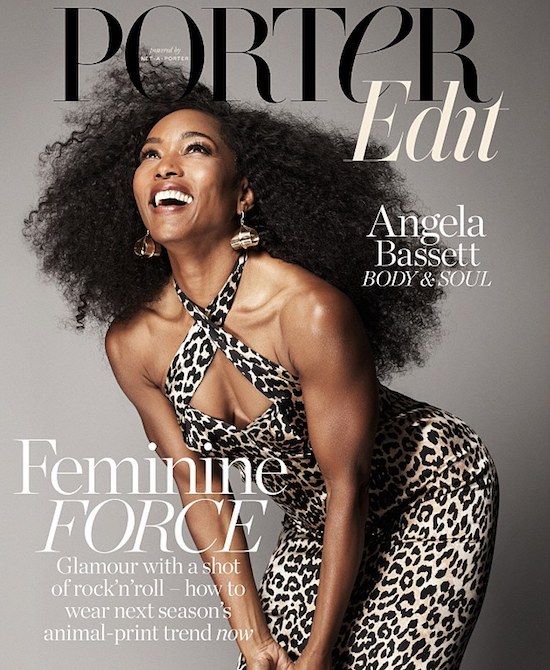 Angela Bassett graces the cover of Net-A-Porter's The EDIT and, as usual, she's KILLING it. Inside, she talks about her youthful looks and her 20+ year marriage to husband Courtney B. Vance. Get the deets, plus check out the hilarious videos of Tiffany Haddish trying to pay Kevin Hart back inside...
When you think of Angela Bassett you automatically thing legendary actress. She's been slaying the Hollywood scene since 1986. But you'd never know because, melanin.
The "9-1-1" actress is 59-years-young and definitely giving everybody run for their money. She's seriously goals for LIFE. The Mission: Impossible – Fallout actress radiates on the newest cover of Net-A-Porter's The EDIT. Inside, the YBF actress reacts to people's obsession with her youthfulness.
"I guess it's a high-class problem to have," she shrugs. "But you don't really know what to say when someone says: 'Oh my God, you look so good.' What do they expect? For you to be completely broken down?"
Look, we don't know many 59-year-olds looking like this. And it must be the genes because she's not a stickler for the gym.
"I'll try to get to the hotel gym and do 30 minutes of cardio, and lift a couple of weights or something. But I'm not getting up at 4am to workout," she said, looking appalled at the very idea.
Can we all be this blessed? Sheesh.
With 21 years of marriage with her actor husband Courtney B. Vance under her belt, she spilled how they have managed to keep it tight so long.
"He always said divorce is not an option. I've always told him: 'Do what you want to do' - meaning pursuing his dreams - 'because I don't want you to get to the end and blame anything on me,'" she said.
Seems to be working for them too. However, they do have different parenting styles when it comes to their kids, twins Bronwyn and Slater Vance.
"They don't have cell phones or iPads. I had a pencil and paper, they can have pencil and paper. I can't give them everything – I don't give myself everything."

She the opposite of a 'helicopter parent', unlike her hubby apparently. "He's got them on a short leash," she shared. "I try to give them a little bit more leeway. I want them to go out, explore, see how mature they can be about it, how safe, and then come back."
Balance.
You can read her full interview here.
Angela's show "9-1-1" returns to FOX on September 23rd.
Also...
Angela participated in The Hollywood Reporter's uncensored Drama Actresses Roundtable with Claire Foy ('The Crown'), Thandie Newton ('Westworld'), Elisabeth Moss ('The Handmaid's Tale'), Maggie Gyllenhaal ('The Deuce'), and Sandra Oh ('Killing Eve') recently. They dished on the power of producing, having the confidence to say "no," onscreen nudity (male and female), and the better-late-than-never push for gender pay.
Peep their discussion above.
In funny news...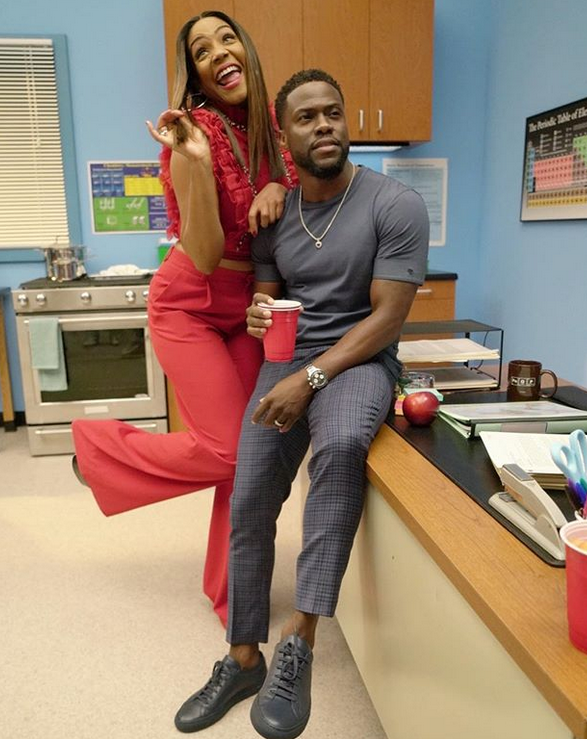 Night School co-stars Tiffany Haddish and Kevin Hart are cutting up! Surprised? Nope. Theses two together are nothing but laughs.
While doing promo for their upcoming comedy, Tiff decided to pay Kev back $300 he loaned her back before she made it big. She just rolled up on him while he was taping and started to make it rain on him. However, the mega comedian was not trying to take her money and decided to give her the money back. He put it in her wig cap and wrote a message on Instagram saying where it was. Ha! Check it:
The Girls Trip star went to check and see if he really gave her the money back...and he did! And he put it in a wig cap. HA!
We can't wait to see these two in Night School when it hits theaters September 28th.
Peep the trailer below:
Photos: Jason Wu Grey via The EDIT/Kevin's IG
​ ​
​ ​ ​