ENGAGEMENT FAKE OUT! Cardi B Confesses She Secretly Married Offset LAST YEAR, In Their Bedroom!
​
Jun 25 | by Natasha
​ ​ ​ ​
After a wedding certificate surfaced hours ago proving Cardi B. and Offset had faked their "engagement" and were already married a month prior, Cardi's fessing up. She's spilling her own tea inside...
America's fave hip hop couple is already married!
The couple's wedding certificate was dug up, and they def tied the knot in Fulton County in Atlanta - where Offset lives - on September 20, 2017. They filed the certificate after the legal ceremony.
So, about that engagement when Offset surprised Cardi on stage in Philly with an extra fat ring...Cardi's just a good actress. Because that happened a whole month later.
There's no backing down from this one, and invasion of privacy or not (see what we did there?), Cardi and Offset's got some explaining to do. The two have been talking about a potential wedding special and wedding planning for months. Not to mention, they kept saying there was nothing to the fact they both keep calling each other "husband" and "wife" publicly.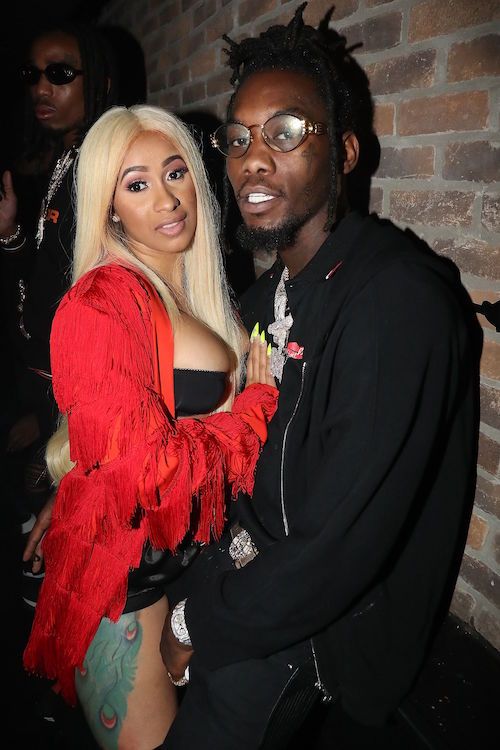 Just hours after the news hit, Cardi now admits, she and Offset indeed got married around 9 months ago. But it didn't go down how you think. Offset literally rolled over in bed one morning (morning breath and all we assume), and asked her to marry him. She said yes, and they did the ceremony THAT DAY with an officiant in their bedroom. Only Cardi's cousin was a witness.
The ceremony was sans hair, makeup, rings, and reportedly sans a baby bump. They were just Belcalis and Kiari.
Offet allegedly dropped that random proposal on her before they knew she was pregnant, this according to TMZ. Cardi saying 'Yes' AND marrying him the same day was just them being 20-something and spontaneous. Mmmhmm.
Sources close to the couple tell TMZ ... the Migos rapper woke up one September morning, looked at the "Bodak Yellow" rapper in the eye and straight-up said, "Marry me." She obviously said yes but, believe it or not, that impulse was only the beginning.

We're told, that same day Offset and Cardi -- who at this point, we're told was not pregnant -- hired an officiant to come to the house and marry them in their bedroom. The only person besides the officiant to witness the nuptials was Cardi's cousin.
We guess their in-home honeymoon is when they went half on Baby Bardi.
And about that engagement, it supposedly was more of Offset keeping his promise to give her a ring:
It was such a spur-of-the-moment decision, there was obviously no time for an engagement ring, much less a wedding band. That brings us to the "public engagement" back in October. We're told that was NOT Offset proposing to Cardi. It was Offset keeping his promise to Cardi and getting her a ring. As we first reported ... at that point they had been married for at least a month.
Cardi just opened up about the wedding on Twitter, saying, "There are so many moments that I share with the world and then there are moments that I want to keep for myself! Getting married was one of those moments! Our relationship was so new breaking up and making up and we had a lot of growing up to do but we was so in love we didn't want to lose each other."
She continues, "I said I do, with no dress no make up and no ring! I appreciate and love my husband so much for still wanting for me to have that special moment that every girl dreams of when he got down on his knee and put a ring on my finger and he did that for me!!
Here's her full statement:
This why i name my album "Invasion of privacy" cause people will do the most to be nosey about your life .Welp fuck it . pic.twitter.com/U3uHFOT3qK

— iamcardib (@iamcardib) June 25, 2018
Well, that explains why they're both dead-set on making this relationship work, despite all the cheating rumors.
Offset shouted out his "wife" again last night at the BET Awards, and reportedly he's going to get his wedding band after their official ceremony after the baby's born.
Congrats to the couple! And we still want a whole wedding. Please and thank you.
Photos: Getty

​ ​
​ ​ ​