Current & Former Players, Philly Mayor Respond To Donald Trump 'Canceling' Eagles White House Visit They Already Weren't Going To
Jun 05 | by _YBF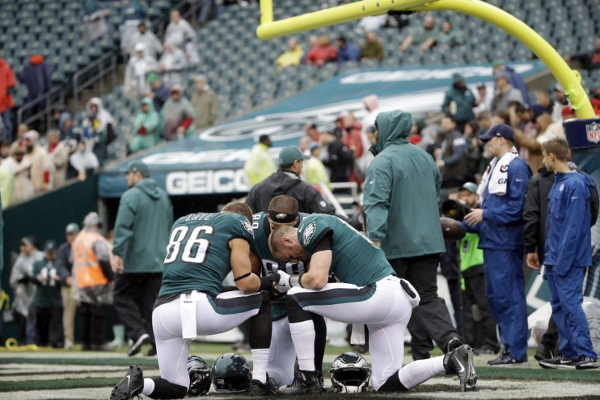 NFL players and Philadelphia mayor Jim Kenney are responding to Donald Trump's ridiculous statement about canceling the Philadelphia Eagles' White House visit. Find out what they said inside...
Donald Trump is back to his NFL foolery.
The Philadelphia Eagles were supposed to make a White House visit for the traditional ceremony that's thrown on Pennsylvania Avenue for the NFL's Super Bowl winning team. After the Eagles won the Super Bowl, several players spoke out saying they weren't going, including Chris Long, Malcolm Jenkins and Brandon Graham.
Now, Trump is acting as if he's canceling an event that barely had a handful of Eagles players attending in the first place. It was reported the team was only sending 10 players for the presidential visit. Trump released a statement uninviting the Eagles team to the White House, because he'll do anything to make his base think he's running things.
The POTUS also said he's still going to host an event for the "fans" that were eager to attended the ceremony.
In the announcement, Trump said they would be celebrating the mean and women in the military and the people who love our country. It's event for those who have been "offended" by the national anthem protests.
Peep the tweet:
The Philadelphia Eagles Football Team was invited to the White House. Unfortunately, only a small number of players decided to come, and we canceled the event. Staying in the Locker Room for the playing of our National Anthem is as disrespectful to our country as kneeling. Sorry!

— Donald J. Trump (@realDonaldTrump) June 5, 2018
Why would they come meet a man who called them "sons of b*tches" and championed for them to be fired for kneeling?
After Trump's announcement, FOX News went on air to report it. However, their coverage was wrong. The network said Eagles players kneeled during the national anthem last season and that's totally false. Not one player kneeled during the national anthem during the regular season or during the playoff season. They also used pictures of players kneeling on the field, but they failed to point out that the pictures were from previous years when they did protest.
Here's the clip:
President @realDonaldTrump says Philadelphia @Eagles won't attend @WhiteHouse ceremony amid national anthem dispute https://t.co/QOOUCg68Gd pic.twitter.com/CRHsoE6ArX

— Fox News (@FoxNews) June 5, 2018
Eagles player Zach Ertz caught the news segment and called out FOX News on Twitter:
This can't be serious.... Praying before games with my teammates, well before the anthem, is being used for your propaganda?! Just sad, I feel like you guys should have to be better than this... https://t.co/kYeyH2zXdK

— Zach Ertz (@ZERTZ_86) June 5, 2018
Eagles defensive end Chris Long, who previously said he wasn't attending the White House visit, also responded to Trump:
Imagine wanting to please the boss so very badly that you run stills of guys knelt down PRAYING during pregame. Not one Eagles player knelt for the anthem this yr. Keep carrying his water to sow division while misrepresenting Christian men. Aren't many of your viewers.. nevermind https://t.co/QdlOvL0btq

— Chris Long (@JOEL9ONE) June 5, 2018
You're complicit in PLAYING America. This is just another day at the office for you, though. Most players (and there were many players, many players...) that wanted to opt out had decided long b4 the anthem rule came down. It wasn't discussed once in our meetings about the visit.

— Chris Long (@JOEL9ONE) June 5, 2018
Former Eagles player Torrey Smith also hopped on Twitter to fact-check Trump and his lies:
So many lies smh
Here are some facts
1. Not many people were going to go
2. No one refused to go simply because Trump "insists" folks stand for the anthem
3. The President continues to spread the false narrative that players are anti military pic.twitter.com/89GUNhJ4eE

— Torrey Smith (@TorreySmithWR) June 4, 2018
There are a lot of people on the team that have plenty of different views. The men and women that wanted to go should've been able to go. It's a cowardly act to cancel the celebration because the majority of the people don't want to see you. To make it about the anthem is foolish

— Torrey Smith (@TorreySmithWR) June 4, 2018
Philadelphia Eagles wise receiver Torrey Smith said in February that most of his teammates wouldn't go to the White House. Here was his reason. Sounds about right. pic.twitter.com/12vyVBn1LB

— Dave Zirin (@EdgeofSports) June 5, 2018
Bloop!
Philadelphia mayor Jim Kenney issued a statement to respond to the White House visit drama. He's standing behind the Eagles' players who took a "knee" and then he dragged Trump for his childish ways.
Read his statement below:
"The Eagles call the birthplace of our democracy home, so it's no surprise that this team embodies everything that makes our country and our city great. Their athletic accomplishments on the field led to an historic victory this year. Fans all across the country rallied behind them because we like to root for the underdog and we feel joy when we see the underdogs finally win. I'm equally proud of the Eagles' activism off the field. These are players who stand up for the causes they believe in and who contribute in meaningful ways to their community. They represent the diversity of our nation—a nation in which we are free to express our opinions.

Disinviting them from the White House only proves that our President is not a true patriot, but a fragile egomaniac obsessed with crowd size and afraid of the embarrassment of throwing a party to which no one wants to attend. City Hall is always open for a celebration," said Kenney.
You can hear his chat with CNN about the White House controversy above.
If you haven't heard, the NFL owners just gave the greenlight to a new policy that requires all players to stand for the anthem if they're on the field before a game. Hmph.
We would just like to thank the Super Bowl winning Philadelphia Eagles for not folding under pressure. Salute!
Photos: AP