Trey Songz Arrested For Felony Domestic Violence – Turns Himself In & Speaks Out + NBA Youngboy 'Wants To Die' After Kidnapping & Assault Charges
​
Mar 19 | by Natasha
​ ​ ​ ​
Trey Songz is officially in lock up over a felony domestic violence charge. Plus, rapper NBA Youngboy is talking about ending his life over his new charges.
Trigga is locked up! After he was told he was set to be arrested, the singer turned himself in to LAPD this morning on a felony domestic violence charge. The charge stems from accuser Andrea Buera who says Trey punched her repeatedly during All Star Weekend when he became upset with her for some unknown reason.
TMZ reports:
The singer turned himself in, with his attorney Shawn Holley, for the alleged incident involving a woman he was out with in L.A. last month during NBA All-Star weekend. He was booked at 6 AM, and released shortly after 8 AM. He posted a $50,000 bond.
Trey interestingly post this Snap pic right before pulling up to the authorities: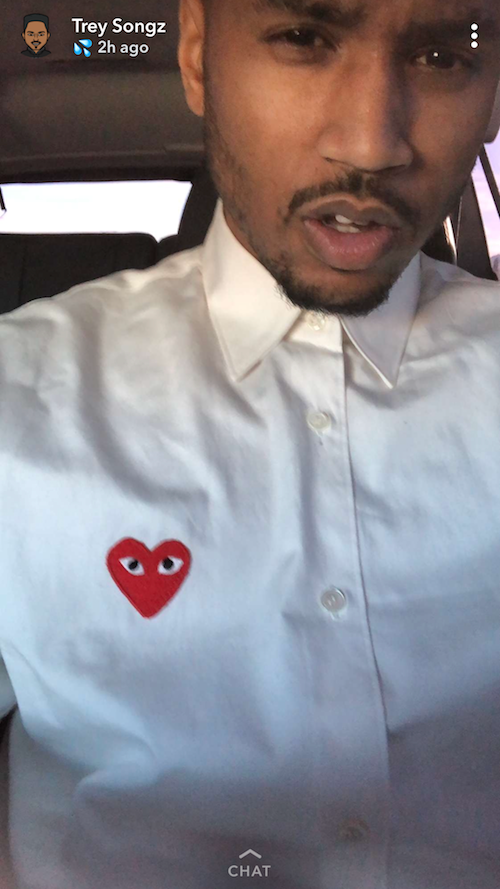 Trey defended himself earlier on Twitter for the first time, saying he remained quiet about the allegations this whole time at the recommendation of his team:
I won't be speaking too much more on this but would like to thank you for all the prayers and support.

— Trey Songz (@TreySongz) March 19, 2018
For weeks my lawyers & Mgmt have asked me not to comment on this and I initially agreed but this morning I feel that my fam, the women that raised me, my friends & fans especially the youth need to hear from me. I am being lied on and falsely accused for someone's personal gain

— Trey Songz (@TreySongz) March 19, 2018
While Trey claims she's lying, Andrea says Trey put her in the hospital with severe bruises and a concussion.
In other arrest news, the Baton Rouge rapper you couldn't pick out of a line up but have surely heard about his antics is making headlines again.
NBA Youngboy was just handed down formal charges stemming from the disgusting beat down he gave his girlfriend, Jania, at a Georgia hotel recently. Said beat down was caught on video, and we all know this is the not the first time he's completely disrespected her for the world to see.
He's been charged with aggravated assault and kidnapping, the latter because he dragged her body into a hotel room.
The video is disgusting, and definitely not the first time we wanted to reach through the screen and square up with his a**.
His girlfriend tried to convince a grand jury that it was "just horseplay." Girl...
He was released on a $75K bail last week, but around the same time as today's 2-count indictment, he's garnering sympathy for his "I want my life to end" tweet:
Just need to hurry up in die so this shit can be over

— NBA YOUNGBOY (@GGYOUNGBOY) March 18, 2018
This guy....
EXTRAS:
1. Miranda Hobbs from "Sex And The City" is running for Governor of New York in real life. VIDEO
Photos: Snapchat, Getty, Twitter
​ ​
​ ​ ​