Kim Kardashian Attempts To CLAP BACK At The Relentless, Proper Dragging She's Receiving After Appropriating 'Bo Derek' Braids
​
Jan 30 | by _YBF
​ ​ ​ ​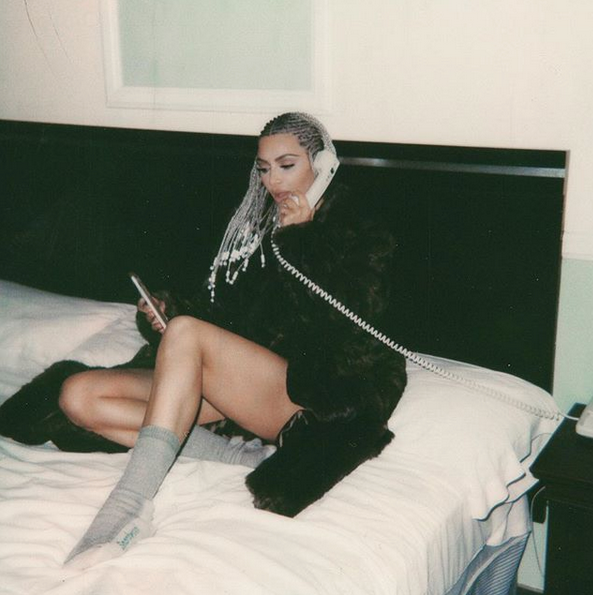 Culture vulture Kim Kardashian West was thirsting for attention and she's getting it. She's being called out ONCE AGAIN for culture appropriation after posting up flicks of her "Bo Derek Braids" –her words, not ours. Peep the dragging and her clap back inside…
We JUST slid into 2018 and haven't even gotten comfortable on the couch yet and Kim Kardashian West is up to her culture vulture ways. She's causing a stir on social media, but not the kind she likes. Or does she?
This chick CONTINUES to steal from black culture, put her spin on it and then try to act as if she discovered something new or is doing something groundbreaking. Or in this case, give credit where it's not due.
These "new" braids she debuted are not "Bo Derek Braids." And no, we don't care if Bo Derek rocked them in an iconic film.
But, you can't tell her that though.
SIGHS....
The nerve of her to credit a white woman as the originator of these braids that black girls and women have been wearing since the beginning of time. Yes, actress Bo Derek rocked these braids in the 1979 film, 10, but she's not the first to do it. Kim, these are not "Bo Derek Braids," they are called cornrows or Fulani braids. Take notes.
As expected, Black Twitter dug in her a** as they should:
Kim Kardashian said she got "Bo Derek braids." She is 100% out here trolling Black women. You can't convince me otherwise. pic.twitter.com/LZeh4f8BqH

— Tina Vasquez (@TheTinaVasquez) January 29, 2018
They are called Fulani braids or some may even say corn rows. You could of called them either one but you called them "Bo derek" giving credit to a white woman for a black style knowing you already catch heat for culture vulturing. #KimKardashian #culturalvul pic.twitter.com/aIF4NzJ9rw

— Roses (@Teenagenature) January 29, 2018
Did @KimKardashian really refer to these traditional cornrows with beads as "Bo Derek braids" this is a perfect example of #culturalappropriation #culturevulture I wonder what their daughters will call them? Kanye, talk to your wife! #KimKardashianWest #kimkardashian pic.twitter.com/GJkfvFDMRU

— Devorshka (@DevTee7) January 29, 2018
Kim ....these braids did not start and end with Bo Derek ....they originated from African culture pic.twitter.com/RQY8RTH6fX

— Melanie321 (@Mellie4Justice) January 29, 2018
first of all, fuck you @KimKardashian for wearing cornrows and calling them "Boderrick braids". second of call fuck you again for crediting the creation of "boderrick braids" to a white woman who was culturally appropriating cornrows to begin with.

— Queen (@poeticsoulinme) January 29, 2018
After she was served up a history lesson, she decided to clap back, tweeting:
Hi, can I get zero fucks please, thanks pic.twitter.com/svo3tewQC8

— Kim Kardashian West (@KimKardashian) January 30, 2018
Girl, bye.
She also was posting up the thirstiest of thirst trap pics all day long to show off her new braids, with at least one pic fully topless and bare breasted.
At this point, these incessant naked IG pics are even beneath a chick like her. Do.Something.Else.
But since Beyonce was getting all the attention this weekend with her Grammy fabulousness, we already knew Kim was going to coincidentally swoop in trying to "break the internet." Doing the most with the least.
Damn, is Kanye West not giving his wife enough attention?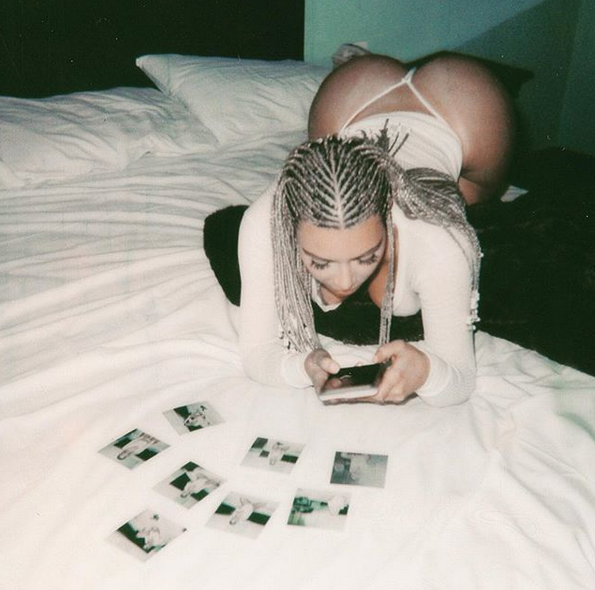 Former reality star Deelishis, known for flaunting her ASSets but gets crap for doing so, took her to task. She explained that if a BLACK woman had posted up this nude flick it would be critiqued totally different: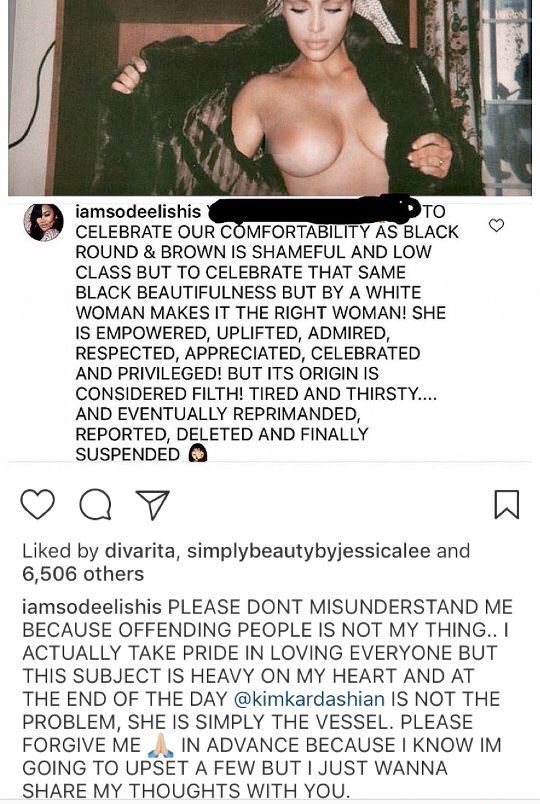 Where is the lie?!
And how long have we been saying this EXACT thing on this site? We'll wait.
Even Lindsey Lohan is confused by it all:
Kim's response tho. Teeheeee.
Comedian Lil Duval also offered up a male's opinion on Kim and her thirst trap flicks:
Well...
Thoughts?
Photos: Kim's IG
​ ​
​ ​ ​