BREAKING: Bill Cosby's Sexual Assault Trial Ends In Mistrial, Prosecutors Will Retry The Case
Jun 17 | by _YBF
The jury is hung! Bill Cosby's sexual assault trial has been declared as a mistrial. Details inside…
Bill Cosby is taking a victory lap right now.
The 79-year-old's sexual assault trial reportedly ended this morning with a jury that was deadlocked on all counts. The "Cosby" star faced three charges of aggravated indecent assault after Andrea Constand was able to have her case tried in criminal court. Cosby was accused of drugging and raping Andrea at his home in Philadelphia in 2004. If convicted, he faced up to 10 years in prison.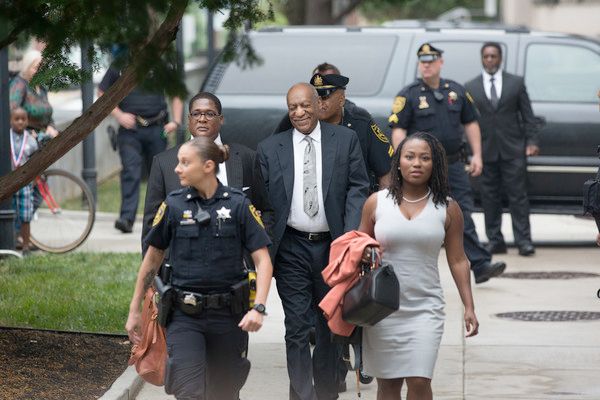 The jurors – five women and seven men – were unable to come to a unanimous decision after 52 hours of deliberation. Montgomery County Judge Steven O'Neill declared a mistrial.
Today marked their sixth day of deliberations and everyone has been locked in on everything that went down in the courtroom since the beginning of the trial, including the more than 50 women who also came forward with claims of sexual misconduct.
According to NBC News, after the verdict was announced, several women who had accused Cosby of sexual assault began crying as they gathered around Andrea to console her.
Before the verdict was read, Andrea took to Twitter posting a video as she awaited the outcome:
— Andrea Constand (@dreconstand2017) June 15, 2017
Bill still isn't out of hot water just yet. Prosecutors announced they will retry the case.
Right after court, Bill's wife Camille Cosby had a statement read aloud outside of the courthouse by a member of her husband's PR firm. And she didn't hold back. She popped off on some folks, including the judge. Check it:
"How do I describe the district attorney? Heinously and exploitatively ambitious. How do I describe the judge? Overtly arrogant in collaborating with the district attorney. How do I describe the counsels for the accusers? Totally unethical. How do I describe many, but not all, general media? Blatantly vicious entities that continually disseminated intentional omissions of truth for the primary purpose of greedily selling sensationalism at the expense of a human life."

Historically, people have challenged injustices. I am grateful to any of the jurors who tenaciously fought to review the evidence; which is the rightful way to make a sound decision. Ultimately, that is a manifestation of justice, based on facts, not lies. As a very special friend once stated, "Truth can be subdued, but not destroyed."

Moreover, I express humongous gratitude to counselors Brian McMonagle and Angela Agrusa for their hard work. Mr. McMonagle for his passionate and powerful articulations of truths; Ms. Agrusa for her thorough research to bolster Counsel McMonagle; to Mr. Andrew Wyatt for his unequivocal skills in public relations; to our team, who worked diligently and intelligently; to our staffs for their continuous commitment to our family and me, and to our children, grandchildren, and other family who loves us, and to our dear friends and supporters who never gave up on us, despite it all.
Thoughts?
Photos: Getty