Frank Ocean Is Getting SUED By His Own Dad For $14.5 Million! + Tyson Beckford Admits To Pulling A Gun On A Process Server!
​
Feb 03 | by _YBF
​ ​ ​ ​
From getting sued by your parents to pulling out a gun for your protection -- Frank Ocean and Tyson Beckford have their hands full. Get the latest inside…
It's one thing to get sued, but when your parents sue you that takes things to a whole new level.
Unfortunately, that's what Frank Ocean is dealing with right now. His dad, Calvin Cooksey, has filed a defamation lawsuit against his son over a Tumbler post Frank wrote last summer following the Pulse nightclub massacre. In his letter, Frank opened up about his father using homophobic slurs over the years while he was a kid.
He wrote:
"I was six years old when I heard my dad call our transgender waitress a faggot as he dragged me out a neighborhood diner saying we wouldn't be served because she was dirty. That was the last afternoon I saw my father and the first time I heard that word, I think, although it wouldn't shock me if it wasn't."
Apparently, Frank's post has caused some drama in his dad's life. His dad claims the story Frank told is a LIE and that it has "damaged his financial opportunities in film and music."
Now, he's gunning for a cool $14.5 million in damages. Sheesh! TMZ also reported Frank's dad sued Russell Simmons in 2014 for $142 million claiming Russell called him a deadbeat dad. Lordt.
In other news...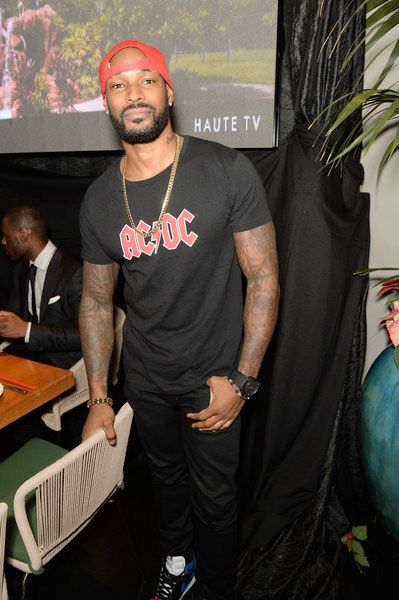 Model Tyson Beckford had to get savage on a process server after feeling threatened by him. In case you didn't know by now, he's BEEN about that life.
According to reports, Tyson whipped a gun out on the process server, who was wearing an eyepatch, after the man allegedly got aggressive. Tyson admits to pulling the gun out because he said the guy never identified himself and even tried to push his door open after he tried to close it. The model said he felt in danger because he lives in a secure building (in Miami) and without any advance warning, someone started knocking at his door.
The process server is singing a different tune. He claims Tyson slammed the door in his face. The man yelled through the door that he was going to leave the papers at the front door and that's when Tyson allegedly opened the door with a gun in his hand demanding he leave the building.
By the way, Tyson has a license to carry.
Doesn't look like they'll be going to court though. The process server didn't file a police report.
We wonder what Tyson was getting served for....
Photos: Getty
​ ​
​ ​ ​