Jordin Sparks Oozes Sex Appeal In "Right Here Right Now" Video + Pleasure P CLOWNS Tyga Over Alleged Transgender Scandal
Jul 10 | by _YBF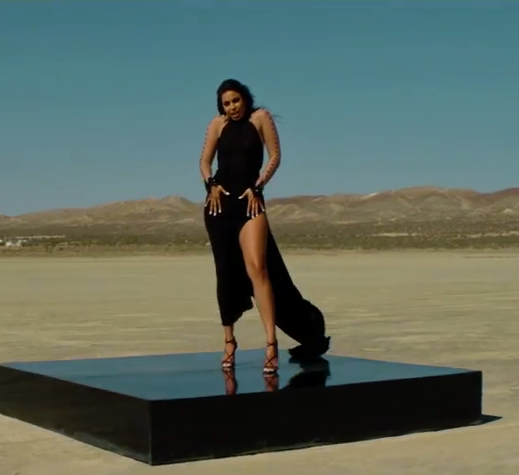 Jordin Sparks has a brand new video for her new single "Right Here Right Now." And she's serving up some sexiness for the visuals. In other news, Pleasure P went in on Tyga on social media over his alleged sexting scandal with a transgender model, but was blasted about his own molestation allegations. Get it all inside…
Jordin Sparks is heating up the summer with brand new visuals for her newest single "Right Here Right Now," the title track to her forthcoming album. And she's bringing the heat with her sensual dance moves in the middle of the desert.
For the Dem Jointz-produced track video treatment, Jordin flaunts her svelte bod in black high-slit dress as she croons over the up-beat tempo. A hard bodied dancer, belly dancer and lovers who embrace join her for the exotic visuals, perfect for the summer time.

Check it:
Last night, the "American Idol" winner debuted her new video on the jumbotron in the middle of Times Square:
She said, "Soo thankful!! THIS WAS UNREAL! #RightHereRightNow music video premiere in TIMES SQUARE!? My Dad & I were speechless!"
The Grammy-nominated songstress is gearing up to release her third studio album, which is set to drop August 21st.
The album will include features from 2 Chainz, B.o.B. & Shaggy

In foolish activities news....
Former Pretty Ricky singer Pleasure P decided to hop on his Instagram page to throw shade at Tyga after reports surfaced that he was involved in a sexting scandal with transgender model Mia Isabella.
As usual, Pleasure P posted up a few posts that he thought was funny initially, but eventually took them down after the backlash he was receiving. Followers began going IN on Pleasure P for clowning T-Raww. Why? Well you may recall, P (real name Marcus Cooper) was accused of molesting several children that he has vehemently denied.

Here's what he posted:
We assume the "first one" he's referring to is Tyga's rumored 17-year-old girlfriend Kylie Jenner? Then, he posted this:
Bloop!
Pleasure P then tried to explain why he went at Tyga and it appears to be over money. He said Tyga "did some bullsh*t when it came to a song we did when we had a lot of money on the line." And added, "I was wrong, but f*ck him though!"
Check it:
Now, P is busy reposting messages from fans who support him even after he tried to poke fun at Tyga. Maybe next time he'll think twice before trying to shade someone else. Pot...meet kettle.
EXTRAS:
1. The Weeknd will release his third studio album Beauty Behind The Madness Friday, August 28th.
Photos: Pleasure P's IG