IN CASE YOU MISSED IT: Toni Braxton's FULL "Behind The Music" + Halle Berry Chops It Up On "Chelsea Lately"
​
Oct 30 | by Natasha
​ ​ ​ ​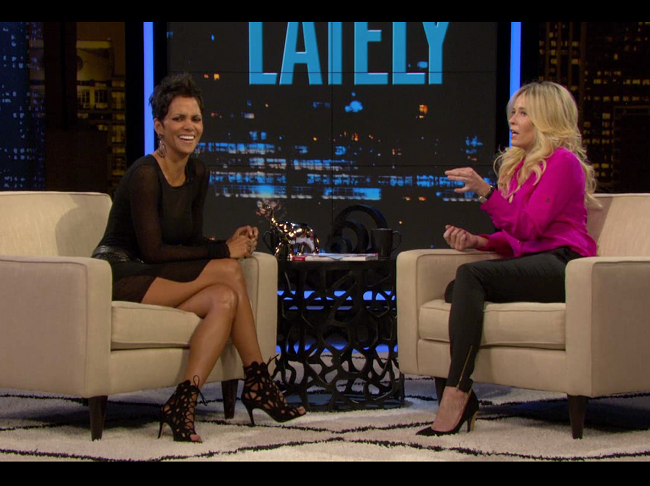 Halle Berry is still doing promo for her Cloud Atlas film that flopped at the theaters. But she rolled to "Chelsea Lately" to chop it up about her umpteen characters last night.
Plus, we've got video of Toni Braxton's "Behind The Music" special that aired on VH1 last night....
Last night, VH1 aired Toni Braxton's "Behind The Music." And for the first time, we learn the real deal behind those two bankruptcy situations, her heath, her son's autism and the guilt she still feels about succeeding without her sisters.
Toni revealed that the first bankruptcy was a result of a horrible contract. While signed to Arista as the First Lady of LaFace, Toni was given the full Hollywood treatment while her self-titled debut album was a #1 success. What she didn't realize is that her "slave like" contract allowed the record company to recoup all the money for clothes, hotels, travel, perks they originally provided for her. So she ended up with only $2K.
The second bankruptcy occurred after she pulled out of the 2 year of Vegas shows (a series originally slated for only 6 weeks). When she suffered a heart attack from over working herself and finding out her oldest son Denim had autism, she needed to pull out of the gig. The insurance company backing the project decided not to cover the expenses. So all the lighting, production, sound, etc. companies sued TONI for the money.
Check out the full episode where she also speaks on the guilt she has for going solo (even though her fam pushed her to) and succeeding without her Braxton sisters.
Also last night, Halle Berry stopped by Chelsea's show to talk Cloud Atlas. Halle said even though the story seems convoluted, it's actually just a simple story of revolution. So she says.
Check out their funny convo and Halle looking HOT above.
​ ​
​ ​ ​