MORE PICS & DEETS: Will & Jada, Beyonce, Halle Berry, Stedman, & Tons More Say Buh-Bye To Lady O!
​
May 18 | by _YBF
​ ​ ​ ​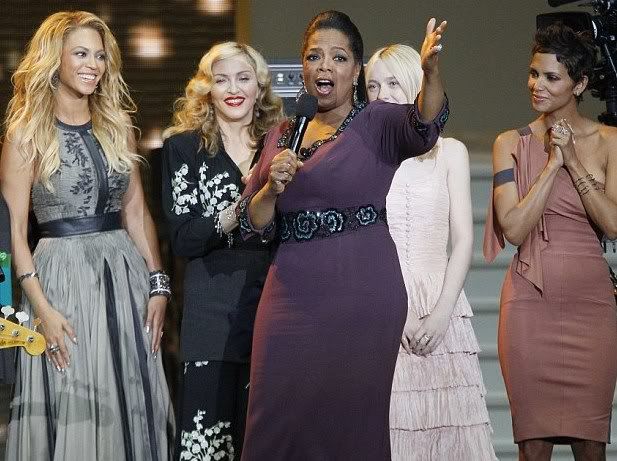 The Who's Who of pop culture all gathered at the United Center in Chicago last night to give a final salute to Oprah Winfrey, the woman who revolutionized the talk show genre. We posted the initial pics and deets last night. But now we've got more.
Inside see pics of Madonna, Dakota Fanning, Halle Berry, Will and Jada, Jamie Foxx and watch a sneak preview of Beyonce performing "Run The World (Girls)."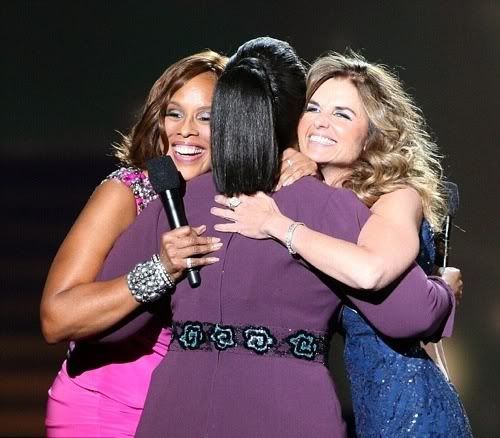 Last night was full of surprises for Oprah Winfrey as she said goodbye to her talk show of 25 years. Her BFF Gayle King and other bestie Maria Shriver (who looks great after all this Arnold foolery has hit the fan) hugged it out with her on stage.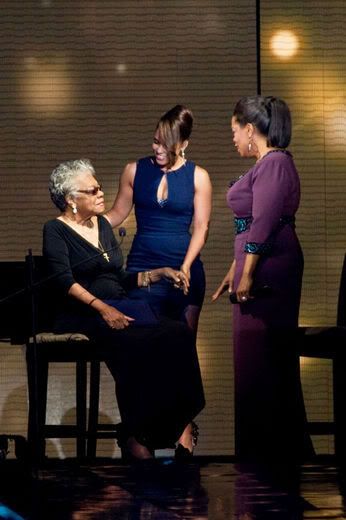 Her mentor, Maya Angelou surprised her with a poem while Alicia Keys hit the stage to dedicate "Superwoman" to her.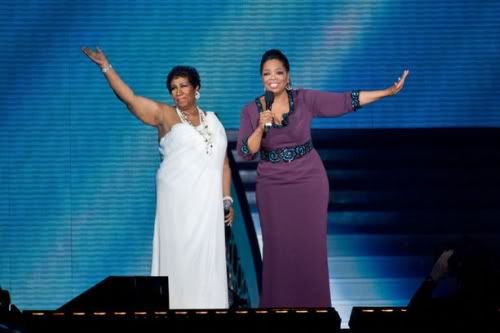 And fans at the United Center say the Queen of Soul, Aretha Franklin, brought the house down with her take on "Amazing Grace."
Others spotted on stage were Usher, Simon Cowell, Maria Shriver, Tyler Perry, Roseanne Barr and guess who....Stedman Graham.
And speaking of Stedman, the Daily Mail reports he brought his boo Oprah to tears:
Oprah' long term partner Stedman was one of the real surprise guests on the night.

A man who deliberately keeps himself in the background, he took to the stage and proclaimed: 'Oprah changes people's lives, but she also takes her lunch to work everyday. She says it's to save money.'

While the audience chuckled, Oprah started crying - and when Stedman called her 'sweetheart' in a bid to stem her tears, the audience gave up a great big 'awww.'

He then surprised everyone including Oprah by introducing Aretha Franklin, who emerged to sing a version of Amazing Grace.
Sweet!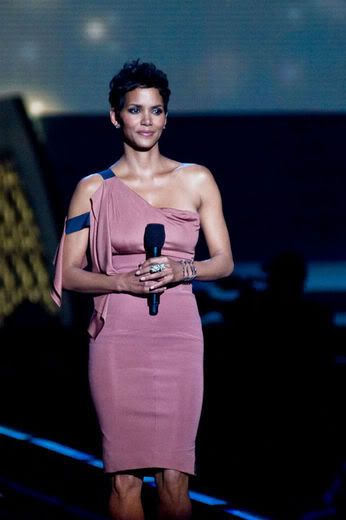 Halle looked great.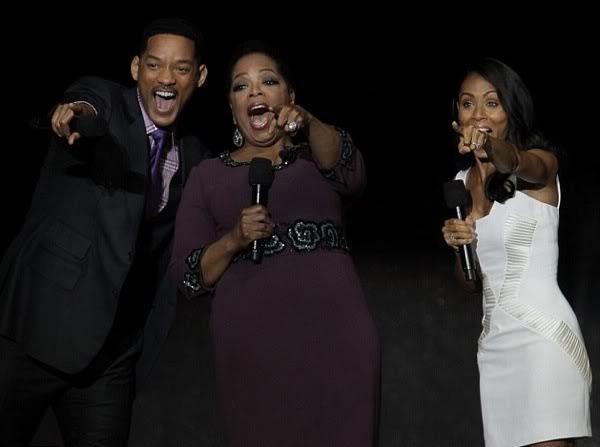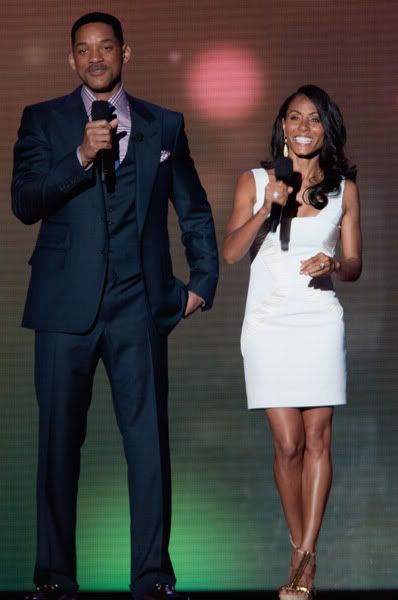 Will and Jada Pinkett Smith shared a few words about Oprah.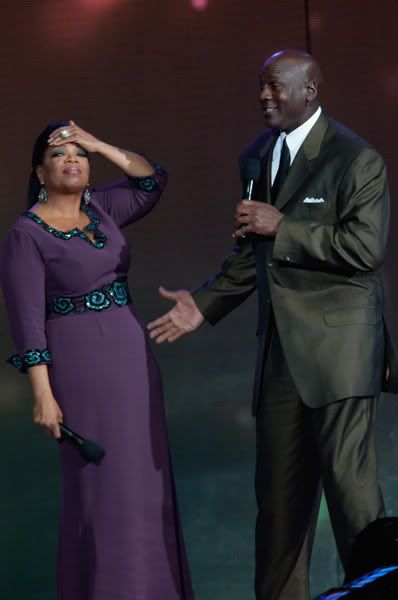 Michael Jordan was there too.
I'm sure this was the only time Simon Cowell had something nice to say in public.
Mr. couch jumper Tom Cruise was there.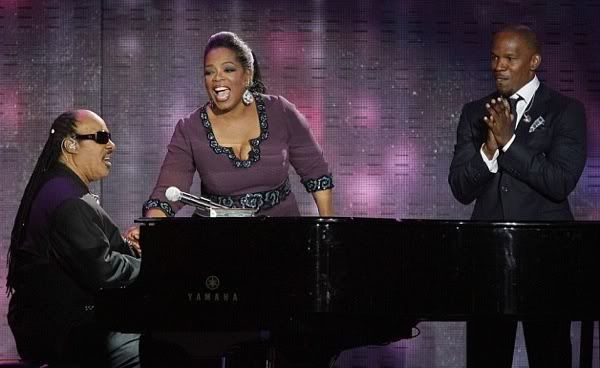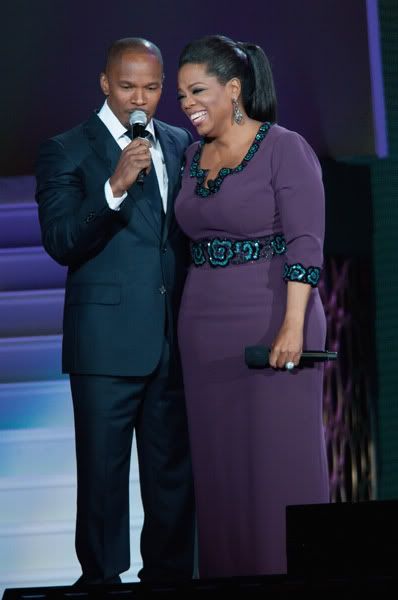 Jamie and Stevie Wonder serenaded Oprah.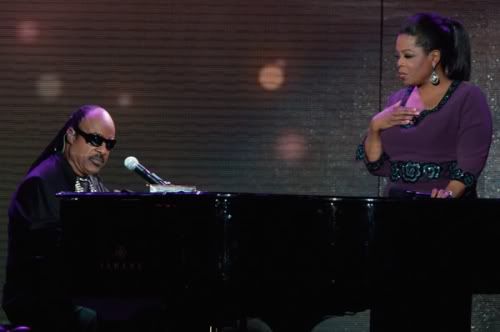 And Stevie Wonder sang "Isn't She Lovely."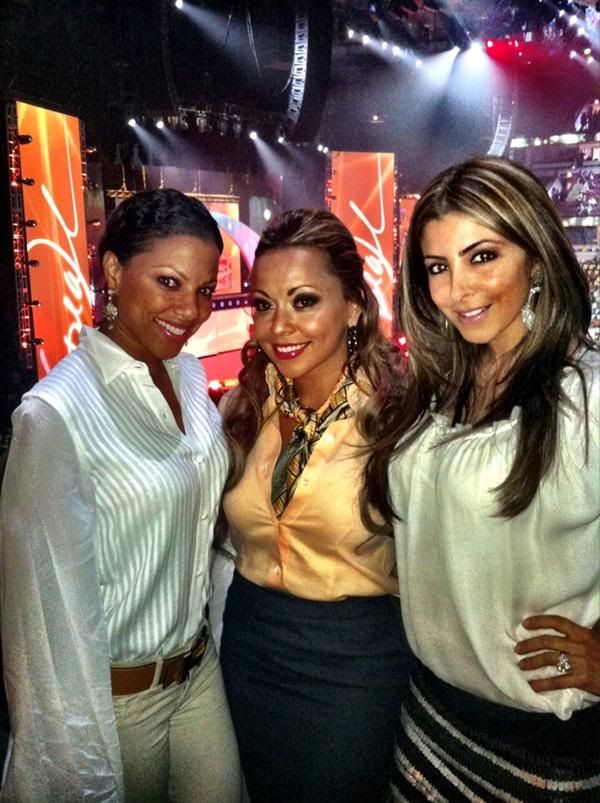 And also in the house......Scottie Pippen's wife Larsa and Adrienne Williams (Chris Bosh's fiance).
And Beyonce also tore the house down........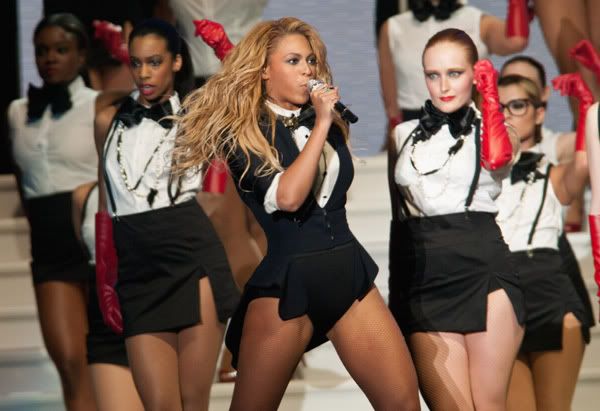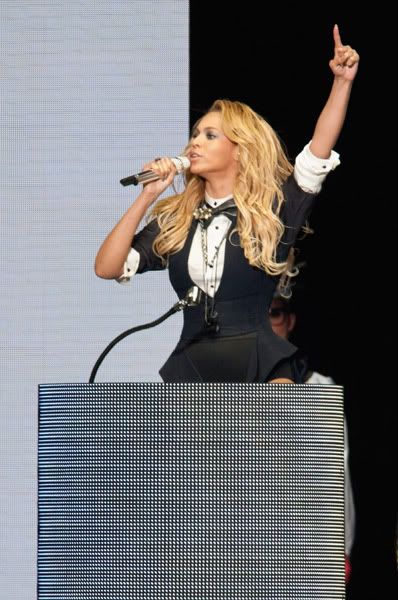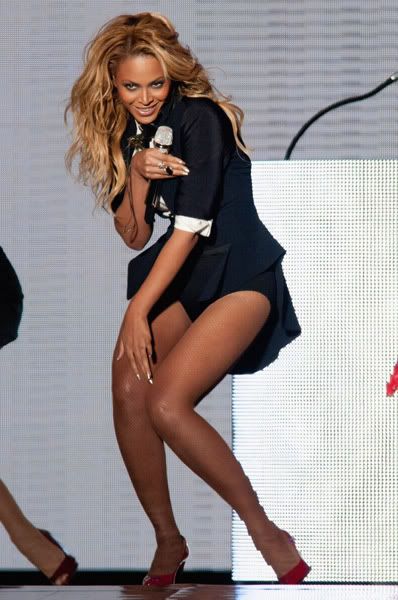 Watch a clip of Beyonce performing "Run The World (Girls)":
What the celebs said at the taping about Oprah:
Madonna: 'It's no secret that millions of people are inspired by Oprah,' she said. 'I am one of those people ... She fights for things she believes in, even if it makes her unpopular ... I have learned so much from her.
She's a self-made woman who's been at the top of her game for over 25 years - and she's still kicking ass, I vow to be more courageous and never give up…. Thank you for inspiring me.'
Tom Hanks: 'Your show has turned surprise into an art form. You are surrounded by nothing but love.'
Maria Shriver: '(Oprah) has given me love, support, wisdom and most of all the truth. (I'm ) not alone in receiving those gifts.'

Dakota Fanning: 'We're Oprah show babies. She's taught us we are enough… our lives have value.'

Beyonce: 'Oprah Winfrey, because of you, women have graduated to a new level of understanding… of who we can be. We can run the world!'

Diane Sawyer (while talking about how a tree grows): 'That is like life, that is like you. That is The Oprah Winfrey Show.'

Halle Berry: '(Oprah has taught us) We're more alike than different. All pain is the same.'

Will Smith: 'Oprah said if this didn't work out for her, she would have become a 4th grade teacher. You did become a teacher, with the whole world as your classroom.'

Rosie O'Donnell: 'You saved us from depression when you gave us Dr. Phil.'
​ ​
​ ​ ​