OH NO SHE DIDN'T: NeNe Leakes And Phaedra Parks' Phone Confrontation On "Rickey Smiley"
Feb 16 | by _YBF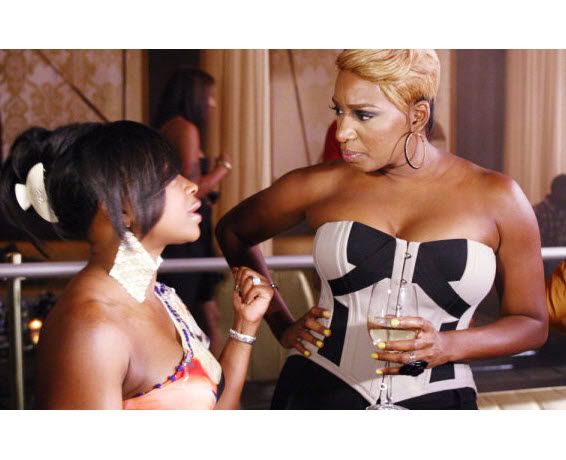 This AM on the "Rickey Smiley Morning Show" things got heated when Nene Leakes called in to talk about Star Jones and Phaedra Parks. After the trash talking, Phaedra called into the show and a back-and-forth ensued. Get highlights and deets inside...
Sometimes urban radio can be so messy...yet so entertaining. This morning, just a few days after Part 1 of the "RHOA" reunion show aired, NeNe Leakes called Rickey Smiley to clear up comments she made about Star Jones and Phaedra Parks on other talk shows or in the press. And of course, they decided to three-way call Phaedra Parks so the two women could engage in a civilized discourse on their differences...NOT!
NeNe became NeNe and all you hear is her loud-mouthing Rickey and Phaedra. But...it was entertaining.
Here are some highlights:
NeNe on Star Jones:
NeNe says Star Jones started in on her the first day of "Celebrity Apprentice" by sabotaging her chances to get hair and makeup. Still NeNe says she gave Star a chance. She and Star had lunch and dinner and NeNe even kept her dog Pinky. However, she says the "game" on "Celebrity Apprentice" is competitive and cut-throat and she isn't like that. But she seems to insinuate that Star is.
"Star is (zapped) up. Star argued with me, Latoya Jackson, Meatloaf, Lisa Rinna. Star is a disaster."
On Phaedra being an Equestrian:
"You are sitting on the same show I'm sitting on so your attorney work must not be working out for you. And as far as her being an equestrian, I don't know that for sure. But she was raised in the projects of Athens and they didn't ride horses. They barely drove cars through there.

Now she can be a class act act or whatever you want to call it….And I don't care if she went to school for 20 years, you end up on the same show I am on. And I do more than you do and make more money than you so what's next?"
She later added...
"If I wanted to ride a horse I could have rode one. I decided to drive a car."

Then Rickey and the crew, three-way called Phaedra to give her a chance to jump in the mix. The argument began when NeNe said Phaedra grew up in the projects which seemed to tick Phaedra off.
On Growing Up in Athens and NeNe's Attitude:
"I don't have any issues with NeNe. I did not grow up in the ghetto cause there are no ghettos is Athens (Georgia). You have forgotten a lot about high school. You have forgotten a lot about your hometown. And from what I understand, you say you are from New York but you've been in Athens since you were three years old. So it's not amazing to me that you would forget most things."
The rest of the conversation (which you can listen to below) seemed to focus on whether NeNe knew Phaedra while living in Athens, GA. She says no. Phaedra says otherwise.
Eventually one of the female members of the morning crew cut off the conversation saying we shouldn't support two black women fighting in public. Yet....they did set up the call. Judge for yourself.
Listen to Nene on The Rickey Smiley Morning Show here:
Listen to NeNe vs. Phae Phae on The Rickey Smiley Morning Show here: