MAGAZINE FAB: Iman Rocks The Pages Of HARPER'S BAZAAR
​
Nov 10 | by _YBF
​ ​ ​ ​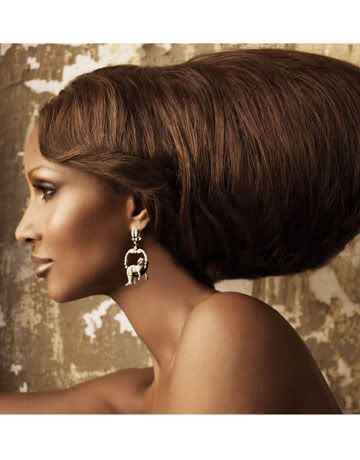 Iman, the new star of "The Fashion Show", covers the December issue of HARPER'S BAZAAR Magazine and we have the pics and quotables for you. See what Iman has to say about marriage, beauty and the Obamas when you go inside...
The gorgeous fashion icon Iman took some beautiful pictures for HARPER'S BAZAAR this month. She told the mag that a part of her happiness is linked to her relationship with musical icon David Bowie. Want to know the secret to their 22 years of marital success? She says,
"David doesn't fight. He is English, so he just stays quiet. I'm the screamer. Then he always makes me laugh. It's like cabaret. I keep him entertained too. I still fancy him—totally!—after all these years."
And for Iman, feeling beautiful is important. Asked how many wigs she owns, the supermodel said,
"Millions! I believe in glamour. I am in favor of a little vanity. I don't rely on just my genes. Looking good is a commitment to yourself and to others. Wigs, killer heels, Pilates, even fillers—whatever works for you, honey."
I know that's right Iman.
Being marry to David Bowie, it's hard to imagine Iman would be "normal." But she says she is a very normal wife who makes it a point to cook dinner for her husband every night. She is also very domestic, soon launching her own home decor line called Iman Home.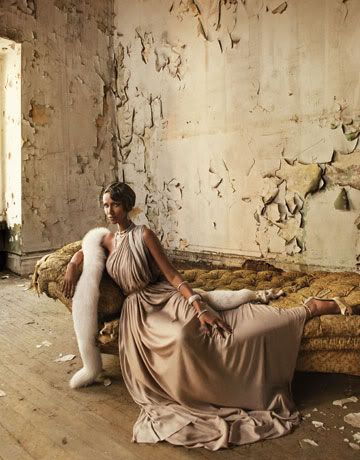 But most normal people don't hang out with Oprah and the Obamas.
"I met Mr. and Mrs. Obama years ago at Oprah's Legends Ball. Oprah sat me next to Mrs. Obama because I majored in political science before modeling, so she thought we would have something to discuss. And then I went for lunch at the White House. It was brilliant! Mrs. Obama could not have been more gracious or beautiful. She is very smart, and for me, the thing I most envy is her children. When is the last time we saw two girls that age at the inauguration, and their mother did not have to say, "Sit still!" ?"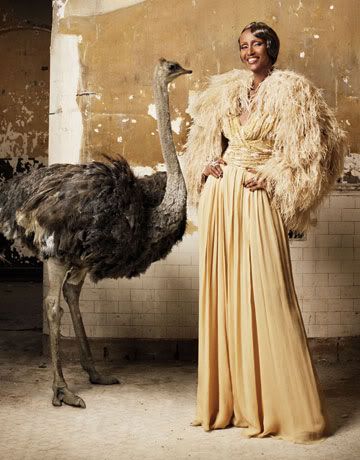 When famed fashion editor Diana Vreeland first met Iman, she commented, "Now that's a neck." This makes Iman laugh, saying
"My daughter (Lexi, age 10) likes to draw. She'll say to me, 'I am doing a portrait, so you have to sit still.' And then she'll say, 'Oh my goodness, you have such a long neck.' Weird!"
But from the pic above, I think we can all agree its a fab neck.
Watch the shoot's behind the scenes video:
Such a fab chick.
​ ​
​ ​ ​