President Obama Chats It Up With Rolling Stone+Beyonce Crashes Her In-Laws' Block Party
​
Sep 28 | by Natasha
​ ​ ​ ​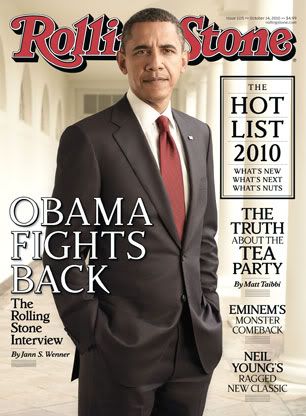 President Barack Obama is covering the pages of the new Rolling Stone mag. And he's proving while he's still a political rock star. Despite the non-stop hate. We have his quotes about choking up when he thinks about his wife, which rappers are on his iPod, his thoughts on Fox News, and more.
Those quotes, plus video of Beyonce dancing it up at a Jersey block party yesterday when you read on...
What has surprised you the most about these first two years in office? What advice would you give your successor about the first two years?

Over the past two years, what I probably anticipated but you don't fully appreciate until you're in the job, is something I said earlier, which is if a problem is easy, it doesn't hit my desk. If there's an obvious solution, it never arrives here — somebody else has solved it a long time ago. The issues that cross my desk are hard and complicated, and oftentimes involve the clash not of right and wrong, but of two rights. And you're having to balance and reconcile against competing values that are equally legitimate.

What I'm very proud of is that we have, as an administration, kept our moral compass, even as we've worked through these very difficult issues. Doesn't mean we haven't made mistakes, but I think we've moved the country in a profoundly better direction just in the past two years.

What do you think of Fox News? Do you think it's a good institution for America and for democracy?
[Laughs] Look, as president, I swore to uphold the Constitution, and part of that Constitution is a free press. We've got a tradition in this country of a press that oftentimes is opinionated. The golden age of an objective press was a pretty narrow span of time in our history. Before that, you had folks like Hearst who used their newspapers very intentionally to promote their viewpoints. I think Fox is part of that tradition — it is part of the tradition that has a very clear, undeniable point of view. It's a point of view that I disagree with. It's a point of view that I think is ultimately destructive for the long-term growth of a country that has a vibrant middle class and is competitive in the world. But as an economic enterprise, it's been wildly successful. And I suspect that if you ask Mr. Murdoch what his number-one concern is, it's that Fox is very successful.

What music have you been listening to lately? What have you discovered, what speaks to you these days?
My iPod now has about 2,000 songs, and it is a source of great pleasure to me. I am probably still more heavily weighted toward the music of my childhood than I am the new stuff. There's still a lot of Stevie Wonder, a lot of Bob Dylan, a lot of Rolling Stones, a lot of R&B, a lot of Miles Davis and John Coltrane. Those are the old standards.

A lot of classical music. I'm not a big opera buff in terms of going to opera, but there are days where Maria Callas is exactly what I need.

Thanks to Reggie [Love, the president's personal aide], my rap palate has greatly improved. Jay-Z used to be sort of what predominated, but now I've got a little Nas and a little Lil Wayne and some other stuff, but I would not claim to be an expert. Malia and Sasha are now getting old enough to where they start hipping me to things. Music is still a great source of joy and occasional solace in the midst of what can be some difficult days.
And when he was asked if he cried when aul McCartney sang "Michelle" to his wife a little while back, he responded:
Whenever I think about my wife, she can choke me up. My wife and my kids, they'll get to me.
How sweet! He talks about more politically targeted issues at the source.
In other news, Beyonce crashed her in-laws' block party. No, for real. She hit West Orange, New Jersey yesterday to visit Jay-Z's mom. And she decided to join in the dancing and partying with the neighbors at their block party. It was all caught on tape, and the neighbors loved it:
Fun times!
​ ​
​ ​ ​