Official Statement On Chris Brown Getting Denied An Overseas Visa+Alycia Bellamy Gets Sheer In The City
Jun 07 | by Natasha
Looks like those legal matters of Chris' are preventing him from traveling overseas to the UK and Ireland to do that leg of his Fan Appreciation tour. He Tweeted that he had to cancel--without explanation--then deleted the Tweet. But now his PR group has given the official statement.
Read on for that and pics of his ex alleged jump off--and Angela and Vanessa Simmons' BFF--Alycia Bellamy when you read on...

His PR group states:
Due to issues surrounding his work visa, the Ireland and United Kingdom leg of Chris Brown's Fan Appreciation Tour has been postponed. Chris looks forward to performing for his fans abroad in the near future and thanks them for their continued support.
Oh.
And speaking of Mr. Brown, his alleged ex chick Alycia Bellamy was spotted leaving the Prive Hair Saon in L.A. today. SInger and the SImmons' sisters BFF (she appeared on their show) got a bit sheer with it: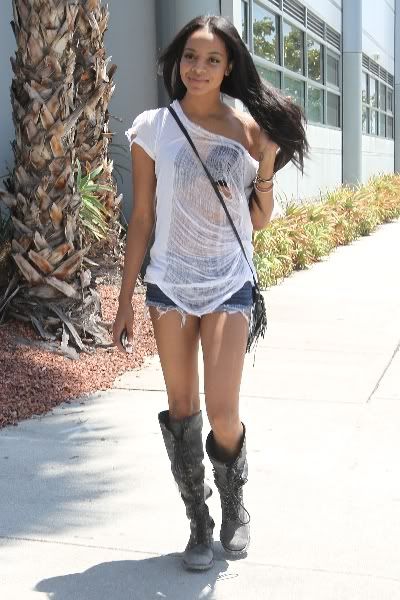 Alrighty then.