*UPDATED WITH VIDEO* D.C. Stage Crasher Lil Mama's Jay-Z!
​
Mar 04 | by Natasha
​ ​ ​ ​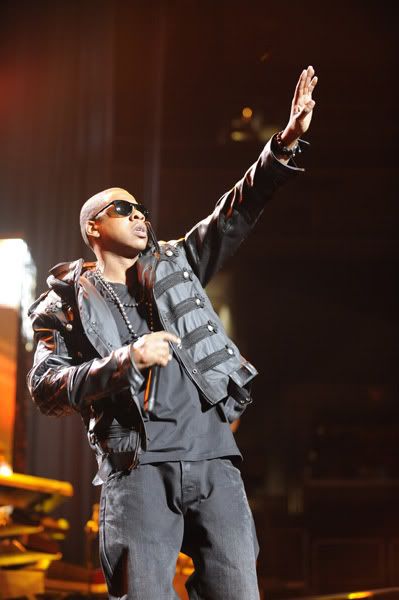 YBF was on the scene at last night's BluePrint 3 tour stop at the Washington D.C. Verizon Center. And at the beginning of
Jay-Z
's set, a crowd goer obviously thought he could be a better hype man than
Memphis Bleek
.
A short dude from stage left jumped over the yellow jacket security surrounding the stage, hopped his ass on the stage, and danced up to the middle where Jay and Bleek were like he belonged in the set too. Funniest.Ish.Ever. Mr. Carter's tall, bald, and burly (and scary) bodyguard Norm semi-nicely tried to get his ass off the stage. After dude tried to fight back, bodyguard literally
bodied
homeboy, yanked him up and
tossed
his ass down off the stage--a few feet drop down. Unreal yet hilarious. Jay's response:
"So that's how y'all doing it in D.C.? Cut that sh*t out. [insert Hov laugh]"
More recap from the concert when you read the rest... Grainy vid of "Empire State of Mind" Jay killed the stage for about 2 hours. Did ever major song from the
Reasonable Doubt
era to now....plus those non-radio songs only his true fans know and love.
Trey Songz
's opening set was tre' nice for his first major tour. I'm still trying to figure out where all his swoleness went. Still an
uber
sexy mf'er though. He performed
almost
all his major tracks from
Trey Day
&
Ready
. And Trey did the smart thing and brought out D.C.'s prodigal son
Wale
to do "Pretty Girls." Crowd went nuts. And I'm not even the biggest
Jeezy
fan, but dude pretty much shut down the stage with his whole set. No hype man on his stage. Crowd was bananas the entire time he was on. Surprised his performance game is right. Beyonce's bodyguard
Julius
was there, but B never showed her face. Interesting. And Hov was nice enough to shout out some White House employee's kids:
"I don't know where you are, but happy birthday. I just came from the White House. And your pop works there. He said, 'Happy Birthday.'"
Jay and Trey afterpartied it up at the Water Club at Zanzibar on the Waterfront.
{Vid thanks to AngryBlkManDC}
​ ​
​ ​ ​