GOSSIP BITS: Warren Sapp's Accuser?+Brandy & Flo Rida Really ARE A Couple?Plus Rihanna Explains Her "B*itchiness"
​
Feb 09 | by Natasha
​ ​ ​ ​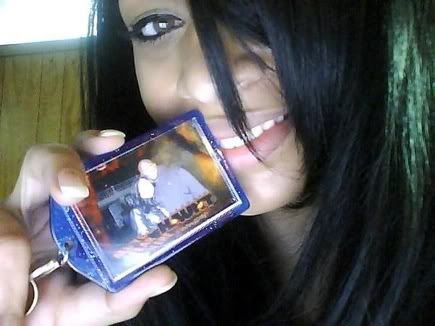 Warren Sapp's accuser has been allegedly identified. Supposedly the woman above is who many believe is Warren's accuser of domestic violence charges this past weekend. Her Twitter name is GreenEyedMami (she goes by GEM)--but she has since locked her page since the incident. According to her website and myspace page, she looks like one of those "model" chicks who likes to show off her ASSets from time to time. And her keychain with a pic of her and Warren in it.
One of YBF's readers who follow her sent over some info saying GreenEyedMammi and Warren have been going back and forth sharing love messages for a while now. And most believed they were a definite couple. Not 100% this is the accuser, but details are pointing that way. More ish when you read the rest...
Looks like
these reports
of
Brandy
and
Flo Rida
being a couple could very well be true. One of our YBF correspondents was on the scene at Liv last night in Miami for a post Super Bowl party. And Brandy was spotted arriving with Mr. Flo Rida and they were not trying to hide it. The two stayed by each other's sides all night. Even dodged our cameras together. The two are clearly
very
good friends if not more these days. Hmmm....
Rihanna
's letting folks know she's not the b*tch you think she is. She's explaining in this vid with the homies at WPGC why people have that impression of her. The Randomness: 1. For the love of God
R. Kelly
,
DON'T DO IT!
​ ​
​ ​ ​